The Russian star recorded a collaborative song to support doctors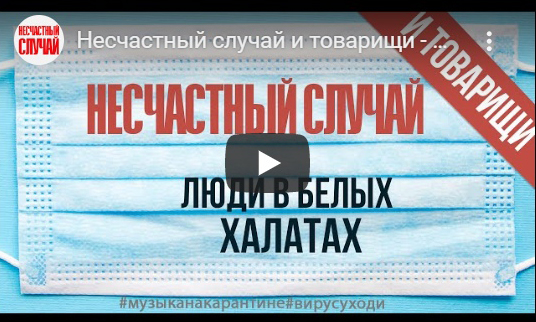 Photo source:
https://www.youtube.com/watch?v=BlLoo0Fq4Bw
The song "Men in white coats" took part: Kamil Larin, Nike Borzov, Vladimir Tkachenko (gr. "Underwood"), Maxim Kucherenko (gr. "Underwood"), Romario, Nonna Grishaeva, Konstantin Khabensky, Tatiana Lazareva, Mikhail Kozyrev, Anatoly Bely, Maxim Leonidov, Andrey Makarevich, Kristina Babushkina, Maxim Vitorgan, Nino Ninidze, Alain Babenko, Evgenie Margulis, Leonid Baratz, Alexander Krasovitsky (Animal Jazz, Zero People), Maxim Pokrovsky, Valery Syutkin.
The team of "Accident" Alexey Kortnev, Paul Mordyukov, Sergey Chekryzhov, Dmitry Chuvelev, Roman Mamaev, Pavel Timofeev.

In the original composition takes the Soviet and Russian singer Vladimir Troshin, known as the first performer of the popular song "Moscow nights". The idea to record a video in support of physicians and our country, and the world belongs to the leader of group "Accident" Alexey Kortnev.

The accident remind, chtov this situation, each can support the workers of medicine, staying at home and observing all the rules of home quarantine.