Yury Galtsev has released the premiere music video "my Friend"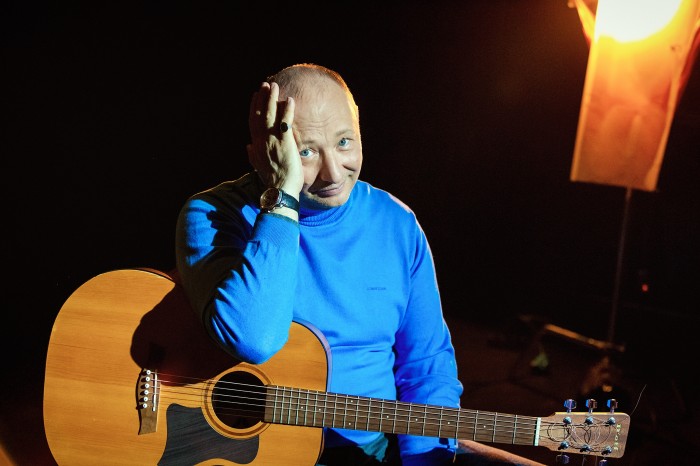 Photo source:
Press service
Artistic Director of the Variety Theatre. Raikin, honoured artist of Russia Yury Galtsev to the Cosmonautics Day and his own birthday, April 12, released the premiere music video "my Friend" - watch and enjoy!
"The idea originated after I got the archived video of the wedding of my friends of youth. I plunged into memories and the song was born. The story is real and ordinary - love triangle. It's about everything: about love, about friendship, about all the most important. Was such a good and easy sketch that I created with my friends"
Recall that this is the first clip of Yuri Galtseva, although in the artist's discography three full-length music album, and the fourth on the way. The clip was attended by musicians Yury Galtsev, Alexander Borisov Dmitry Borisov and Actresses of the Theater Stage: Anna Dvoryanenko, Maria Nasyrova, Kastrica Anastasia and Anastasia of Kipin. Produced shooting a young team of professionals: producer Daria Donskaya, directed by Ksenia Galanova, and the operator was Juliana prymak
Yury Galtsev in the current environment is lost on his audience: "I really want this time not in vain for me and for the theater, for which I am responsible. Now I compose new songs, write music, and think about new productions. Due to the closure of the theatres we had to cancel the premiere of the new musical program "IRON". As soon as the theaters in St. Petersburg will start, we will show it to our viewers. Really want to people could after this stressful time to laugh, relax. The main thing - not to lose heart and believe that everything will be fine. And stay at home."
"Now is the time when we all just need a little patience. The more responsible we come to the mode of isolation, the more will take care of themselves and their families, the faster it will end. But this is not the time to lose heart! Maybe these days we are given to spend time with family, with relatives. Or to be alone with him - to rethink something in their life, to change something in yourself. And the best remedy for anxiety and fear - of humor and creativity. Laughter prolongs life, so sometimes a good joke is able to "get" a person from the most difficult situation.
And how are the actors of the Variety Theatre. Raikin difficult for them, accustomed at all times be in full view of an appreciative audience, the conditions of isolation you can learn from theatre of social networks Vkontakte, Facebook and Instagram. Do not dramatize!