Online-forum-Colisium StPetersburg On Air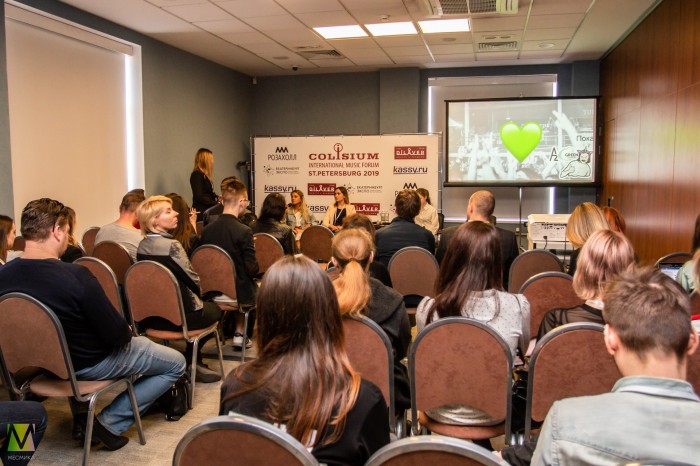 Photo source:
Екатерина Морякова // МЕСМИКА
New reality: new forms and meanings of the concert industry.
On 18 and 19 April will be held the online forum Colisium StPetersburg On Air whose task was the transformation of the concert industry!!
On your screens will be performances of more than 80 speakers, including: Nadezhda Solovyeva (head of the SAV Entertaiment),
Dmitry Bogachev (the General Director of "Moscow Broadway"),
Artem Mountain (promoter, Attack Concert Kassy.ru, O2TB),
Alla Fomina (Deputy Director, NBO Kassir.ru),
Alexey Zherebtsov (head of sponsorship OJSC "MegaFon"),
Dilyaver Ablyamitov (President of GK "Dilyaver", Profticket),
Violetta Vorobyova (marketing Director Kassy.ru),
Mikhail Simonov (Vice-President of the Association of communication agencies),
Catherine March (independent expert with sponsors),
Eugene Maltsev (Director Sponsor Consulting),
Roman Smarhon (First Music Isdatelstvo)
Ruslan Sultanov (Navigator Records)
Hope Bojcevski (Music company ONErpm)
Our foreign guests:
Nick Hobbes (international music Agency Charmenko),
Dmitri Felix (ticket Agency Concert.Ua, Ukraine)
Konstantin Gorozhankin (co-founder Ticketon.kz the President of the Association of Kazakhstan Internet business)
Erik De Fontenay, (music Agency MusicDish, China)
and many others!
Questions will be set in the Telegram chat and our moderators will announce their distinguished speakers!
Here are just a few sections of the forum:
Anti-crisis working group to share impressions and findings with the Government of the Russian Federation on the development of measures to maintain the Concert Industry;
A detailed conversation about the process of creation of the Association of concert figures of the Russian Federation;
The new realities of ticketing: a round table with the ticketing companies;
Concert halls: preparing for the exit from the crisis
Music video: what's going on with the music TV and FM
Concerts in the online cinemas: a temporary measure or a new add-on to the entertainment industry
The role of music journalism: can it be a tool for market recovery?
For musicians and their management: all copyright, review of tools to monetize your music
Advanced mechanics of promotion of the artist: what's new in Instagram, TikTok, Vkontakte
How to get to the top of the charts and streaming charts
Evaluation of representatives from major labels and independent music reviewers: which heroes need music market and the modern musician can engage the label and to gain popularity.
... and more than 20 topics!!
The extensive program of the forum: 2 days, 3 streams of presentations 80+ speakers
Program and free registration: http://colisium.org/spb2020
Get your link on the forum!!
Colisium StPetersburg On Air passes through the partners:
The resort "Krasnaya Polyana": the best place creative people
Universal Music Russia: the world's largest music publisher
Kassy.ru the Federal ticket operator
SDS Security: experts in the field of security of mass events
SendPulse: one of the best services e-mail marketing
Epenthesis: the professional solution for events online