Fly away - a festival that can take place!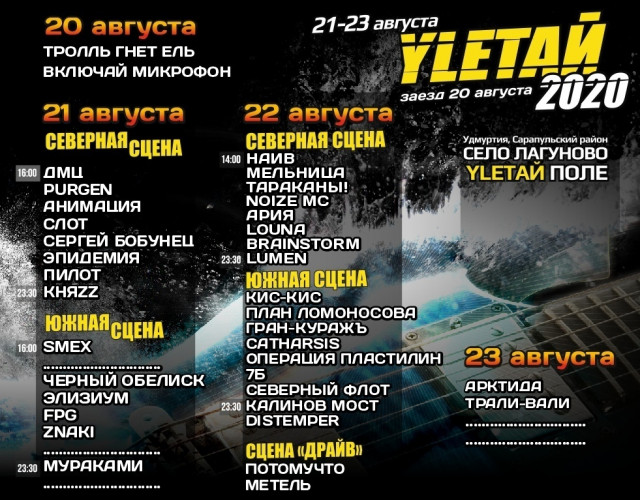 Photo source:
Пресс-служба фестиваля
In recent months, in pandemic, has been cancelled a number of festivals all over Russia!
However, there is a festival, which does not hand over positions and is configured for a positive result - YLEТАЙ!Originally the festival was to be held in July this year, but due to the limitations date was postponed. Now "YLEТАЙ - 2020" will be held on 21 - 23 Aug 2020 Place remains unchanged in Udmurtia, Sarapulsky district,. Lagunova, on the fly field.
According to the organizers: "Those who can't go to the festival in August 2020,will be able to use THESE SAME TICKETS to visit the festival YLETAЙ-2021(WITHOUT extra charge). Purchase tickets in advance! Check-in will be open from 20 August, the start of the festival on Friday, 21 August!"
Participants: LUMEN, BRAINSTORM, NOIZE MC, PILOT, LOUNA, ARIA, EPIDEMIC, SERGEI BOBUNETS, MILL, SLOT, T!, NAIVE, 7B, GRAN-KURAZH, dmts, PURGEN, ELYSIUM, SMEX, КНЯZZ, the NORTHERN NAVY, KALINOV most, DISTEMPER, PLAN LOMONOSOVA, CATHARSIS, TROLL GNET EL, kitty, OPERATION CLAY, MURAKAMI, ANIMATION, F. P. G, BLACK OBELISK, ARCTIDA, ZNAKI, BECAUSE
Participants will receive several names.