DIANA: a LITTLE FILM "a SECOND AGO" AND presentation of the ALBUM "O2" at HOME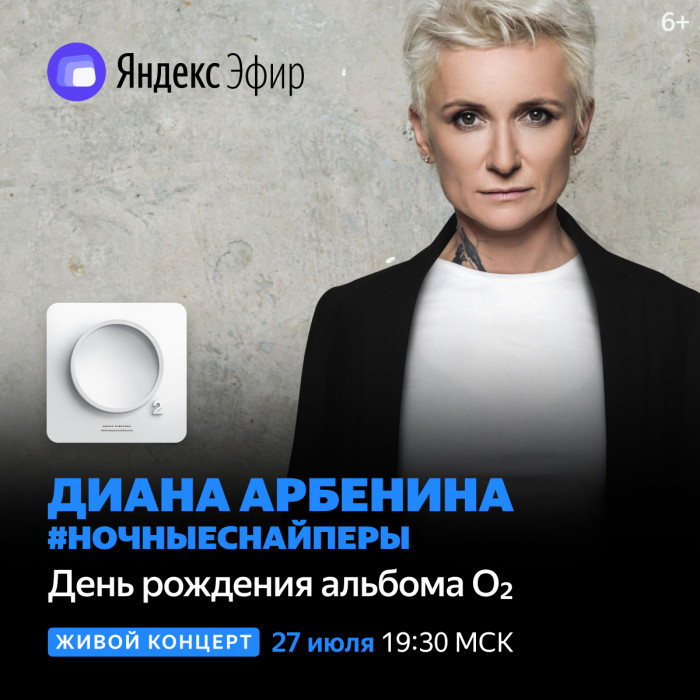 Photo source:
the press service of the artist
On 8 July he released a new album of group "Night Snipers" under the name "O2". 13 new songs available on all digital platforms, and deluxe-version "O2" with an exclusive review of Diana can be heard on Yandex.Music. And today, the official resource group the long-awaited (no exaggeration) premiere of the video for the song "a Moment ago." The shooting of this video took place in January and may, directed by Alexey Golubev, who worked with Diana in the video for "the Ringtone". According to Diana, the video "a Second ago" completely breaks the traditional formats of videos. Diana Arbenina: "This is a real movie, a thoroughbred, unhurried, with long plans. We shot it in the first place for myself, exactly as I felt, without regard to rotation, for which it is "too nothing happens." The main thing in this movie is to show discreet in appearance, but with deep inner emotional experience, in the spirit of Martin Scorsese and the great traditions of Italian cinema".
The video comes out in support of the new album, which included "a Moment ago":

Here is what Diana says in his instagram account @_diana_arbenina about the premiere: "Good morning, country! "A second ago". The premiere of the video. Our second work with a wonderful Director Aleksey Golubev. A candid account of my defenseless and uncompromising love. I really wanted to stay alive. I really wanted to stay with you. Cheapfare".
But on this news related new album is not over! July 27, Diana Arbenina and "Night Snipers" welcome to home online presentation of the album "O2" in Yandex.Live. The audience will hear a performance of new tracks and word of mouth to learn about how we created the album. Video presentation with live audio will be available exclusively on the platform.
Diana Arbenina: "Guys, we came up with a cool format. The first time we will play the record in full, and it will be our sniper, but under the open sky! This year, July 8, my birthday, we released the album "O2". And now, after the set of the rehearsals, it's time to play. So, absolutely live full album "O2" for the first time, no performances, just like in life and even better!"
The broadcast starts at 19.30.