OUR Radio sent the most attentive listeners on a cruise along the Volga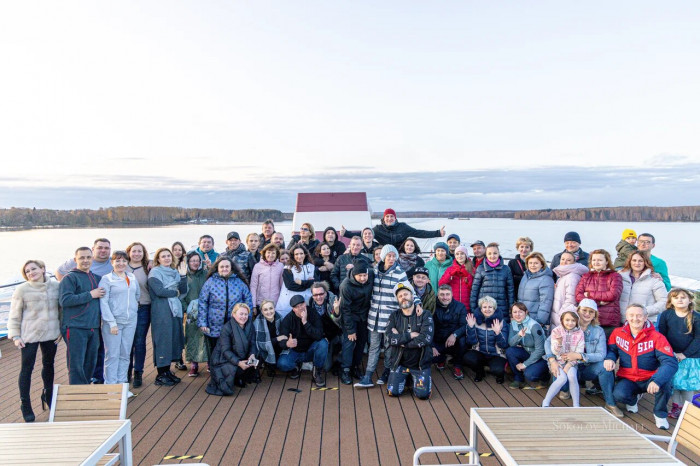 Photo source:
Пресс-служба
Победители конкурса НАШЕго Радио «Наш вояж. Круиз» совершили обещанное путешествие по Волге до города «Мышкин», не смотря на ситуацию с коронавирусом. В течение трёх дней с 23 октября счастливчиков развлекали ведущие утреннего шоу «Подъемники».
К Александру Бону, Тане Борисовой, Игорю Панькову и Андрею Ломанову на борту теплохода «Санкт-Петербург» также присоединился лидер рок-группы «Анимация» Константин Кулясов и Евгений Феклистов из команды «Конец фильма», которые порадовали живыми выступлениями. В программу также входили экскурсии, конкурсы и другие развлечения.
Путевку на речной круиз выиграли самые внимательные слушатели утреннего шоу «Подъёмники» из Москвы, Волгограда, Мурманска и Челябинска. Розыгрыш акции «НАШ Вояж. Круиз» начался одновременно с новым сезоном «НАШЕго Радио».
Секреты открыла программный директор НАШЕго Радио Анастасия Рогожникова. В новом сезоне слушателей ждут сразу четыре свежие рубрики, новые песни и живые концерты. Обновленные «Подъемники», «Тариф Дневной» и шоу «10 баллов» с любимыми ведущими по-прежнему будут делать Ваш день на НАШЕм Радио.
Причём внимание уделено не только музыкальной составляющей, но и развлекательному контенту – запланированы выездные экскурсии и другие НАШИ активности.