The first participants of the "Nashestva" 2019: "BI-2", Vyacheslav Butusov and "Picnic"!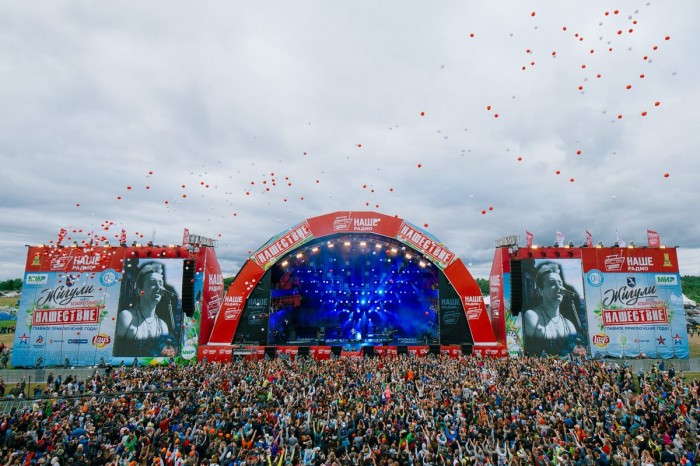 Photo source:
https://nashestvie.ru/
Let behind a window the first whirling snowflakes, and it seems that summer is so far away, but organizers have already started preparation for the anniversary of the "INVASION" of 2019! 5, 6 and 7 July 2019 festival will celebrate its 20th birthday. Celebration on the occasion of round date promises to be a Grand – guests, gifts, a General festive atmosphere of fun, joyful meetings and memories, which so many in the 20-year history of the main open-air of the country. Today, November 1, the organizers are willing to share important information with the guests of the festival!
In the first weekend of July on the stage of the Big City will be the most favourite and the most native – Our teams:
"BI-2" - the founders of collective Leva and Shura ahead of a formal application for full 10 days and declared their first appearance at the upcoming "INVASION" live morning show "Lifts" on Our Radio.
"We're happy to announce that "event Horizon" will end in July at the festival "INVASION" in one day!", - solemnly announced musicians 22 Oct 2018.
Thus, "BI-2" a triumphant return to "the adventure of the year" after a two year hiatus. The show promises to be spectacular: famous fans of quality sound, the leaders of the group promised to bring on the "Main stage" all his signature stage design.
Vyacheslav Butusov - the leader and vocalist of the group "Nautilus Pompilius" and "Yu-Piter" will return to "the adventure of the year" after a short break. In 2017, the musician opened the "invasion" of the iconic speech with the children's choir "Young Aleksandrovets", with which he performed on "the Main stage" a few hits "Nautilus", including "goodbye America". What surprises prepares the musician for the upcoming birthday of the festival, yet kept in the strictest confidence.
"Picnic" - literally this fall, the legendary band, striking theatrical scenery, eclectic costumes, intricate sets and pyrotechnics, presents its new program called "Levitation". It will include both well-known songs in a new music reading, and rarely performed songs. Journey through the mysterious worlds of group "picnic" will be held on "the Main adventure of the year" 2019!
We remind you that in 2019 "INVASION" will be held in the Grand Zavidovo, Tver region 5, 6 and 7 July.Check in for the festival begins one day before the official opening July 4th.
Tickets for the jubilee "the adventure of the year" available for purchase now on the official website nashestvie.ru.
Stay tuned for list of participants – extremely important news will come to us November 15! Details on the website nashestvie.ru in the air of Our Radio and social networks of the radio station.