RAMMSTEIN will perform in Luzhniki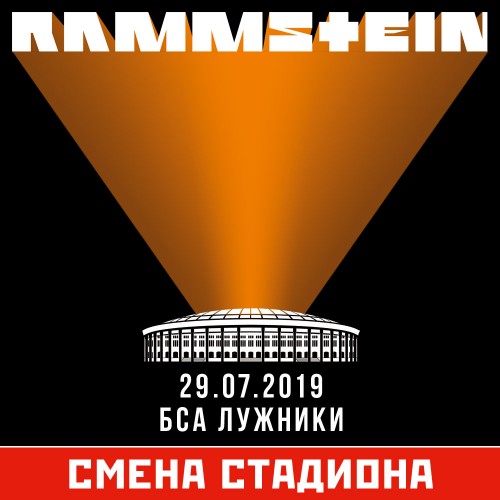 Photo source:
Agency T. C. I.
Moscow concert of the German rock band RAMMSTEIN, scheduled 29 July 2019 for VTB arena – Central Stadium "Dynamo", is transferred to the Big Sports Arena "Luzhniki".
In November 2018 the band RAMMSTEIN announced the Grand arena tour. This news caused a stir among fans of the team: on the first day, it sold more than 800,000 tickets, and the announcement of additional dates. For the first time in the history of concerts in Russia, the organizer - concert Agency TCI announced a Sold Out stadium show after less than two weeks from the start of sales.
Even a few months after the announcement of the sold-out Russian gigs, the excitement around the upcoming show does not abate. In connection with numerous requests of fans of the band RAMMSTEIN took the decision to postpone the Moscow show at the biggest venue of the country - the Big Sports Arena "Luzhniki".
On September 17 the band RAMMSTEIN has released the news on their websites: "Almost ready! Choir and orchestra recorded in Minsk for the seventh album." Almost ten years had to wait for fans of RAMMSTEIN long-awaited album after the previous album, Liebe Ist Für Alle Da. Not surprisingly, the announcement of the release of the new album (scheduled for may 2019) spread in the world press immediately.
The team never ceases to stir up interest in the release of the album: shares the process of recording the upcoming album in social networks, publishes stills from a new video.
Show RAMMSTEIN long been known for its entertainment, incredible scenery, effects that have become the hallmark of the group. If it still surprise world-famous musicians? Definitely can! For the tour, developed a brand new scene and special effects.
ARENA TOUR RAMMSTEIN EUROPE 2019
27.05.2019 Gelsenkirchen
28.05.2019 Gelsenkirchen
01.06.2019 Barcelona
05.06.2019 Bern
08.06.2019 Munich
09.06.2019 Munich
12.06.2019 Dresden
13.06.2019 Dresden
16.06.2019 Rostock
19.06.2019 Copenhagen
22.06.2019 Berlin
25.06.2019 Rotterdam
28.06.2019 Paris
29.06.2019 Paris
02.07.2019 Hanover
06.07.2019 Milton Keynes
10.07.2019 Brussels
13.07.2019 Frankfurt am main
16.07.2019 Prague
17.07.2019 Prague
20.07.2019 Luxembourg
24.07.2019 chorzów
29.07.2019 Moscow, Grand Sports Arena "Luzhniki"
02.08.2019 Saint-Petersburg, The Stadium "Gazprom-Arena"
06.08.2019 Riga
10.08.2019 Tampere
14.08.2019 Stockholm
18.08.2019 Oslo
22.08.2019 Vienna
23.08.2019 Vienna