Flamenco-show Picasso: Dentro y Fuera ("Picasso: Inside and Outside")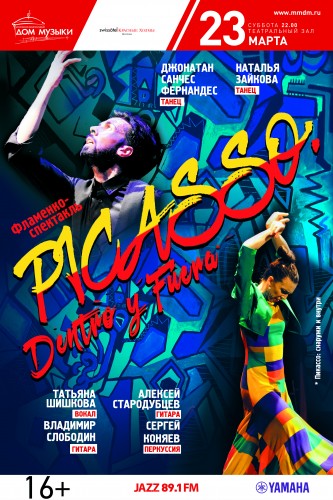 Venue:
Moscow international House of Music, Kosmodamianskaya nab., 52, bld. 8, Moscow
A visa is required:
for citizens of Russia is not required
Jonathan Sanchez FERNANDEZ, dance
Natalya ZAIKOVA, dance
Tatyana SHISHKOVA, vocals
Vladimir SLOBODIN, guitar
Alexey STARODUBTSEV, guitar
Sergey KONYAEV, percussion
Picasso: Dentro y Fuera ("Picasso: Inside and Outside") is one of the most intriguing and mesmerizing flamenco performances created in Russia. The image of Spain "dentro y fuera" ("inside and outside") was here implemented in the most bold combinations of elements from traditional and modern choreography, and original images and mise-EN-scene was far from the usual stereotypes.
Flamenco performance combines different types of art – not just music and dance, but also painting. That can tie Picasso and flamenco? So here will be only the Spanish roots of the artist, or is the connection deeper and more significant than it might seem at first glance?
The artists will help the audience to provide answers to these questions, having made a great journey into the world of images of Picasso and met his most famous masterpieces, such as the "Avignon girl", "Guernica", "the Blue room", "Lovers on the street." Each picture will get its original reflection in a variety of rhythms and shapes of flamenco.
Event duration: 1 hour 30 minutes (1 unit without intermission)
Cost of tickets: 500 – 2000 R
23 Mar 2019
Moscow International House Of Music
Auditorium
22.00
16+