The exhibition "the Right to the future" in Iicp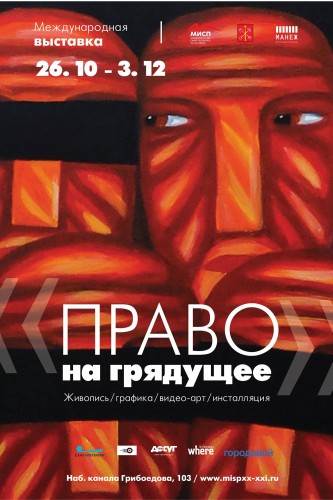 Venue:
Saint Petersburg, Museum of Art of Saint Petersburg of the XX-XXI centuries, the embankment of Griboyedov canal, 103
A visa is required:
For citizens of Russia is required
"Right to the future"
26 Oct – 3 Dec 2017
Museum of art of Saint Petersburg of the XX-XXI centuries is large-scale international project "Right to the future", organized for the 100th anniversary of the October revolution of 1917. More than 60 contemporary artists from Russia, Italy and Greece, among which classics of twentieth century art, famous masters and young members of the art scene, will show their own opinion on the image of the modern and future world order, the history of reforms and revolutions.
The uniqueness of this project lies in the diversity of presented artistic material. Pictorial, graphic and sculptural works, numerous installations, art objects and video art demonstrate visual images and concepts associated with the idea of the revolutionary struggle, and various artistic incarnations of the revolution, understood as a metaphor.
The theme of the revolution has many aspects. Someone takes her image as the millstone of human destinies, and who, like the futurists, in its flame see the cleansing energy of life, reflections of the world of accomplishment and happiness. Utopia is always close to tragedy, the struggle for happiness – with destruction and death. That is why in this project, the revolution will be shown wider than a specific event.
Among the participants of the project – the Russian masters: Erik Bulatov, Konstantin Batynkov, Anatoly Osmolovsky, George Pusenkoff, Vitaly Pushnitsky, Ivan Ivy and Irina Drozd, Alexander Dashevsky, Kerim Ragimov, Kirill Chelushkin, Haim Sokol, Daniel Tkachenko; Greek artists: Dimitris Karatzas, Natassa of Polanco, Ellie Kesidou, Antigone Kawata, Venia, Dimitrakopoulou; Italian authors: Nino Migliori, Renzogallo, RosenClaire, Paolo Leonardo, Sonia rose, and many others.
The exposition includes works from the collections of the Museum of art of Saint Petersburg of the XX-XXI centuries, State Museum of history of Saint-Petersburg national centre for contemporary art (gmvts "ROSIZO", Moscow), Institute of visual arts, Garozzo in Turin (IGAV, Italy), State Museum of contemporary art in Thessaloniki (Greece), as well as leading contemporary art galleries of Saint-Petersburg and Moscow – Anna Nova ArtGallery, Marina Gisich Gallery, the New Museum Aslan chehova, Pechersky Gallery, Foundation for the development of Russian culture Kraft-Pavlova. The project of such scale, conducted in cooperation with the Ministry of foreign Affairs of Italy, the Consulate General of Italy, Consulate General of Greece, the Italian Institute of culture of Italy, is critically important and prestigious for the cultural life of St. Petersburg. For a whole month in the framework of the exhibition a series of events: experimental performances, workshops, lectures, film screenings, and special children's program.
The opening of project 25 October at 18:00
Museum of art of Saint Petersburg of the XX-XXI centuries
embankment of Griboyedov canal, 103
Hours:
Wednesday from 14:00 to 21:00
Thursday — Friday from 14:00 to 20:00
Saturday — Sunday from 12:00 to 20:00
Weekend: Monday, Tuesday
☎ 312-25-54, 314-98-94
https://www.facebook.com/mispXX