"Watch. True Magic Show" from May 30 to June 9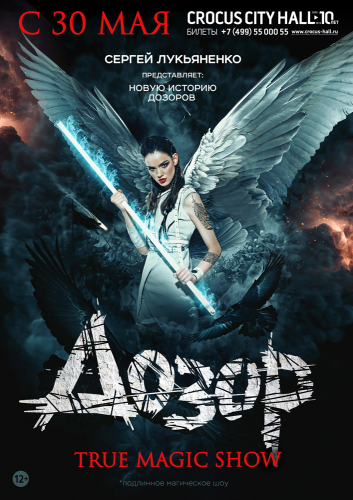 Venue:
Concert Hall Crocus City Hall, Moscow, 66th km of Moscow Ring Road
A visa is required:
For citizens of Russia is not required
What seemed impossible before become a reality: the legendary "Patrols" Sergey Lukyanenko for the first time will appear before the audience in the format of a high-tech theatrical magic show!
"Watch. True Magic Show " — one of the most ambitious productions of the present day: will connect miles of wire and tons of equipment, and a unique stage-the transformer will unfold the view with the highest level of graphics and augmented reality, created with the participation of experts from Hollywood.
Spectators are millions lumens of light, led, projection and holographic screens are the new generation elevators on stage, unique costumes, acrobatic and magic tricks. After all, a story about magic, otherwise it is impossible to tell!
Remember the story? 999 years ago, was concluded the Great Treaty between light and dark mages. This agreement stopped an open war, but dark and light have remained enemies. And here it expires, what happens next? The world of others, and with them the human world is in danger. A Great battle of sorcerers begins!
Gesser and Zavulon, Egor and Vlad from school the Day Watch, and with them, Nadezhda Gorodetskaya and Tamara from school of Night's Watch stand against the forces that cannot win. In the books the characters are able to enter the Darkness, teleport, move objects and throw fireballs, and in the show you will see the magic at arm's length! The names of the actors and musicians, who will perform the role and the soundtrack of "Watch", the organizers have not yet disclosed.
On the production employs the best engineers, Directors and artistic Directors, the show's budget was over 500 million rubles!