With a passion on the ice Ilya Averbukh will bring to Petersburg a new version of the musical "Carmen"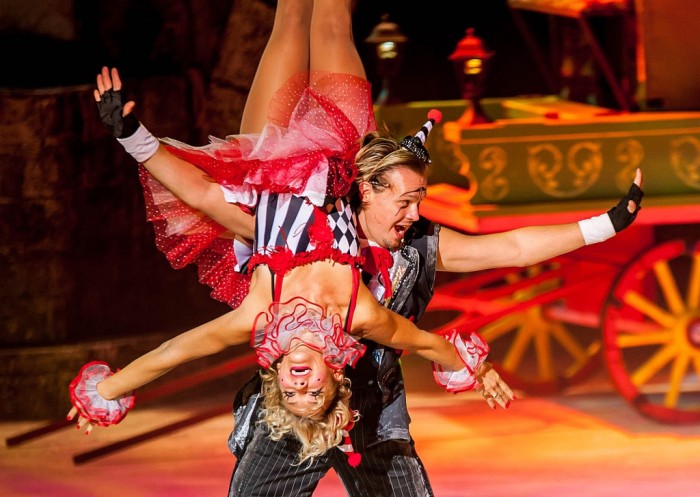 Venue:
St. Petersburg, SK Yubileyny, Dobrolyubova prospect 18
A visa is required:
For citizens of Russia is required
From 15 to 22 June on the stage of sport complex "Yubileiny" will be screened in the ice show "Carmen". Russian figure skater and producer Ilya Averbukh will present old Spanish history in a new way, and the name of the performer of the main role is kept secret. Spectacular show promises to be one of the main events of the year Billboard: it involves 80 performers, over 200 costumes and a few tons of stacked sets.
The second season of ice musical "Carmen" starts in St. Petersburg June 15. Improvisation on the theme of the famous story of the Gypsy will acquaint the viewer with the emotional life of Spain in the performance of the top Russian skaters, winners of national and international Championships.
The play involves Roman Kostomarov, Oksana Domnina, Maxim Shabalin, Maria Petrova, Alexey Tikhonov, Albena Denkova, Maxim Stavisky, Vladimir Besedin Alexei Polishchuk and many others. The name of the one that will play the role of the main character, remains the main intrigue of the season - previously the role of Carmen was performed by Tatiana Navka and Margarita Drobiazko.
One of the features of the production - the combination of classic and modern music. Ice show set to music by the French composer Georges Bizet and contemporary Russian composer Roman Ignatiev.
"In this show we have the heart and soul. It will be interesting to see and new viewers, and to those who have watched in previous years. We have made changes in play, preparing surprises in the lineup. This year "Carmen" is full of passion and new colors!" - says the producer of the project Ilya Averbukh.
A musical on ice will give the audience a bouquet of vivid sensations: a large-scale set design, stylized colorful costumes, amazing special effects, live vocals from the best artists of the Russian musicals, circus tricks, dancing flamenco artists from Spain doing "Carmen" one of the most impressive performances of the team Averbuch.
After the premiere in Sochi in June 2015, the musical successfully toured in Moscow, St. Petersburg and other Russian cities. From the very first show is recognized as one of the most spectacular contemporary performances. Arts festival "Chereshnevy Les" ice "Carmen" won the prize "Creative discovery" by the name of Oleg Yankovsky.
15-22 June, the sports complex "Yubileiny" (18 Dobrolubova PR.)