The exhibition "Range", the first solo exhibition Turbine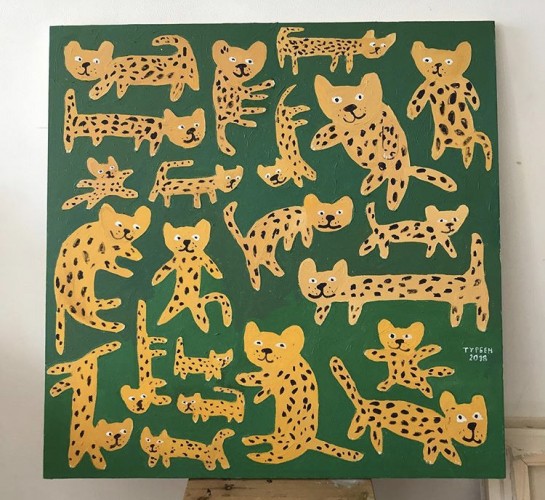 Venue:
Saint Petersburg, the New Museum Aslan chehova, 6-ya Liniya V. O., 29
A visa is required:
For citizens of Russia is required
6 - 14 June, the New Museum Aslan chehova, Saint-Petersburg, 6-ya Liniya V. O., 29
Opening 6 June at 17.00
Tickets:https://www.novymuseum.ru/
The Institute for the study of street art, Foundation for art InLoco and the New Museum present the first solo exhibition Turbine Range. Turban - artist with a graffiti background whose work is expressive and refer to the naive art, pop-art and images of modern mass culture. The exposition will feature nearly fifty paintings grouped in series created by Turbina over the past six months.
The inspiration for Turbine gets daily, filled with multiple layers of visual code, a tape of social networks, the images and clips of the film. These fleeting, as if snatched from stream-of-consciousness images, Turban transfers to the canvas, creating a painting, something resembling children's drawings. Extremely simplified picture and open colors, recognizable images, ironic and serious text - all this reveals the personality of the artist who seeks to be honest with yourself and with the audience. To this end, he consciously avoids the complex and heavy conceptual formulations, while maintaining the drive and energy of street painting.
For Turbine, who has long been involved in the graffiti, the transition to working with the canvas is not a totally new phase. Exploring new technical possibilities, he tries to keep the immediacy and principles that guide working in the urban space - the speed, the desire to complete the work in unison, expression. The title of the exhibition is no double bottom, it denotes a range of topics with which today's working artist.
The Institute for the study of street art - open platform for research and educational activities in the field of public art in urban environment
http://streetartinstitute.com/
https://www.facebook.com/streetartinstitute/
https://vk.com/streetartinstitute
InLoco - Fund of support of art in public space. The main strategy of the Fund system support artistic initiatives aimed at the development of art based on a wide audience and involves communication with the urban space. The Fund's programs are focused on collaboration with international cultural institutions, the development and implementation of network projects in the field of art, both Russian and global scale.