On 1 June at 13.00 will host a children's holiday Obrazovka Park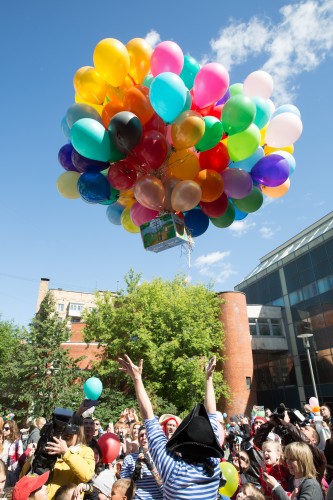 A visa is required:
On 1 June at 13.00 will host a children's holiday Obrazovka Park
June 1 - international children's day. This day in GACTC them. S. V. Obraztsova always celebrated solemnly. The Creator of the theatre of the great Puppeteer Sergey Obraztsov has dedicated his life and work to children. He is the only knight of the order of Smile. The peculiarity of this award is that it awarded the children themselves.
Our holiday, which we will hold in Obrazovkou Park,will lead the three little pigs, the characters of the eponymous play, directed by the great granddaughter of the wizard. They will join Christopher Robin, Winnie-the-Pooh and all, all, all! Heroes one of the oldest performances of the theatre – "Our Chukokkala" will appear in front of a young audience not in the usual stage area, and go out into an impromptu street scene.
Every child who came in Abraszewski Park will not only see your favorite dolls and played with them, as well as to get acquainted with the basics of kuklovody – in the gazebo Park we will hold workshops for the younger guests and their parents.
The puppet actors on stage, puppets, and artists, animators swallow young guests in the whirlpool of joy and celebration children interactive games and exciting tasks.
And at the end of the festival in the sky will fly a huge bunch of balloons and a basket, in which every visitor will be able to put a message with wishes for children throughout the world.