Quartet And 31 October in Saint-Petersburg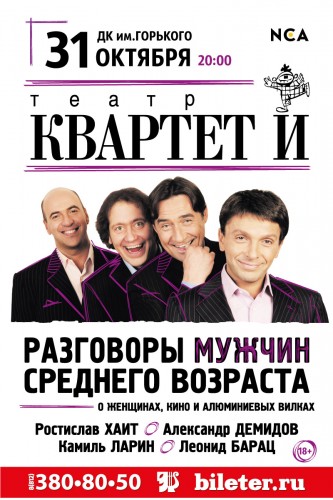 Venue:
DK im. Bitter square of strikes, 4
NCA presents:
Conversations of men of middle age on women, cinema and aluminium plugs
October 31 "the Quartet And" returned to St. Petersburg in order to please the audience with one of his best performances — "Conversations of men of middle age on women, cinema and aluminium plugs".
Rostislav Khait, Alexander Demidov, Kamil Larin and Leonid Baratz in a friendly atmosphere to discuss exactly what they are interested in: women, love, betrayal, friendship, theatre, cinema, art. Accurate observations, unexpected twists, subtle humor, brilliantly beat-life situations that resonate in the audience's hearts.
"The history of this production began: we talked a lot about things that usually concern men of middle age (and that was us then for 35-38 years). What are men at this age? First and foremost, of course, women. Then work, money, success, popularity (this is if you work in show business, and we are, after all, in this work), envy, and sometimes thoughts about his profession (if you hit it accidentally). All this we, just in case, I wrote... well, I had a feeling....", – share the story of the play the participants "the Quartet And".
Sincerity and a great sense of humor towards themselves and the world around the main characters offer us a new — ironically and without false pathos — take a look at my own life. Believe me, you will find a lot of discoveries and revelations 31 October in DK. Gorky in "Conversations...", the play, which is not to be missed!
Tickets exclusive bileter.ru