The Eldest Son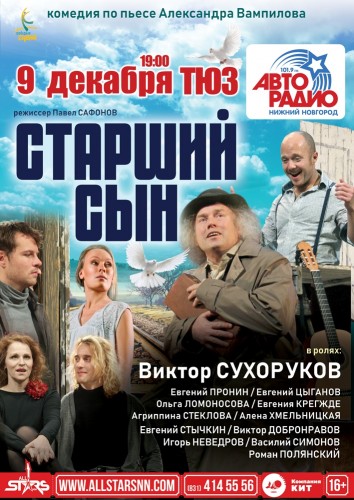 Venue:
Nizhny Novgorod, Maxim Gorky, 145, TUZ
Concert "ALL STARS NN" represents:
9 Dec 19:00 theatre for young people
Alexander Vampilov
"THE ELDEST SON"
(Comedy in 2 actions)
Director – Pavel Safonov
Artist: Evgeny Panfilov
Lighting designer: Eugene Ginzburg
Composer: Faustas Latenas
STARRING:
People's artist of Russia
Viktor SUKHORUKOV
Yevgeny TSYGANOV/ Evgeny Pronin
Eugene KREGZDE/Olga Lomonosova
Agrippina STEKLOV/Alena Khmelnitskaya
Evgeniy Stychkin/Victor Dobronravov
Igor Nevedrov/Vasily Simonov
Roman POLANSKI
Time, perhaps, now is... Vain, hasty, pragmatic, and too material. Want to find your island where it is always warm and cosy where there will be only relatives and close friends that'll take you just the way you are. The creators of the performance "Elder son" tried to implement such a world, where no one can hear echoes of the bustle of the city, where all people are relatives to each other and impossible to get into, buying a ticket for a regular train...
In the famous play Vampilov young people, accidentally getting into someone's house, right in the middle. The story starts with cheating, oddly enough, leads... to Love. The performance of understanding about the vulnerability of bright people and about their only right in this life!
THE PLAY IS RECOMMENDED FOR FAMILY VIEWING.
Because every generation will see themselves in the characters: adults ponostalgirovat for lost in society's values. Young people will see themselves and are addicted to the feeling of a teenager to an adult female, and their prototypes, do not immediately believe in the sincerity of feelings. Children, no matter what "Mature" age they may be, will get another key to understanding their parents.
The play is called a playwright of the Comedy, is designed to carry us forward to the brink of tears, bright tears... Expertly staged by Director Safonov, it is devoid of signs of any era and moved to our time with you! Artists – brilliant not only for avid theatergoers.
The premiere took place on 26 October 2012 on the stage of the Theater. Vakhtangov. Was loudly noted by critics, press and public!
Performance for viewers above the age of 16
Tickets online: https://vk.cc/9DYJTG