Ilya Averbukh show in St. Petersburg in the new year ice show "Morozko"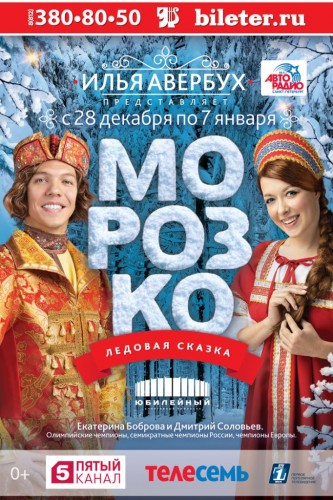 From December 28 to January 7 in the SK "Jubilee" will be held new year's performances of the wizard of the main Russian producer Ilya Averbuch. The tale "Morozko", which many love since childhood, in Saint-Petersburg will show 26 times. Starring Olympic Champions Sochi: Ekaterina Bobrova and Dmitri Soloviev.
Audiences can expect a magical story about the forest man, the sorcerer Jack frost. Classic story with modern special effects and colorful scenery, and the characters will have time to visit a far away Kingdom, in the enchanted forest and the hut of Baba-Yaga, you will see a real flight of the Firebird and I lit a fire right on the ice.
Breathtaking stunts and acrobatics in "Jack frost" will be performed by the winners of the national Championships and world Championships, Olympic Champions. Starring Olympic Champions Sochi in ice dancing in the team classification Ekaterina Bobrova and Dmitri Soloviev. The play involves renowned figure skaters Albena Denkova, Maxim Stavisky, Ivan Righini, Evgeny Kuznetsov, Vladimir Besedin Alexei Polishchuk and others.
"Christmas performances on ice - a real winter holiday for our team and for spectators who come to the show with the whole family. The tale "Morozko" - one of the most beloved stories in Russian folklore, she reminds us of eternal values - kindness, sensitivity, and justice. I am sure that "frost" will appeal to young and adult residents of St. Petersburg!" - says Ilya Averbukh.
Ice show "Morozko" will be held in the Northern capital on the eve and during the winter holidays and will be a great gift for all lovers of fairy tales and Christmas miracles.
SC "Yubileiny"(18 Dobrolubova PR.)
The website and social networks https://ice-show.ru/
https://vk.com/ice_show
https://www.instagram.com/averbukh_iceshow/