Performance "Enigmatic variations"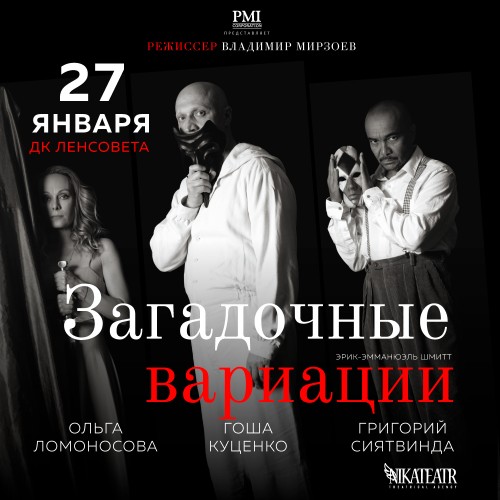 Corporation PMI is
performance "Enigmatic variations"
27 Jan 2020
DK Lensoveta
"Enigmatic variations" by Eric-Emmanuel Schmitt — a play with an unpredictable enticing plot. Philosophy and love. Love the earth and irrational. Two opposing views on love, loyalty, betrayal... the Fundamental idea of this many-sided play — the impossibility to fully understand another, even beloved, people. His soul - as the "Mysterious variations".
January 27 at DK Lensoveta, viewers will see subtle and accurate psychological study of the characters is a wonderful cast (Gosha Kutsenko, Gregory siyatvinda, Olga Lomonosova), "daring" decisions stage Director Vladimir Mirzoev. Performance "Enigmatic variations" will interest those who love a spicy story, and those who respect good literature.
Playwright Eric-Emmanuel Schmitt
Director — Vladimir Vladimirovich Mirzoyev
Starring Gosha Kutsenko, Gregory siyatvinda, Olga Lomonosova
Production designer — Anastasia Bugaeva
Lighting designer — Narek Tumanyan
Beginning at 19:00