Rock-Opera "Juno and Avos"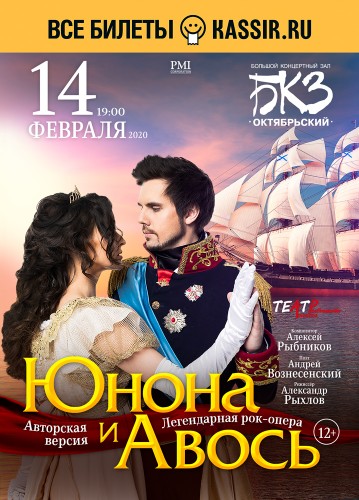 Corporation PMI is
rock-Opera "Juno and Avos"
14 Feb 2020
BKZ "October"
"Juno and Avos" – is the most famous rock Opera on the Russian stage. The authors – an outstanding Russian composer Alexey Rybnikov and poet Andrei Voznesensky. The staging of the rock Opera "Juno and Avos" in the author's version out the State theatre under the direction of people's artist of Russia, Laureate of the State prize of Russia, composer Alexey Lvovich Rybnikov.
Premiere of the rock Opera "Juno and Avos" was held in 1981 on the stage of the Moscow theater of the Lenin Komsomol, and for over 30 years is a great success and a full house. In 1983, the famous French couturier Pierre Cardin introduced the "Juno and Avos" by the French public in the Espace Cardin theatre, followed by a triumphal tour around the world: USA, Germany, Holland... Later the Opera was staged in Poland, Hungary, the Czech Republic, Germany, South Korea. In the summer of 2009 in France, at the international festival of Pierre Cardin, the theatre of Alexey Rybnikov presented the new production of the rock Opera "Juno and Avos", which was a huge success. Full author's version of Alexey Rybnikov is a major innovation in the genre world of musical theatre and aims to restore the original idea of the authors. The new version of Opera combines the traditions of Russian sacred music, national folklore, genres of mass "city" music, with imaginative, ideological, and aesthetic priorities of the composer.
The main emphasis is on the musical content of the performance. Vocal performances of the rock Opera delivered the famous singer, honored artist of Russia Jeanne Christmas, the first performer of the major parties in rock-operas of Alexey Rybnikov, and many famous hits of the Soviet cinema ("call me, Call me", "the Song the fortune-teller"). Magnificent choreographic numbers directed by Jeanne Makovoj (choreographer of the musical "Pinocchio", "the Producers", "the witches of Eastwick", the rock Opera "Joaquin Murieta") make the rock Opera a vivid and unforgettable spectacle. The main Director of performance – Alexander loose, one of the best Directors of the Moscow musical theatre, known for his work in theatre, television and concert programs.
Beginning at 19:00