Moscow will host the premiere of the musical "Castle of dreams"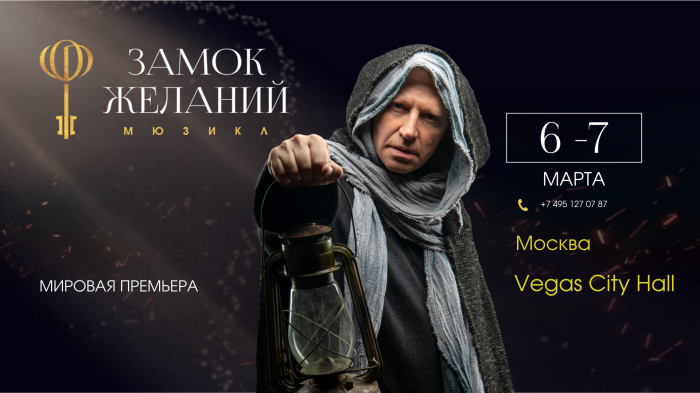 Venue:
Vegas City Hall, international str., 12, (m. Myakinino)
On 6 and 7 March 2020 Vegas City Hall will premiere musical "Castle of Wishes". Mystical story unites the eternal theme of love, philosophy, and psychology of human nature. Viewers will see a new format of a modern musical which skillfully combines various musical genres – from classical to rock, different styles of choreography – Vogue, modern, hip hop and others. To show created the costumes, which combine elements of medieval and futuristic clothing designed modifitsiruyutsya decorations and light projections. The show, lasting more than three hours, takes place under the live music of the rock group and string orchestra.
In the musical, busy famous artists: Igor Portnoy (MAMMAMIA!, "Beauty and the Beast," "treasure Island," "Jesus Christ Superstar", the canadian production of "phantom of the Opera" and "Ragtime") and Andrey Belyavsky ("Graf Orlov", "Scarlet sails", "Notre-Dame de Paris" show Ilya Averbuch "city Lights"). The General Director of the project is Stanislav Mescheryakov, Director – Igor Rubtsov. Choreographer of the musical is Anton Nikolaev, Director and choreographer sports-circus "Show of the Olympic Champions" and the new year show at the Moscow House of Unions.
General producer, author and screenwriter of the musical "Castle of dreams" – Alexander Zhidkov – member of the Union of concert performers of Russia, collaborated with producers, Directors and choreographers from the U.S. and Europe, including Dave Scott, kirk Wong, Rosalie Swedlin, Christopher Milburn, Eric Stiles.
Date: 6, March 7, 2020