Love on a staircase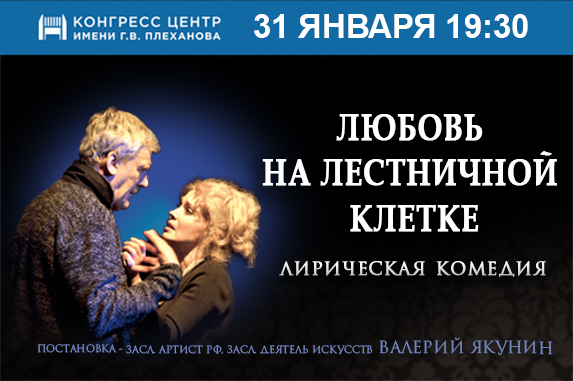 Venue:
Moscow, Congress-center named after Plekhanov, Stremyanny lane, 28/2
31 January in the Congress centre. Plekhanov fans of the television series "Sled" will meet with the major FES Kruglov, rather, with the honored artist of Russia Vladimir Tashlykov. The actor will take part in the formulation of the Moscow Regional theater of drama and Comedy – "Love on a staircase".
"Love in the stairwell" is a romantic Comedy based on the play by American playwright Jerome Chodorov, in addition to the stars of the series "Trace", one of the main roles plays the honoured artist of Moscow region Tatyana Ivantsova. The action takes place in the stairwell of the old new York house.
What would you do as a woman, "slightly over forty," which, having quarreled with her husband, now ex, is without a key in a locked door of his own apartment? The play's main character Jennifer foster is trying not to lose presence of mind, though given her is not easy. And here she faces with her quirky, although not devoid of charm a neighbor in the stairwell. The role of this neighbor named Michael Gardner, with all his usual charm plays Vladimir Tashlykov
"Love in the stairwell" will make the audience laugh, and empathize with, and enjoy acting, and think about something serious. It would seem that this is a common story, however, the heroes have to understand many important things – where truth, and where false idea of happiness and love, what to leave behind and what to take in future life.
Duration – 2 hours 20 minutes
Age category 12+