Moscow will celebrate the "birthday of Leopold the Cat"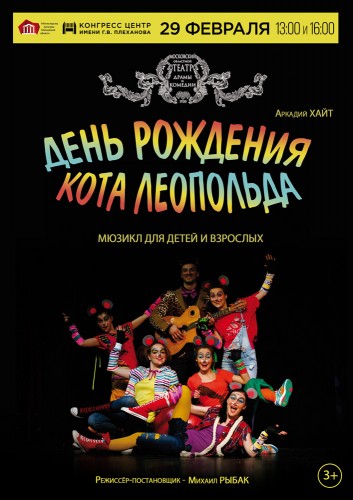 Venue:
Moscow, Congress-center named after Plekhanov
February 29 in the Congress center named after Plekhanov will be fun and noisy, because on this day, actors of the Moscow Regional theater of drama and Comedy will celebrate the "birthday of Leopold the Cat". Is the name of a wonderful family musical performance on the play Arcadia of Hythe staged by Director Mikhail Rybak (Germany).
"Birthday of Leopold the Cat" – is instructive colorful adventures of the good and noble in the world of a Cat, familiar to us from childhood, and the most mischievous and naughty in the world of Mice. You will be with the heroes of the musical experience many funny, fun and extraordinary situations.
In the house lives 8/16 Leopold the cat, who is about to celebrate his Birthday. He is very kind, affectionate, well educated, reads a lot and helps his grandmother. His neighbors, four Mice living in the yard, all the while trying to play a prank a good-natured Leopold, especially in his day. The dog-Doctor wants to help a good Cat to teach the pesky Mice and prescribes special medicine, which for some time will make him strong and, to some extent, aggressive. Mice, in turn, will try to take this medication. However, they steal from the bag Dog the Doctor a completely different medicine and taking it, will lose memory...
But, of course, will end the truce. Leopold, grandma Murlycheva, Dog-Doctor, and four Mice will gather together at the festive table to celebrate the Cat's birthday. Guys! Let's live together!
Link to ticket sales
13.00 https://iframeab-pre1943.intickets.ru/node/11396523
16.00 https://iframeab-pre1943.intickets.ru/node/11396525