Timothy jarovikov in musical one-man show "Fool tales bast"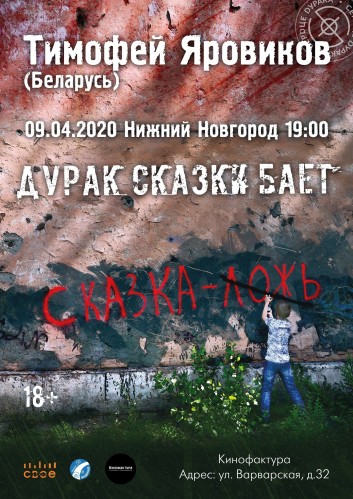 Venue:
Chinafactory, street Barbarous, d. 32, 2nd floor old building
Poet Timothy Yarovikov was born and raised in Mogilev; graduated from the faculty of Slavic Philology of Moscow state University named after A. A. Kuleshov; 8 years worked as a literary Manager in Mogilev drama theatre. However, the way of an honest artist is never easy, so Timothy is no stranger to the labor and fireman, and founder of lead... Today his name is widely known in Belarus, Ukraine and Russia: Yarovikov he has toured three countries, giving about a hundred concerts a year.
9-goapele Timothy jarovikov first came to Nizhny Novgorod to represent on the stage musical solo performance of "Fool tales bast" is a unique literary and dramatic work, unique since the time of Vladimir Vysotsky not find in our cultural space.