Moscow life-size puppet show with a performance of Heroes in masks save Nizhniy Novgorod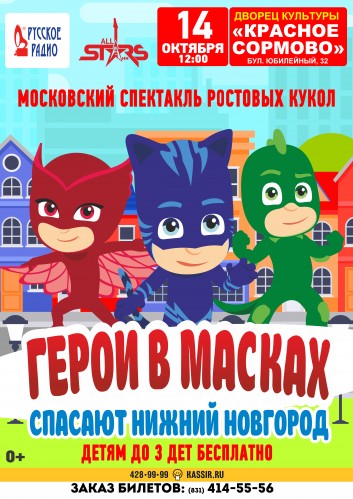 Venue:
DK Red Sormovo, Blvd. Jubilee, 32, Nizhniy Novgorod
A visa is required:
for Russian citizens is not required
By nightfall, the city was inexplicable, strange events!Who's ready to know what happened? Who's ready to know who is to blame? And who fearlessly will stop crime in the city? Right!Of course, the super team of brave heroes in disguise!Don't miss your opportunity to become a super-hero, and together with the heroes in masks to save your city!
You will have to wait not only a thrilling adventure but also a real celebration with unexpected surprises, interesting interactive games, szhigatelnye music-and-dance numbers and unique super-tasks, after which, each of you will return home with a piece of this super-strength from heroes in disguise! Characters look forward to seeing you all семьей14 October , at 12:00 !
Children up to 3 years free admission, on presentation of a copy of the birth certificate! Running time: 1 hour 10 minutes intermission.
Buy tickets without SERVICE charge :
1) cash "DK Red Sormovo", tel.+7 (831) 225-10-35 (12:00-19:00)
2) the shopping center "Golden Mile", 2nd floor, "CASHIER" RU tel.+7 (831) 428-99-99 (10:00-21:00)
3 ) a recreation center "GAS" cash "TICKET" NN, Telephone: +7 (831) 415-42-20 (10:00-19:00)
The tickets cost from 400-1000 rubles.
Telephone for inquiries and booking of tickets :+7 (831) 414-55-56
Organizer: All Stars NN
The details in the VC: https://vk.com/geroivmaskah_nn