Princess Anastasia on ice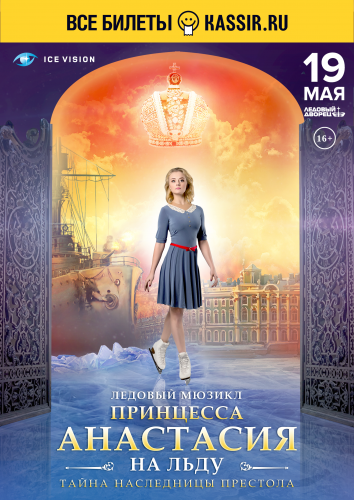 Venue:
Saint Petersburg, Ice Palace
A visa is required:
For citizens of Russia is required
Pprodusersky center ICE VISION presents to the viewer a romantic ice musical — "the Princess Anastasia. The secret heiress to the throne". The author of the music — a young St. Petersburg composer Alexey Galinsky. The production is held with the participation of soloists of world ice shows.
The legend of Princess Anastasia, daughter of Emperor of Russia Nicholas II is known throughout the world and repeatedly received the development in theatre and cinema. This is not surprising: the circumstances of the death of the Romanovs is very confusing, throughout the XX century historians from all over the world argue about the tragedy, trying to get to the truth. A gossip about the salvation of Anastasia, but no actual evidence.
Producer centre ICE VISION represents their own artistic fantasy about rescuing a young Princess. Tsarist Russia, a spectacular ball at the Winter Palace, on the occasion of the birthday of the young Princess, Nicholas II solemnly gives Anastasia an amulet with a ruby, which should protect her from misfortunes and misfortunes of fate. Shot. In the Palace burst into armed men panic. The young man, who happened to be at the ball, saves a young Princess from death and helps to escape from the Palace.
From the many shocks, she loses her memory and leaves Russia. After many years, in distant England, a young orphan, has a dream in which she is the heir to the Russian throne, daughter of the Emperor. The girl decided to go to Petrograd to find a family and the man who saved her many years ago. But at home, everything changed. The Royal family is dead. Poverty. Devastation. The power of the Soviets announced the hunt for the only surviving heir to the Imperial throne.
Adventures of a young Princess accompanied by a series of events filled with mystery, cunning intrigues, the rich flavor of Russian culture. Whether Anastasia will find herself in a new, yet unfamiliar world? Can the love to emerge in one of the most difficult periods of the Russian Empire?
The author of the music — a young St. Petersburg composer Alexey Galinsky, Creator of the soundtrack for the opening ceremony of demonstration performances on figure skating at the Olympics in Sochi 2014, the author of the soundtrack of ice musical "Dracula. Eternal love story", the movie "shadowboxing - 3", "Dark world" and many others.
Official website:http://anastasiaonice.ru/
Age category: 16+
Duration: 2 hours 10 minutes, including an intermission of 20 minutes.
Starts: 18.00