Vladimir Pozner recital "On the present and the future"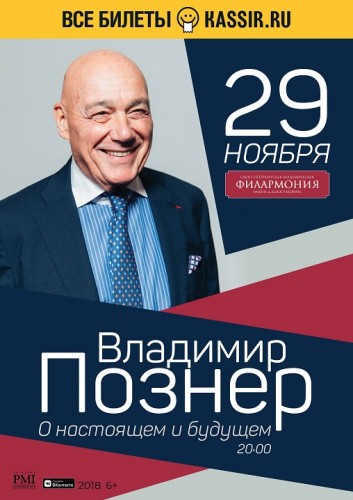 Venue:
Saint-Petersburg Academic Philharmonic. Shostakovich
A visa is required:
for citizens of Russia is required
29 November 2018 at the great hall of the Philharmonic. Shostakovich will take place creative evening of Vladimir Pozner "About the present and the future."
November 29 in St. Petersburg, one of the most respected of journalists and authors Vladimir Pozner will share their views on current issues to its audience. The meeting will consist of two parts: the monologue of a journalist and answer questions from the audience.
Extraordinary fate and longevity Vladimir Pozner striking: more than 50 years of experience in journalism (in the United States, Israel, Europe and the former Soviet Union), hundreds of brilliant interviews with fascinating people on the planet, several documentary TV series. Books legendary journalist published in several languages and diverge in impressive numbers.
Vladimir Pozner consistently among the laureates and winners of prestigious Russian and international awards in journalism. He continues to create and to share their knowledge and experience. Meeting with Vladimir Pozner is a unique opportunity to communicate directly with the bright intellectuals of the present time and to hear his independent opinion on the pressing and urgent problems of modern society. To the words of Vladimir Pozner, his judgments are always justified, and the conclusions are always logical and accurate.
This meeting is, without a doubt, will gather people, smart, looking for answers to difficult questions.
Beginning at 20:00
Tickets: https://pmishow.com/vladimir-pozner
Organizer: PMI