Valery Vatenin. "The universe inside"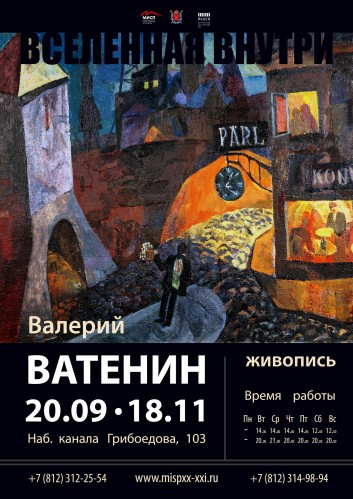 Venue:
Museum of Art of Saint Petersburg of the XX-XXI centuries, Saint-Petersburg, Naberezhnaya kanala Griboedova, 103
A visa is required:
for citizens of Russia is required
Valery Vladimirovich Vatenin (1933-1977), one of the most important Soviet painters 1960-70-ies, whose works are kept in State Russian Museum, State Tretyakov gallery, in many museums and private collections of Russia, Japan, Italy, France and other countries. The artist whose life was tragically cut short at age 44 as a result of road accident, managed to have a significant impact on the art of Leningrad of the twentieth century.
The vatenin in his work combined two phases, characteristic of the 1960s lyrical romanticism and particularly prevalent in the 1970-ies of associative pricelist, the artistic language of metaphor. The wizard created a special type of patterns: combining in one composition different genres (portrait, landscape, still life), he filled the most their works a kind of multi-stage plot outline. The vatenin called his method "synthetic realism". Changeable, full of experiments the visual style allows the author to speak with great sincerity, destroying the stereotypes of Soviet art. It revealed the philosophical reflections of the artist about life, the meaning of the universe, about humanity and the universe.
In many ways, the master had revealed himself as a pioneer of the artistic process, ahead of his contemporaries. It is no accident Vatenin was one of the initiators of the group "Eleven" - enterprises of the Leningrad artists, who contrasted their individual creative vision to the official art of socialist realism. At the exhibitions "Eleven" 1972 and 1976 halls could barely accommodate the crowd: the audience's reaction spoke of solidarity with artists in hopes of change.
The vatenin - bytopisatel, fine critic and a poet of life he showed himself not only as a painter but also as a fine draftsman, watercolourist, was the author of several monumental works. Most of his work was exhibited for several decades. For many the exhibition will be the opening of the artist-thinker, a Creator of poetic fantasy. It will feature more than fifty paintings covering the many facets of creativity of this remarkable artist.
September 20 – November 18, 2018
Hours:
Tuesday from 14:00 to 20:00
Wednesday from 14:00 to 21:00
Thursday — Friday from 14:00 to 20:00
Saturday — Sunday from 12:00 to 20:00
Closed Mondays
☎ 312-25-54, 314-98-94