Fixies on the ice. Great game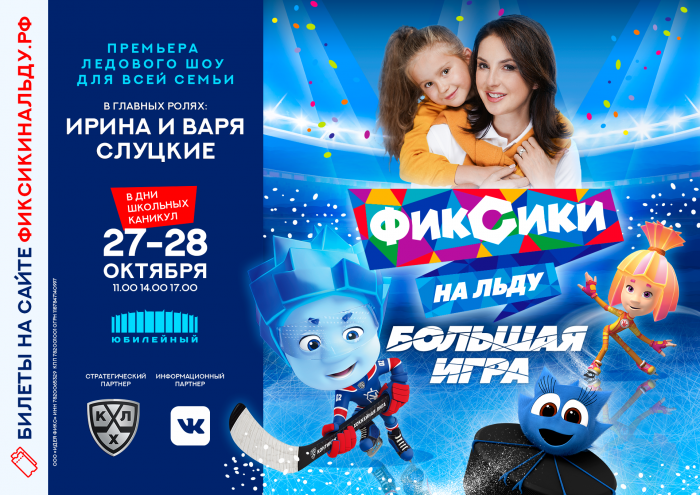 Venue:
SK Anniversary Dobrolyubova prospect, 18
In the school holidays, October 27-28, in SK "Anniversary" (St. Petersburg) premiere of the ice show for the whole family "Fixies on the ice. Big game".
Starring Olympic medalist Irina Slutskaya and her 7-year-old daughter Varya. Directors – the legendary Tatiana Tarasova, who trained a galaxy of Olympic Champions and choreographer of the leading Russian ice show Nikita Mikhailov. Great experience great trainer and Director of ice shows and the creativity of the young talented choreographer came together in a creative symbiosis to create a new genre in the industry ice show.
The new adventures of fixico will introduce young viewers and their parents with the expressiveness of figure skating and a thrilling drive of hockey, and favorite characters for the first time up on skates and will show up in sports the role of a friendly and hardworking team. The audience will see large-scale video installations, colorful special effects, high-tech luminous costumes, spectacular assists and the most complicated elements of figure skating from the soloists of world ice shows.
From the Dim Dimych appears unusual hobby – hockey. Together with a team of friends he falls in the Ice Palace. But inside, something is wrong: there is the usual hustle and bustle, no one trains athletes lost the team spirit and the desire to become Champions. In their place came the robots, devoid of feelings and emotions. And directs the mysterious trainer is a Professor in the ice disciplines, confident that the future of the sport for robots. To prove that robots can never be compared to the dexterity and skill with people, is assigned to the hockey game, the outcome of which will decide who will have the right to continue to engage in ice sports and play hockey at the ice Palace. The stakes are high – it starts with "Big game". During the story the heroes are training hard for the tournament, overcome various difficulties and learn the intricacies of the sport disciplines, and help them in this Cooking and Irina Slutsky.
As you know, talent wins games, but teamwork and Championships. Come support the team of your favorite friends on ice show "Fixies on the ice. Great game" in the school holidays in Moscow and St. Petersburg. Who knows, maybe you will be able to help the main characters to affect the outcome of a crucial match?..
Schedule of performances:
Saint Petersburg,
SK Yubileyny
Dobrolyubova prospect, 18
27 October: 11.00, 14.00, 17.00;
28 October: 11.00, 14.00, 17.00.
Duration: 1 hour without intermission
Age limit: 0+
Children under 3 years free without extra bed. 1 adult – 1 child. 3 years separate ticket is required!
Cost of tickets: from 500 to 3000 rubles
Official website:http://фиксикинальду.рф
Organizers: Producer center "idee Fixe"