Show-fairy-tale on ice with a Symphony orchestra "NUTCRACKER 2"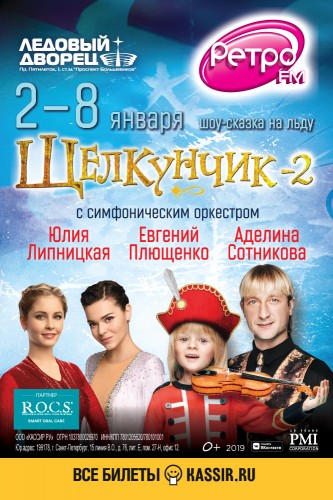 Venue:
Saint Petersburg, Ice Palace
A visa is required:
For citizens of Russia is required
Evgeni Plushenko, Yana Rudkovskaya and Corporation PMI represent
show-fairy-tale on ice with a Symphony orchestra"NUTCRACKER 2"
2-8 January 2019
Ice Palace
Evgeni Plushenko, Yana Rudkovskaya and Corporation PMI represent the continuation of a unique ice show – a fairy tale for the whole family with elements of magic – "Nutcracker 2". The premiere of the second part, finally in St. Petersburg!
Show "Nutcracker 2" is created on motives of the fairy tale "the Nutcracker and the Mouse king" by German romantic writer Ernst Theodor Amadeus Hoffmann music by Pyotr Ilyich Tchaikovsky.
This winter in St. Petersburg show-fairy-tale on ice "the Nutcracker-2" will surprise you not only excellent skating, a high-tech 3d effects and memorable scenery, but also a real musical theatre. The stars of world figure skating - Evgeni Plushenko and Adelina Sotnikova will perform to the accompaniment of a Symphony orchestra. "Nutcracker 2" will debut for the young winners of sports Championships Julia Lipnitskaya. The skater previously had never participated in ice shows, in Petersburg for the first time will be on the ice as one of the main characters of the tale. Prepares special rooms charming Alexander Plushenko. The son of a famous figure skater is already a seasoned artist, or just out on the ice and always picks the most warm applause.
The audience for these musical experiments and an interactive room on the ice, which had not seen before sophisticated St. Petersburg audience. The musicians will take part in the show, slipping on ice on a self-propelled turkah under waltz of the flowers, will help our heroes battle against the mouse army to save the Christmas Star and marveling at the wonders of the magician Drosselmeyer.
But that's not all the surprises that made its viewers Yana Rudkovskaya, Evgeny Plushenko and the Corporation of PMI. New heroes, Olympic Champions in figure skating, the flowers on the ice in the middle of winter - all the secrets of the ice show are endless. But it is safe to say - "Nutcracker 2" will give everyone a real Christmas story and fill holiday weekend of magic!