Yulia Rutberg. "All this fuss" in the Variety Theater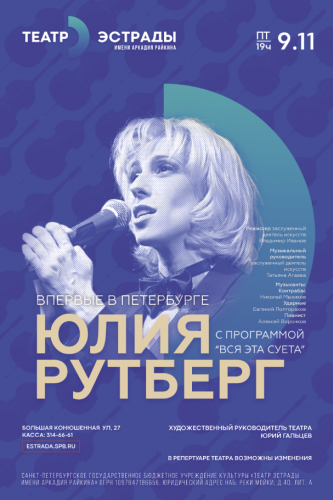 Venue:
Saint Petersburg, the Main hall. Bolshaya Konyushennaya, 27
A visa is required:
For citizens of Russia is required
"To hell with care, some of them use? His heart warm.
Life is a cabaret, my friend! Waiting for you at the cabaret!" - LizaMinelli.Cabaret
9 November in the Variety Theatre. Raikin – a solo performance "All this vanity" people's artist of Russia Yulia Rutberg, actress of the Moscow Theater Vakhtangov. In the program, stylistically reminiscent of the famous Berlin cabaret 20-30-ies, will feature songs from the repertoire of outstanding Russian and foreign artists, a number from the musical "Chicago" and zongo Bertolt Brecht.
The voice of Yulia Rutberg is as exceptional as the voice of Liza Minnelli and Ella Fitzgerald. Its low expressive tone, it would seem, created for the international hits – "Life is a cabaret" and ballads from the first of the "Threepenny Opera". But the melody has been popular for several decades is just the cherry on the cake of a larger program of Yulia Rutberg "All this fuss".
Along with their amazing musicians, Julia will take the stage of the Variety Theatre on November 9, to radically change the pace in which your I the hearts of the audience. She has easily managed this - in Germany, Denmark, America and Lithuania. She threw the audience of the relaxed elegance dramatic experiences, from the whirl of jazz in an ironic pause. "All this fuss" - it has become a common skill of the actress and the audience to look at everyday life and obsession. And understanding that whirlwind of meaningless and loneliness us out with the arts.
Expressive voice, unique charm, natural magnetism, brilliant sense of humor are just some of the qualities for which the actress loves an audience. In normal everyday situations, she manages to see the nuances that on stage she turns into paint, just make her characters vivid, recognizable and memorable.
Director – Vladimir Ivanov. Musical Director: Tatiana Agaeva Musicians: Nicholas Misikov (bass), Eugene Poltorak (drums), Alexei Voronkov (piano)
12+. Beginning at 19.00. Tickets https://goo.gl/k6npSu