Mono-Opera by F. Poulenc "Human voice" on 10 December in Ufa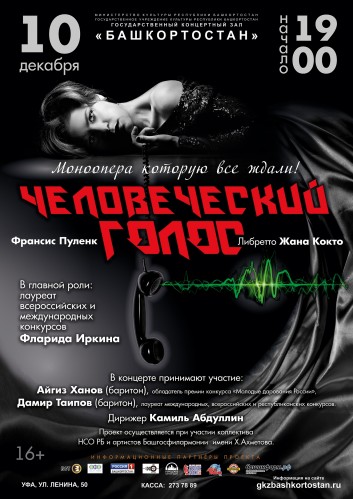 Venue:
SRC "Bashkortostan"," which. Lenina, d. Fifty
10 December 2018 for the first time in Ufa, the premiere mono-operas by Francis Poulenc "the Human voice". In the Great hall SRC "Bashkortostan" amazing beauty party Women in one-man production of the prominent French composer will be performed by the laureate of international and all-Russian competitions, soloist of the Bashkir state Philharmonic society named after H. Akhmetov Florida the Irkin.
The project is the creative powers of the National Symphony orchestra of Belarus, the State concert hall "Bashkortostan" and the Bashkir state Philharmonic society named after H. Akhmetov supported by the Ministry of culture of Bashkortostan.
At first glance, to deliver a similar performance seems simple: But... not every singer will be able to keep in suspense a hall, only one tone of your voice, even if the scene includes a real Symphony orchestra!? At the premiere we are waiting for full production, with the original suspended stage above the orchestra, where for 45 minutes the soloist will move, fall and get up, lying on the couch ...and even jump!
Beginning at 19:00, Infoline:273 78 89, 8(917)4218009
About the play.
Woman throughout the entire show talking on the phone. Her life was a terrible tragedy left her beloved man. The heroine went from a loved one, learning about his infidelity..."Well, good-bye." "I made the powder... all dissolved in one glass". "My love, I am strong. Hurry, good-bye, tear all tear soon, love, love, love, love...Love".