The play"House" on January 24 in St. Petersburg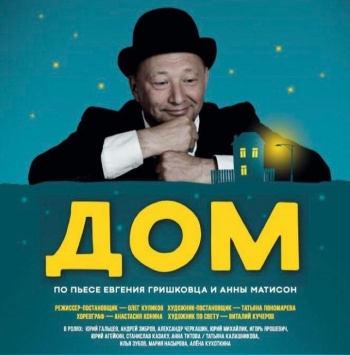 Venue:
Variety theatre named after Arkady Raikin, Bolshaya Konyushennaya 27
In the heart of the play – the play is one of the leading contemporary Russian playwright Yevgeny Grishkovets, created in collaboration with a young talented writer Anna matison.
The main character plays Igor is a doctor, working in an ordinary district hospital. He has a favorite work, family, loyal friends. Life, in General, has developed. You only realize the unseen, childhood, dream to build own house. Following this decision, events push the hero difficulty, which will make him completely rethink his life.
A challenging dramatic role entrusted to the artistic Director of the theater Yuri Galtseva. For him, this job was a challenge made to cross the usual way. The drama of bold directorial decisions only won – Galtsev has made to the Comedy inherent lightness, with a special lyricism and poignancy.
Directed by Oleg Kulikov constitutes an unusual synthesis of music and drama, it is filled with songs, dances and elements of theatrical clowning. The performance praised the theatre critics of the city and is the playwright – Evgeny Grishkovets, who visited the Prime Minister.
Oleg Kulikov: "This is a story about us today, about our life, about the generation of people born in the Soviet Union – in another country. In the play "the House" raised a simple and very Russian theme: what is important and what is not, what is life, what we live for. Chekhov questions that remain ahead of us task...".
The play "the House" was written by Evgeny Grishkovets in collaboration with Anna matison. Staged in the two theatres of the country: in 2009 in the theater "School of modern drama" Director Joseph Raihelgauz (with the participation of TV presenter Alexander Gordon), in 2011 – Director Sergei Puskepalis in the Moscow art theatre. A. P. Chekhov (starring Igor zolotovitski). The performance of the Variety Theatre. Raikin was the premiere of the play in St Petersburg.
Starring: Yuri Galtsev, Andrei Zibrov, Alexander Cherkashin, Yuriy mikhaylik, Igor Yaroshevich, Yury Again, Stanislav Kazak, Anna Titova, Ilya Zubov, Tatyana Kalashnikova, Maria Nasyrova, Alain Mahotkina
Artistic Director – Tatiana Ponomareva
Lighting designer – Vitaly Kucherov
Choreographer: Anastasia Horse
Director — Oleg Kulikov
Category: 12+
Duration: 1 hour 40 minutes without intermission