The play"the Freckled girl!" Premiere on January 26 in St. Petersburg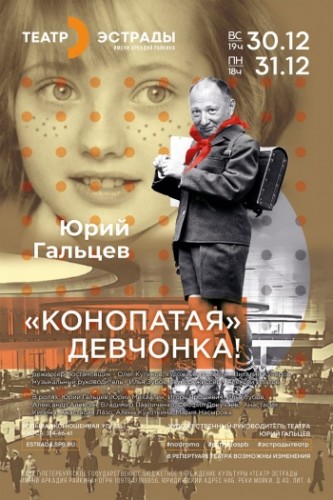 Venue:
Variety theatre named after Arkady Raikin, Bolshaya Konyushennaya 27
The airport is an amazing place. Here and the joy of meeting, and nostalgic memories, and anticipation of new adventures, and the memory of home. It is the airport — the scene of a new show Theater Stage "Freckled girl". A small provincial airport terminal was at the time of bad weather — a Blizzard and a frost — a haven for different people. Among stuck in transit passengers — the representatives of different social groups, ages and professions. From fishermen to artists. It will take another couple of hours and all of them, one by one invited to the landing. Those who are waiting for a flight have time to get acquainted, make friends and even to confess in front of random stranger would never see. But these watches will become an important and joyful for all of them. A short meeting in a warm space, the walls of which howls the Blizzard of time, render all the characters (and furthermore, hopefully, the audience) happy.
One of Prezidiuma at the airport, bad weather, Blizzard — Yuri Galtsev. He hurries from a tour to St. Petersburg, in his home theater. Galtsev and will be the main character of the story unfolding in the waiting room, in the corridors and in the bar of the airport. And play it yourself. But the benefit z.. Russia Yu. N. 'tseva, in the usual sense of the word, this show can not be named. Because there is no memorized monologues, successful pop numbers and scenes from plays, played for a few dozen years. And it will be a journey through time, filled with very personal memories: childhood, about his father, who is long gone, about a girl who fell in love in the first grade... Will be personalized a look back at an era when Nevsky seemed freer and wider, and Kazan Cathedral impressed the teenager first arrived in Leningrad, more than then, the adult, the Roman Cathedral of Peter and Paul. Back sad, but also happy, says Yu. Galtsev. And he adds: "In my youth I thought that love brings happiness. And I was right."
Throws of the twentieth century in the twenty-first century with their disparate speeds, technical equipment, whirlwind, multi-tasking and carnival places and people make music — songs from the first vinyl, of the Christmas lights and the "morning mail". Musical performance — so defines the genre of the play directed by Oleg Kulikov. And the music will sound live. On the scene in full force will be released vocal-instrumental ensemble "Beyond the clouds". And for creating atmospheric scenery used 3d mapping and videoinstallation.
In performance are occupied: b.. Of Russia Yury Galtsev Igor Yaroshevich, Ilya Zubov, Alexander Borisov, Vladimir Pavlichenko, Theophilus Dokuchaev, Anastasia Kipin, Mahotkina Alena, Anastasia Lazo, Maria Nasyrova
Director— Oleg Kulikov
Lighting designer — Vitaly Kucherov
Musical Director: Ilya Zubov
Sound Engineer: Alexey Ipatov
Photos — Rima Lviv
Director — Oleg Kulikov
Category: 12+
Duration: TBA