Mel'nitsa 2.0. Reboot!
Notice
: Undefined index: wrap_width in
/myarea/web/mesmika/public_html/templates/boxed/content/default_item.tpl.php
on line
49
>
Notice
: Undefined index: wrap_width in
/myarea/web/mesmika/public_html/templates/boxed/content/default_item.tpl.php
on line
49
>
Photo source:
Tanya Ash // MESIKA
Sunday, October 20, in the Concert hall Crocus city Hall celebrated its 20th anniversary, the band regarded as the most famous folk-rock band in Russia.
The concert was scheduled for 19:00, but the actors gave a mass audience to come to the hall to take their seats. The crowd was buzzing in anticipation of the artists and the start of the event.
Opened the concert flutist Dmitry Kargin his Intro, smoothly passing to the song "the Wolfhound".
In between songs Helavisa introduced the members of his team and noticed that it is constantly on the stage move the furniture, so, before the song "Silkworm", the prop guys made the artist a harp.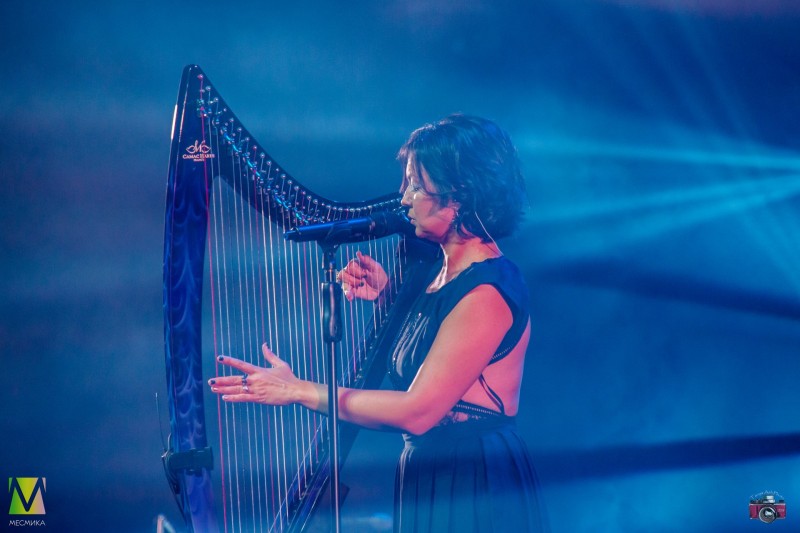 Not without pleasant surprises. The first guest, who we were introduced to Natalia was Vadim Samoilov, the leader of group "Agatha Christie". The duet they performed the song "the Witch". Helga also announced a new special-video content accompanying songs.
After wild applause, which was Vlad's room, at least roughly, met the next guest of the evening was Alain Sviridov, who performed together with the "Mill" the song "the Wheel".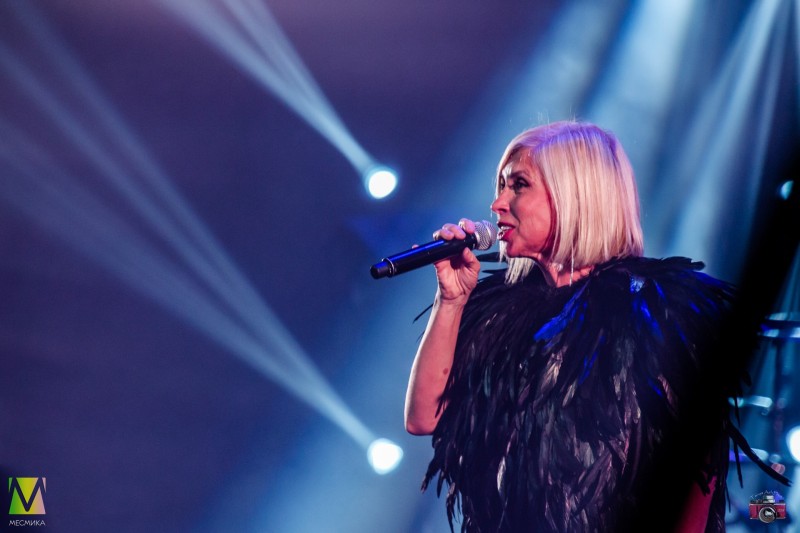 But the most anticipated guest, as it turned out, was Lusine Gevorgyan. When Louna came on stage the hall, just for a second, sporochnus! People shouting merged into a General roar, accompanied by applause. Together they performed "the call of the blood".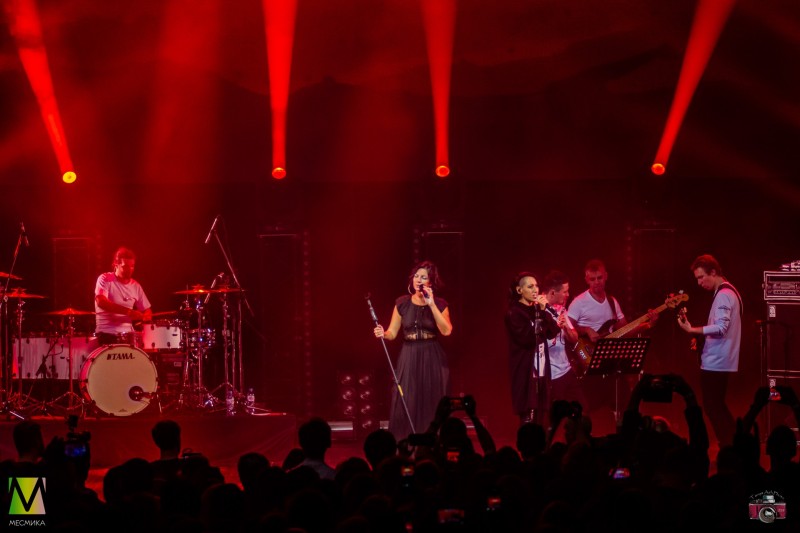 The next guest was the composer Mikhail Smirnov, with whom "the Mill" performed the song "Night Mare" and a few songs.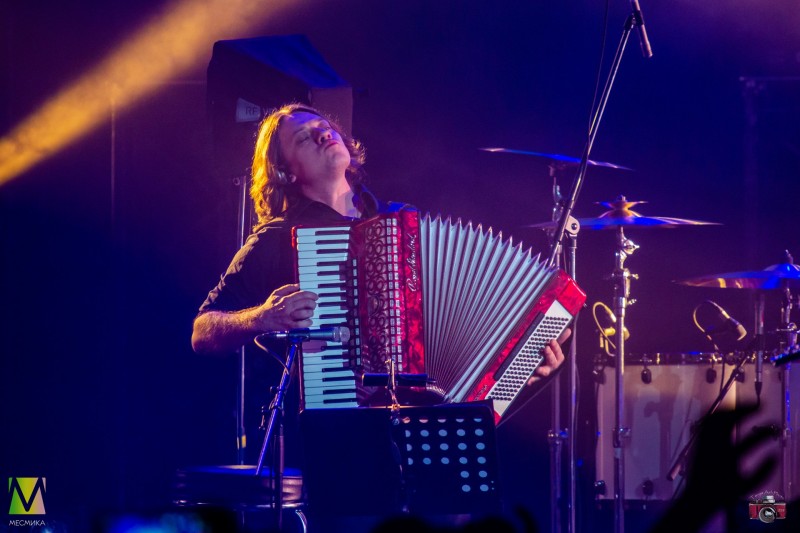 In Transporter where there was room to move freely, could be seen circling in the dance of the couple.
After performing the song "Werewolf" almost all members of the group disappeared from the scene, leaving the audience alone with the drummer. We waited for a powerful solo from drummer Dmitry Frolov. Later Helga called it reel "Frolov". Dmitry, charging the room with positive emotions and showed his skill, brought us to the intermission, after which all enjoyed a sensual, heart-wrenching solos from flutist, leading us to the acoustic part of the concert.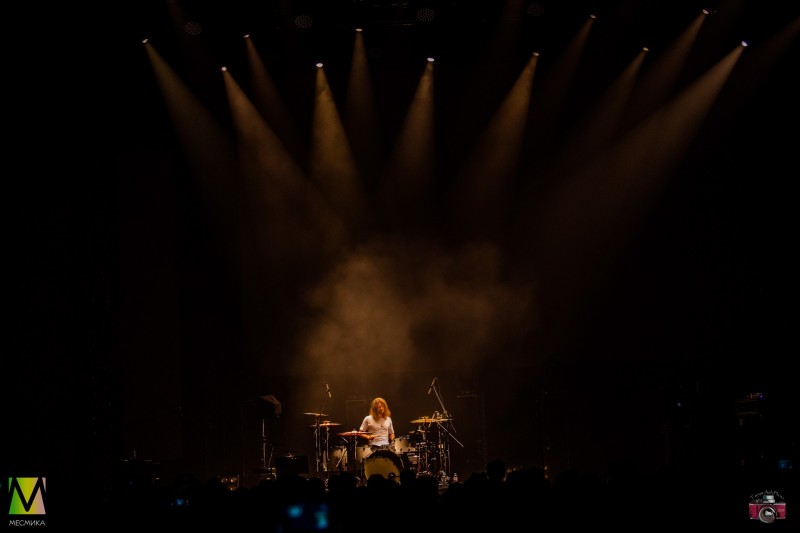 Before the concert visitors were issued manual with the planned activities in which to participate. In addition instructions were issued red paper hearts that we had to lift during the song "love in the time of winter". The ticket holders at the entrance, at the beginning of the song "warrior of the Heather", was given white roses, which, in the end of the song, gathered in a common bunch, and handed down to man from photopit. Holders Seating areas (stalls, amphitheatre, balcony, mezzanine) waiting for another task – to turn on the flashlights on their mobile phones.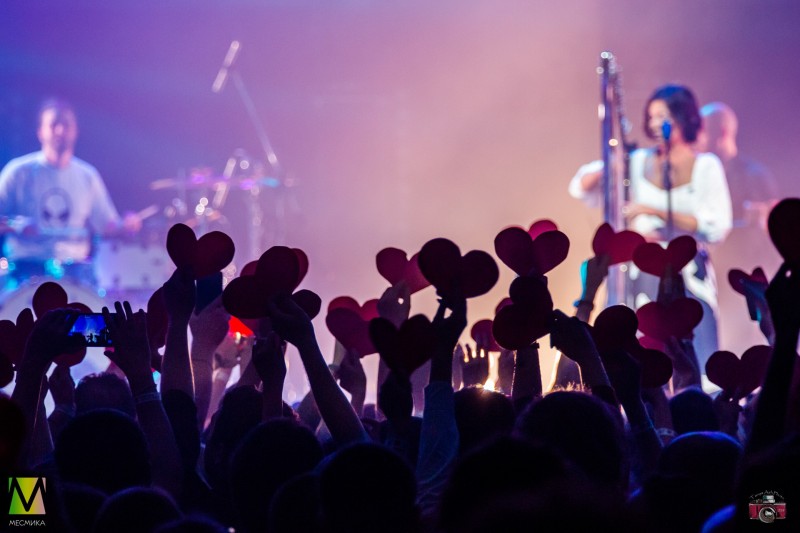 During one of the breaks between songs Natalia, very politely asked permission to throw the rack for a microphone, saying that the concert was wanting to do.
Well, as an encore, as the cherry on the cake, the band played "goodbye" and on that symbolic note, with hall saying goodbye and thanking everyone who came, went behind the scenes.

Notice: Undefined index: wrap_width in /myarea/web/mesmika/public_html/templates/boxed/content/default_item.tpl.php on line 49
>
Notice: Undefined index: label_in_item in /myarea/web/mesmika/public_html/templates/boxed/content/default_item.tpl.php on line 50


Artist: