Big return Bring Me the Horizon in Saint-Petersburg, SKK "Anniversary", 6 Feb 2020
Notice
: Undefined index: wrap_width in
/myarea/web/mesmika/public_html/templates/boxed/content/default_item.tpl.php
on line
49
>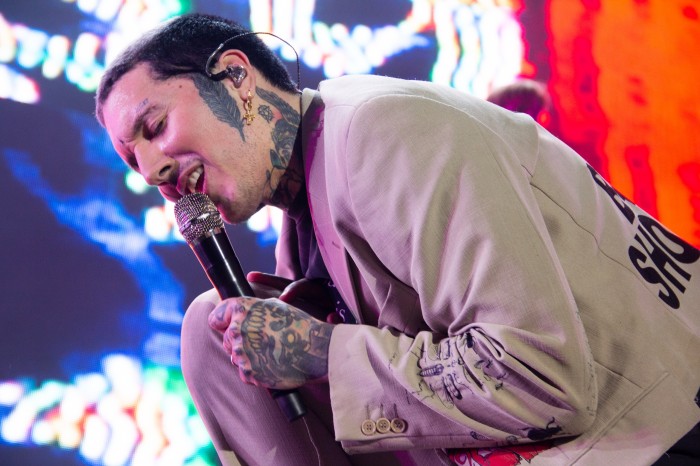 Notice
: Undefined index: wrap_width in
/myarea/web/mesmika/public_html/templates/boxed/content/default_item.tpl.php
on line
49
>
Photo source:
Nadia miloserdova
Done! The Grand return of the British rock band Bring Me the Horizon in Russia. Concert Bring Me the Horizon in Saint-Petersburg took place on February 6 in the sport complex "Yubileiny". This venue was just by the way, given the number of people willing to go to a concert of your favorite artist.
But before proceeding directly to the event itself, delve a little into the history of the group. British metalcore group was formed in 2004 in Sheffield. Currently the band members are: Oliver Sykes (vocals), Lee Malia (guitars), Matt Keane (bass), Matt Nicholls (drums), Jordan fish (keyboards). The style of the band throughout its activities underwent changes. During its existence, the band is not enough experimented, for example, the early releases had a more heavy sound, but now the group have added to their music elements of melodic hardcore, post-rock. It's hard to say whether all the fans relished such innovations.
The concert started at 20:00 with a warm-up. Russian band WILDWAYS 5+ coped with this task. The team has already established itself on the stage. The audience enthusiastically adopted children, each singing their song. WILDWAYS had played so many tracks, but carefully prepared the crowd for the encounter with the headliner.
Bring Me the Horizon had already submitted all so beloved compositions: "Ludens", "Mantra", "Nihilist Blues", "Drown", "Medicine", "Shadow Moses"... Total the band played 16 songs, but the crowd, of course, was not enough, the audience is asked to "supplements". It was not just a concert, and the whole show. The group thoroughly prepared in order to impress their loyal fans in the heart. Everything was left to chance. The image of Oliver Sykes, released to fans in costume "on the contrary", his hair painted like Yin and Yang, crazy and colorful decorations, girls dancers – all this led to a complete delight.
It is safe to say that the concert was a success! Crush on the dance floor and the lack of air did not prevent fans to enjoy the concert. The hall was full of indescribable atmosphere. All this contributed to: live communication with the audience, attempts Oliver cursing in pure Russian, his "sakaba" - all this certainly has.
Always twice as nice to watch as the artists themselves take joy in what you are doing! Bring Me the Horizon have once again proved that they love what they do. Those crazy Brits have made this cold day a hot and really unforgettable for the fans. The audience cheered to the last did not want to let the musicians go from the stage, but, alas, everything has an end. The group has concluded his speech with the song "Throne" and left the stage. Many did not stop, and they followed the group to the hotel but managed this idea or not, we don't know. One thing is clear - Saint Petersburg very welcomed the team, and hopefully, now Bring Me the Horizon will visit us more often.
Setlist:
Ludens
Mantra
House of Wolves
Avalanche
Wonderful Life
Shadow Moses
Happy Song
Mother Tongue
SugarHoney Ice & Tea
Antivist
Nihilist Blues
CYFMH
Follow You
Drown
Medicin
Throne