Let the Boys be Boys! "ONYX" made in Moscow "Arbat Hall"
Notice
: Undefined index: wrap_width in
/myarea/web/mesmika/public_html/templates/boxed/content/default_item.tpl.php
on line
49
>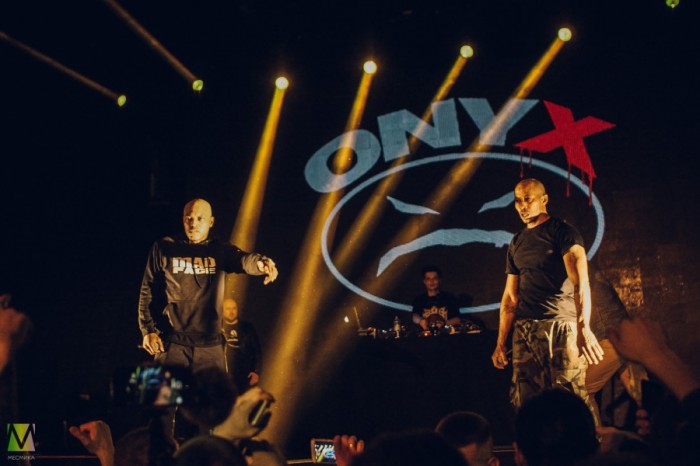 Notice
: Undefined index: wrap_width in
/myarea/web/mesmika/public_html/templates/boxed/content/default_item.tpl.php
on line
49
>
Photo source:
Билалов Евгений // МЕСМИКА
22 February in Moscow club "ArbatHall" was the performance of legendary hardcore rap group from Queens, American "ONYX". It would seem that rapping in the capital, the guys finished yesterday – less than a year since then, as Sticky Fingaz and Fredro Starr were leaving Moscow, after another furious concert. Here we go again.
Fans started to gather at the club around eight PM – that's how much was supposed to start the concert. However, was waiting for them, warming up, warming up, just warming up. The long-awaited monsters of rap came on the scene in only half of the ninth. Well, that had to wait, but both floors of the club were Packed to capacity.
"ONYX" burned that night a little over an hour, but it was cool. So much emotion, aggressive reading. The guys poured his energy into the crowd, and received a hundredfold return. Was performed all the hits, and his most successful track, "Slam", the guys have released almost at the outset.
Between the songs "Onyx" and then commemorated their dead "brothers" colleagues in the shop, and just awesome musicians. A heavy share of the American rapper. It is possible not to live to thirty five, then to thirty...
Mention that evening was awarded to John Barry (one of the founders of the cult rap-rock band from Brooklyn "BeastyBoys"), BIG DS (former member of the "ONYX"), all of a sudden Kurt Cobain (you know the guy), Nipsey Hussle (shot in Los Angeles less than a year ago the rapper), and many who do.
"Onyx" was literally torn hall shouts in Russian (well, more like, as many times we've had, full of local homies): "As you say in Russia – CRAZY!", "Zae..camping!" and of course "Hey, it's full of PI..er!". Taught on its head...
Fans responded to the fact that the whole concert chanted "OU EN Wai Ex" (without the filing Fingaz'and Sticky, of course).
The performance of the icons of rap was generally peacefully, the protection put on the air to "breathe" just one person, and then at the very end of the show. Possible in such a super positive attitude replied Maria Ivanovna, who was spotted during a concert here and there; maybe just the fact that people came together to hear, finally, your favorite band – from here take the negative?
Needless to say, it would seem, "ONYX" was on stage for an hour, and really – a whole hour! And this time fans of their work will not soon forget! But if someone starts problems with memory, then there is a solution: probably the guys from Queens in the old tradition again will visit Moscow a year and a half!And now... BACDAFUCUP, guys!