Makar Polovtsian: we Have never had a problem with the song selection for this release
Notice
: Undefined index: wrap_width in
/myarea/web/mesmika/public_html/templates/boxed/content/default_item.tpl.php
on line
49
>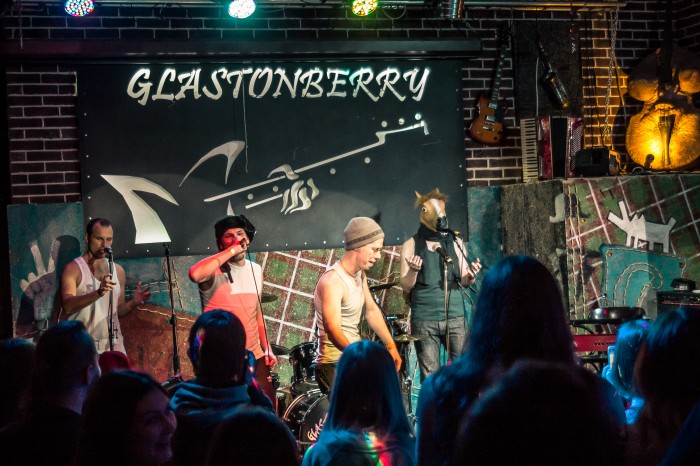 Notice
: Undefined index: wrap_width in
/myarea/web/mesmika/public_html/templates/boxed/content/default_item.tpl.php
on line
49
>
Photo source:
Photo courtesy of the artist
If you were drinking ever Ivan-tea with cucumber? And will you call at least one artist that is as prolific on new hits, which stamps them with regular single single once a year? If not, then today we will introduce you to a curious character named Makar Polovtsian!
Makar-Tea is a special tea, Ivan-Tea or St. John's Wort. Tell us about his power? Why it is suggested to drink this tea with cucumber? As the taste Makar-Tea team "Makar polovtseva"?
Makar: Well, for starters, it should be noted that it is primarily our new hit single, which this summer have to blow up all the gardens of the country! Its theme logically continues the theme songs of "the Soup" and "Disco-radish". Well, he Makar-Tea is a magical refreshing drink that improves any conversation, and perfect for aperitif, and for the climax of the feast. Well, the answers to the following questions, I think, is found in the song itself.
"Makar Polovtsian" is a character who appears only on 1 April, but this year it happened one month later. What happened?
Makar: you Know, when you select the release date this time we decided to push off from the song, and gave her the opportunity to brew, to steep... Plus we decided not to compete with our friends in the "Choir of Marco Polo", which also decided to release their version of the song "the middle Ages" ("Brother Anatoly", approx. ed.) and on 1 April. So we quietly took the first day of may and absolutely for this reason don't worry.
Recipe for success: "Makar Polovtsian" stable and release 1 track a year, what is the process of creating and choosing the best track that becomes the main (and only) track Makara of the year? Do we understand correctly that the output of the EP can be expected next year? Is there any plans for an LP?
Makar: we Have never had a problem with the song selection for this release. Why? Yes, just we never do more than one song a year.
On the one hand, stability is a sign of mastery, on the other – always ready to surprise their listeners. So now nothing to say. Especially next year for all of us, Makarov of Polovcian, will be a jubilee. EP, LP, anything is possible.
"Makar Polovtsian" and offline. Do you plan to organize an online concert? Do you have ideas for the festival?
Makar: No online concerts. And offline too! We don't have accumulated material for the full concert, but to play three or four songs no one except Lady Cap from "Marco Polo" does not call. Well, why do we have so few songs, you already know the immense love for creativity...
The Minotaur (man with horse head) - tell the story of how he came to the team? What is the history of people who started to go along with Makar
Makar: so the participants of our project. Ilya Boris Sych, this is our drummer, and indeed he bad knocks. However, since we are almost at the very beginning of history declined in his music from live drums, now he presses the buttons, and he even likes. Our Beck-singer Herbarium of me. He suddenly moved to Estonia, so now our band can even be called international. Also in the family, "Makar polovtseva" is singer-songwriter and accordionist is an alcoholic Mykola Fact. And of course, the Fire Horse. We found him in the dressing room before the first concert. He really wanted to play with us and even convinced everyone that he is a multi-instrumentalist. We believe, but just in case did not check.
Oh yeah, I almost forgot. We still have two tents vocalist is Nadia Jack and Julia Hibotan! Girls, Hello)
"Makar Polovtsian" is a project, which gave only one interview, and not really talked about himself. Tell us about the history of the formation of the group. Who was the author, how and when did it appear and what was the development of the group?
Makar: just want to note that we had three interviews. This is important. Just that we long ago inexperience has signed a contract with the musical program "Music world", wandering the expanses of the Internet, along with its leading Lyudmila Savostyanova, and were obliged to appear there only. This year contract is finally over, and so here we are. Ready for any suggestions. And the story is very simple and even graceful. First came the image. Then came somewhere near Lipetsk "Soup", and then flowed music. Since then, we have 4 years of trying to create something!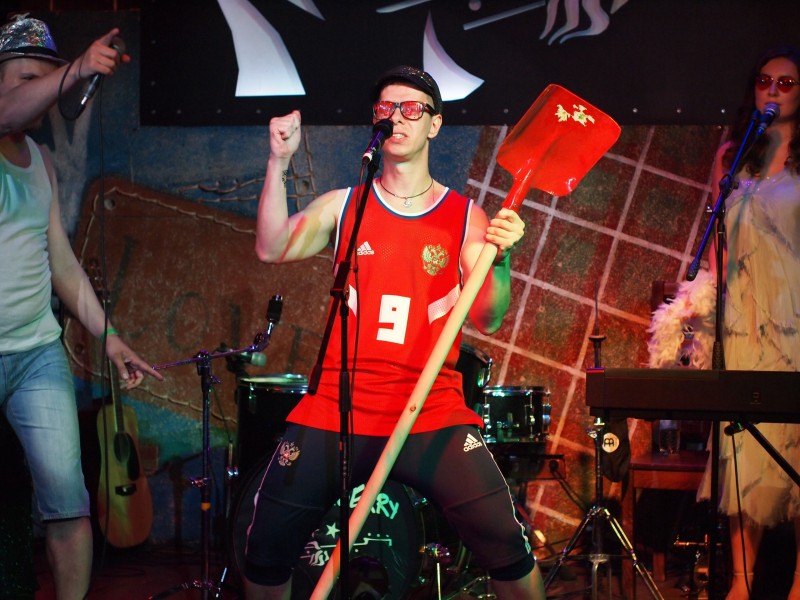 Are you comparing yourself to other primordially Russian artists or you completely have your way?
Makar: Our genre is agrarian pop-rock, turning into a vegetable disco, so to compare us not with anyone. So we are very individual!
Tell us about your performance dreams. What is it? Time, place, audience
Makar: I think it should be in my garden. There is quite a large area, about twenty acres, so space enough for everyone. But if the audience more and come with shovels, that would be great.
Collaboration, who would "Makar Polovtsian" wanted to sing?
Makar: We have planned to do songs together with famous artists like "Potatoes" and "Quirky shreds". Perhaps even for three. We even received a preliminary consent, but there are no suitable songs,alas...
"Makar Polovtsian" and reality - imagine that you are nominated for a Grammy award for - your actions? Who will give you a special thanks from the stage
Makar: I would like to say Hello to the man who inspired us on this path. Zyban Kuzmich, if you're reading this, thank you so much for "Soup"! Here he would and gave.
Fans of Makar - who are they? Surely you have people who are waiting for performances of "Makar polovtseva" (and such is, we heard) , do you communicate with them?
Makar: This is a deeply educated people, with a very sensitive soul and sense of beauty. We love them very much, of course, communicate. Sometimes they write us letters, and sometimes we answer them!
Is there a purpose in "Makara polovtseva"?
Makar: of Course, I want to record a full-length album, maybe even two discs!
A few words for fans
Makar: Friends, thank you for being with us here for the fourth single! It is difficult even to imagine how much we were able to record it without your support! I hope that new track "Makar-Tea" will not disappoint you and we'll see you at the shows!