Evening cool guitar music in Podolsk
Notice
: Undefined index: wrap_width in
/myarea/web/mesmika/public_html/templates/boxed/content/default_item.tpl.php
on line
49
>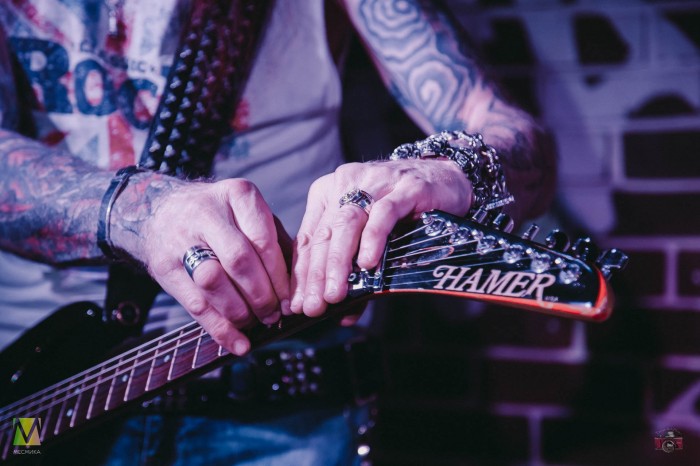 Notice
: Undefined index: wrap_width in
/myarea/web/mesmika/public_html/templates/boxed/content/default_item.tpl.php
on line
49
>
Photo source:
Tanya Ash // MESMIKA
27 APR Podolsk in pub "Irish" came with a concert program of virtuoso guitarist Sergey Mavrin. By the way, this was already his third appearance on the stage on the territory of Podolsk.
The performance began rather late — at 22:00. Perhaps this fact, and the next day — Saturday — was a worker, was due to the relatively small number of the gathered listeners. There were about twenty people.
Sergej had arrived alone, without any other musicians. On stage they were replaced by modern technology: bass, drums, and sometimes keyboards were pre-recorded and now available at the touch of a button.
Comfortable? Is not the word!
Mavrin played a full two-hour set of instrumental compositions, as does the old and new, from the latest album, interspersing their performance with the answers to our questions.
- Sergey, how do you come up with names for instrumental songs?
- That's a good question, thanks for raising this issue. Often I myself, before I ask, explain how it happens. For instrumental works it is much harder to come up with the name than for the song: the song is the text. Even though the presence of the text (I had such cases) does not give the correct song title. In repertoire of our group there is a song, "free bird", written in 2005. Text by me, a long time ago was ready, but I couldn't get it to "call". I see that everything turned out the way I wanted to, but I can't think of a name. So I called Margarita Pushkina, "Honor, please, advise something." She said, "Call it "free bird". The text was this phrase, but I somehow didn't notice. But with songs easier, there is a very distinct theme, distinct meaning. With the instrumental try to guess their emotions... usually a lot of them...
For example the song "Jimmy" – that was on duty the name of the project. It left. But this is probably an isolated case. Sometimes, immediately comes a sort of Epiphany ("Altair"), and sometimes I wait a month until I will be able to accurately, concisely, correctly and beautifully described the emotions that have been played (as, for example, happened with the song "Eternal return").
- Which of your works top 1 difficulty?
- Honestly, I don't consider them from a technical point. For me in the first place feelings and emotions. I initially set.
Some time it seemed that it might be "Wings". But to clearly answer this question I will be able to: technical limitations do not exist for me. Yes, I could compose music that would appear, figuratively speaking, like "Flight of the bumblebee" for 7-8 minutes. But I'm not interested.
In the book "Legend of the dinosaur" describes the fact that the technique of playing the acoustic guitar you, in fact, worked during the preparation for the recording of the song "blood for Blood". Is it really so?
Well, not that worked for her... I just want to say that in the 70-ies, when I started, my first guitar was just the acoustics. I learned to play it and as for the acoustics, and as a solo guitar, and on bass... Acoustic instrument – universal. It is possible to play anything. But I never thought of myself as an acoustic guitarist. It just so happens that at the time of the recording of the album "blood for Blood", according to the authors (Vladimir and Vitaly Dubinin Holstinina), it was necessary to play a solo on acoustic guitar. But all of us in the group "Aria" at the time were familiar with her very well. And I plucked up courage and took it upon himself: "Let me try!". I have and acoustic-that was not at home. I rented it from a group of "Autograph". And Yes, it was my first experience of recording the acoustic solo. After some time, it turned out, the result ended up like this. And all for a long time, phonics was abandoned. But my last instrumental albums are filled with more and more acoustics. That is, I'm slowly bringing her back to him. And that solo – Yes, in fact, it was the first experience.
- How many strings on average bursts for a concert?
- During the group "Aria", and we still have experiences were not so many, and the strings were not sufficient. Now I can't even remember where we got them then. On some black markets. The strings were, but it was a deficit. And that's how it was: there was no guarantee that string, even new, will not break during the concert. But during those crazy tours when every day was a concert, or even two, we roughly calculated that approximately 7 days there is a great risk that the string breaks on stage. There is, in General, not that often. We struggled with this very easy: the group had two guitarists, and if someone of us looking the string, he could go behind the scenes and within one and a half songs to put the string. And almost no one noticed. We ourselves have come to this. Went, came, and as if nothing had happened, as if people went to smoke. Exactly half of the song took a change of strings and after the guitar returned, and we, as if nothing had happened, continued the concert.
This is completely normal: performances live, and the string at any time may be torn. Now I often, if touring, carry two tools. Not to go on half the songs.
Concluded by Mavrin the applause left the stage. But not his audience: ten minutes later he came back for a little autograph session and a photo with the fans. For which separate him thanks!
May 21, the group Sergei Konstantinovich birthday! But to celebrate it this year the musicians decided in the autumn, on 20 October, to get ready. Welcome!
Author: Sasha Hair
See photos at the link.