Cory Clarke (Warrior Soul): I try to make my group had a heart attack!
Notice
: Undefined index: wrap_width in
/myarea/web/mesmika/public_html/templates/boxed/content/default_item.tpl.php
on line
49
>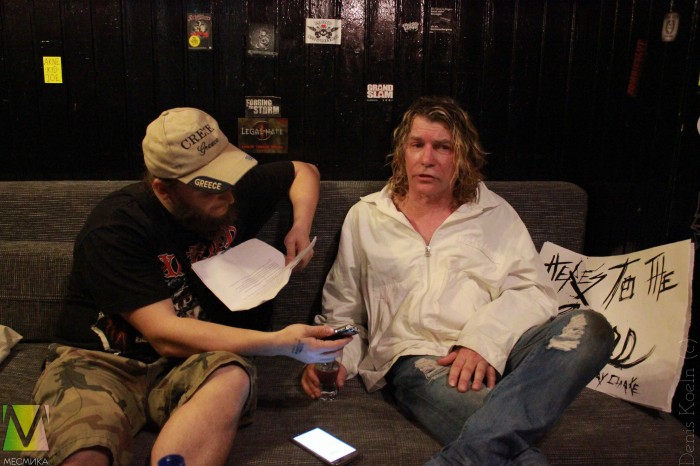 Notice
: Undefined index: wrap_width in
/myarea/web/mesmika/public_html/templates/boxed/content/default_item.tpl.php
on line
49
>
Photo source:
Denis Cologne // MESMIKA
In the vast world of rock music very often there is a lot of unexplained things. One of those things is "unpopular" group of Warrior Soul! In the early 90's Corey Clark with his team has experienced an incredible rise, releasing 3 albums that have become cult/ rebel Later, Cory decided to go against all, had a falling out with record companies, changed the composition of the group and after released in 1995 (very underrated) album "Space Age Playboys" Warrior Soul away into oblivion. And now almost 15 years later, in 2008, Cory revived the group and pleases his fans with the third album after "rebirth". As part of a tour for the new album "Back On The Lash" Mesika met and talked with the eternal rebel and a charismatic leader, Warrior Soul Corey Clark!
A week ago started your European tour, how's it going?
Corey: how's it going? The planet is falling apart. Damn... the United States acting like morons. People kill each other everywhere. How's it going? Well, let me think. We don't have the best tour dates as we want, BUT all these dates... that is, all the dates the group is trying very hard and everyone is enjoying our performances. In this regard, of course, everything is fine. But we're going to go back in the fall and I think everyone who was on these shows will come again, PLUS half more. I think in April people are still just not ready, you know? They are not mashed.
Warrior Soul concerts are always full of energy and dedication. What do you do to stay in shape on tour?
Corey: first, I don't start drinking until 11 am. No. As a rule. And when I go on stage I try to be completely loyal to the crowd. I try not to drink strong alcohol a day, because it's for the whole day slows and dulls. And I just drink half a can of Red Bull and two shots of "Russian water"... otherwise known as vodka... it helps me to go on stage, well then let's go! Music gives me energy.
How do you compose your set list is the wishes of the fans, what are your personal favorite songs or just always a "best hits"?
Cory: I'm trying to make my group had a heart attack! I take all the songs and start playing them stupidly fast and hard to bring them out and see how long I can do that. Just to see if I lived or died.
Let's talk about "Back On The Lash". Why did you name the album?
Corey: Well, you know that "Back On The Lash" means, right? This is a Scottish expression, like, after you got drunk, the next day you start all over again, you go back to the whip! That's why I called. Because it's like we're back to the new album, Warrior Soul. Or return to return to play "Love Destruction", to play all this junk again, you know? But it's fun! It's fun.
Can you briefly tell us about the songs on "Back on the Lash"?
Corey: Well, Intro (introduction) was written 3 years ago, I think. And at the time I was in Northern NJ, a half-hour drive from new York city. Well, in short, "American Idol". I'm just so tired of these talent shows and all that stuff and I thought it will be a very shamelessly say, "fuck you all, I'm an American Idol!". I don't need you, Miss the Perfect Canary, Mr. Perfect Then, Yes, Behold, some of the people who judge me, who disgraced themselves on the ears of criminals! I just... I just thought it would be good policy to add to this. To Mention Detroit. And do the Intro, which pushes people to rock!
The next song is "I Get F*cked Up" is a song about why I'm pissed off and I drink! That is why! Fucking career. Fuckin 'country, fuckin' weather. It all goes to hell! That's why I'm all bored, so they went all out!
"Back On The Lash' – there is no need to explain anything! It's like... when you Wake up in the morning on the couch, and you look at the table and I am sure that in Russia, too, it can happen, and you're looking around you all sorts of packages and jars and they are empty. And you think...damn, I need to go to a bar to get drunk! Haha. That's what "back lash". And the next song... what's the song?
"Blackout"! That's when too much is drunk and you have a darkening of (the failure) of memory. It's kind of... well, you know, starting over again... well, it's shorter about drinking. The following...
"Thrill Seeker'! It's about the party, which you just tore the roof off! ... And it is still autobiographical in the sense that I say, that's what I did. All sorts of things that I've done, they're all crazy, but I have to be strong. Because I'm a rebel, outlaw!
"Futher Decay" This song is about how you want to leave and every time you try to do you are even more involved.... because really you realize: "Damn, I don't want to quit!", you know what I mean?
This is my favorite song from this album. It's a great tune! Very awesome tune.
Cory: Well, as you know, that's basically what all the songs.
The album "Back on the Lash" is a pure rock-n-roll. The lyrics are also mostly more rock n roll than of criticism or politics. It was so conceived?
Corey: Well, I think this album is an autobiography, but within the material, very much about rock-n-roll, say, in the first song, I said, "We have spent a long time downstairs and now the dead shall rise!" ('We've been down so long and now the dead have risen'), in General, is about to put his feet on the rock culture! And I say "I'm an alcoholic first degree and also still on crack, I will fall you in the door, and you, too, the coffin will leave!","I'm the human garbage, and I decayed a fossil! And I'm talking about a funeral bell. What else can I do?" (text "I get Fu...d Up" - Ed.) And so on and so forth. I'm a little avtobiograficheskii go with everything, but then I also say that the military-industrial complex is just a collection of any fucking country! Then I'm talking about the false flag operation, you know what I mean? I'm talking about 911 (September 11) and all this crap. So it doesn't mean that this album has NO political meaning, but it's just a good balance just like like "Salutations" or "Drugs, God... "
And in your opinion, is there still a place for protest and criticism in rock music?
Cory: of course! And I would even say that I am the king of this! Well, with humor, I mean. Because apparently there are more of these... guys from Rage Against The Machine, which clearly is also in my team for the fight against the system. They are just more serious, they are not particularly enjoying their music like I do. I still have fun and rock!
And you follow any new bands?
Cory: Yes, well. I don't care about. No, seriously, they can all go to hell! I love Warrior Soul and Steve Miller band. All the rest – fuck off!
You're in the music industry for 30 years, right? In your opinion, how much has changed in that time?
Corey: Absolutely, 100%! The music industry left! I have lived through, my God... the 60s, 70s, 80s, 90s, 2000s, and I realized that... well, when I got out the CD and the vinyl was gone – this was the coffin nail! All dead.
How do you think America has changed over the last 30 years?
Corey: Well, I would say that they have... well, with the advent of the Internet 15 years ago, really has changed EVERYTHING! But America went through it sucks period, they went through Reagan and Bush. Then they went through kind of a Rebirth (Renaissance) of Clinton, but in the end he too did not do anything good. Then they were on September 11 (911), False Flag, George Bush, the fake President, you do understand through all this crap! Through it all we've been through. But you know, now 30 years later, we have trump. Well, obviously, we started an uprising against the! This rebellion came from women, this rebellion came from young people, from... from everyone! From American Indians, from all ethnic groups who are not white... not white... like it used to - old white guys all decided! And I think I finally see their rebellion – in my opinion, very cool! That is the big change! The biggest change in this! Because I have 30 years send them all to hell! In any case, it's nice to see the rest do not care!
You lived in many European countries. Which one did you like the most, in terms of the atmosphere, the people, can be the political climate?
Corey: Oh, man, I am disappointed, because in each country the political climate is pretty shitty!
Yes, it's true.
Corey: But...But! My favorite place, damn... I like! Seriously. Wherever I was. I love Sweden, Germany, Scotland, and Greece of course, Italy. I love the place where I am now and plan to stay there for a while!
Have you ever in Russia played or ever been himself?
Cory: I've never been invited! I've never been to China, never been to Russia. It turns out that the Communists I don't belong there! (laughs).
It is a pity, because you got fans.
Cory: You think?
I know some of you!
Oh cool, then get me this gig! And get me a bodyguard! (laughs)
Ah, no, you don't need a bodyguard!
Corey: How do I find the concert, dude? Do it for me! If you know any agents who can take me the concert in Russia...
I'll try, why not.
Corey: Tell everyone I talked to Corey from Warrior Soul, and he wants to come to Russia for a concert, but only if a bodyguard!
You have a very interesting past: your band played with such bands as Metallica, Danzig, or Soundgarden, you played the Monsters of Rock Festival in Donington, after which your group disbanded, you had a lot of UPS...
Cory: No, I'm all pouvolnyali zergs in the group! It's not the same as to fall apart... Hahaha
Well, of course! You've had a lot of UPS and downs, but when you look at it now, you would have done differently?
Corey: I think you just said what I would have done differently!
ALL?
Corey: Well, look! I tried to do what's right, I'm seriously over all worked to achieve everything and to everything worked as it should, but then I just hit a dead end, all crashed against the wall! And I tried to jump from the 12th floor, so I decided that I needed to stop here for a minute...
"The Future I Don't Know, I Just Live Rock'n'roll" (the Future that I don't know, I just live the rock-n-roll - approx. ed.). These lines about Corey Clark?
Corey: Yes!
Yes? 100%?
Corey: Well, I think everything is obvious! Because I don't know... especially when I just wrote it... the album came out in 2009... and I dropped EVERYTHING, I dropped everything! I abandoned my bride, I left new York and just took it and went to the path. With grief in half. And that's why I wrote that album! "I don't know the future, I live a rock-n-roll!". NDA. So this is a true story.
Great, we're done! Thanks so much for giving us your time!
Corey: Well, thank you! I'm glad to finally meet this guy!. Dude, that was cool!! Well, I am very grateful that you came in today, spent the time, and all swallowed it! Yeah, I always wanted to go to Russia and play a concert there!
Thanks for the interview!
Corey: you have a nice day! Beware of the guards!!
Interviewed By: Denis Cologne
Translation and editing: Irina Mccrossan
To see photo report on the link.