Michael Night: it's all fun and games when members of the group have some kind of chemistry
Notice
: Undefined index: wrap_width in
/myarea/web/mesmika/public_html/templates/boxed/content/default_item.tpl.php
on line
49
>
Notice
: Undefined index: wrap_width in
/myarea/web/mesmika/public_html/templates/boxed/content/default_item.tpl.php
on line
49
>
Photo source:
Victoria Safarova // MESIKA
27 April in the Moscow club "the Forest" was held the concert of Michael Night. The leader of the group, Michael told Mesmile about your alias, difficult period in life and work and impressions of the concerts with HIM and Evanescence.
- How did the name Michael Night?
- I'm Michael, and Night is a pseudonym, which was my nickname at the age of 16, when I was a musician.
- Why Night?
There are many values in the image of night, which, in my opinion, very fit in and still meet my inner state. The night is quiet, secretive, incomprehensible to many but it has its own strength and its own beauty. It is what remains after the illusion of blue sky and shows us the infinity of our Universe, as well as I longed for friends, and is now seeking participants to show the infinity of their inner world and their potential. Night can cover yourself, protecting. In her arms we fall asleep, preparing for new beginnings. Her instincts, feelings, passions multiplied, sometimes triggering mechanisms to start a new life, if you know what I mean. Night knows what she might have other annoying, her beware that it does not understand... that she sometimes becomes sad. But at the same time, she forgets who she really is. It gives a chance to the little lights Shine like the stars and she continues to exist, what would she say. The name also contributed to my affection for the musical "the phantom of the Opera", in particular, to the song "The Music of the Night" and to the meaning which it contains.
And the name Michael I like not only because it is my name. He has a very interesting story. It's a Jewish name which means "he who is like God" also is the name of the angel, which in Russia is called the Archangel Michael was the patron Saint of soldiers and defenders. According to Christian Canon, he was the leader of an army of angels against the army of the devil during the war in heaven, and he was the one who eventually expelled the devil from Paradise and banished him to hell. I always wanted to help people to overcome their inner demons, so I left my name. In all of this... Night. Turned out to be quite an extraordinary character, but one that to me is organic and corresponds to my inner state. The most important thing.
- Tell us why you decided to take up work in Russia?
Well, as it so happened. My parents are American Armenians who speak Russian and French. So I have always had an interest to come and see the place where in our textbooks said one thing and home is another. Coincidentally, I had the opportunity immediately after graduation in Russia to make my first musical attempts. It was very interesting for me, but I fully agreed to it. On arriving here I found out more details, I met someone and fell in love. It so happened that that relationship is over. I realized that I had a choice of either then all to throw and be back in the US, and leave behind him a trail among our circle of friends "love idiot" either, to get together and pay attention to all connections and opportunities, which at that time I still had, and try anything to do in the world of music. I was thinking that in Russian show business, you can go to their homes, because it is naive to think that they are somehow connected. I met several people who became my very great support, motivation and friends. First came the sound engineer with whom I worked, it now its a cool recording Studio and growing client base. Then there was my new Director, she believed in me so much that I believe in myself, when my wings were completely crushed, and she did everything to have the right connections and communication, the right the direction that I chose. And, of course, very motivated to be great musicians. Working with children taught me a lot, helped to overcome some of their complexes in terms of performances and not only. After a couple of years, as they say, out of the blue, which gave me the opportunity to perform at amazing venues with some very big personalities in Russia, I finally had the opportunity to implement the experience and skills that I have developed just three years in a genre that I feel closer to the rest of the rock. I'm your teenage years are often spent in an institution in Atlanta "The Tabernacle", which was first seen many of their idols, some of them I had the opportunity to warm up. I love and believe in this music, though, in my opinion, the entire mainstream world is something suffers. I believe that the exercise of the genre, direction, sound, that you believe in to heart, while trying to be objective and always try to create something that is unfamiliar to you, it will be interesting - it's a perfect balance to create something "real." People feel when something made from the heart.
Band Michael Night came from or previously had other projects?
- I originally performed as Michael Night, though my first song sounded closer to musicals than rock. When the musicians appeared, the name has stuck. In my opinion, this project is something between a solo project and the group. This can be compared to Marilyn Manson, Abbath, or Evanescence, which is the author and the center for music, creative ideas and creative image. But I, of course, fun and enjoyable when members of the group have some kind of chemistry when they have the opportunity to Express themselves both on record and on stage. And if in a relationship everything is in harmony musicians, maybe not as friends, but as friends and people watching in one direction, then there is nothing selfish. The Board in this plan all is quiet. Guys - powerful professionals and the people with whom I am very fun to communicate, to work, and together the time, to do humanly. At the moment it is my only project. I thought about black metal and hip-hop projects, I even have names for them, but I want to devote myself to my main project. If it was a joke, you ever know.
- Tell us how you met with members of the current squad, particularly with the guys from Annodomini Lenya and Dima.
- Lenya, I learned thanks to my Director, and we often saw each other before the start of our work. I always liked him because of his determination and interesting stories. Dima met through the years, when our bands played together at the Warwick Day in 2016, I was still with my old team, and guys - part of Annodomini. Dima then a very quick chat, but then there was the possibility of a very long and cool to chat with a beer at the birthday party of our mutual friend. I realized that despite the fact that we're from other worlds, we have many similar views and a common idols. Max Vinokurov I met when he recorded the drums on one of my old demos. He was always quiet, but honest, sincere, and he belongs to those people who are so relaxed that in his presence you also becomes quiet. But with this man (I approached the guitarist with some pressing issue - approx. ed.)... Karen school friend of our good friend Alexander kolbaya (the photographer of the group - approx. ed.) and when Sasha found out that I am in search of guitarist recommended it and we are very good friends. He's cool and talented guy.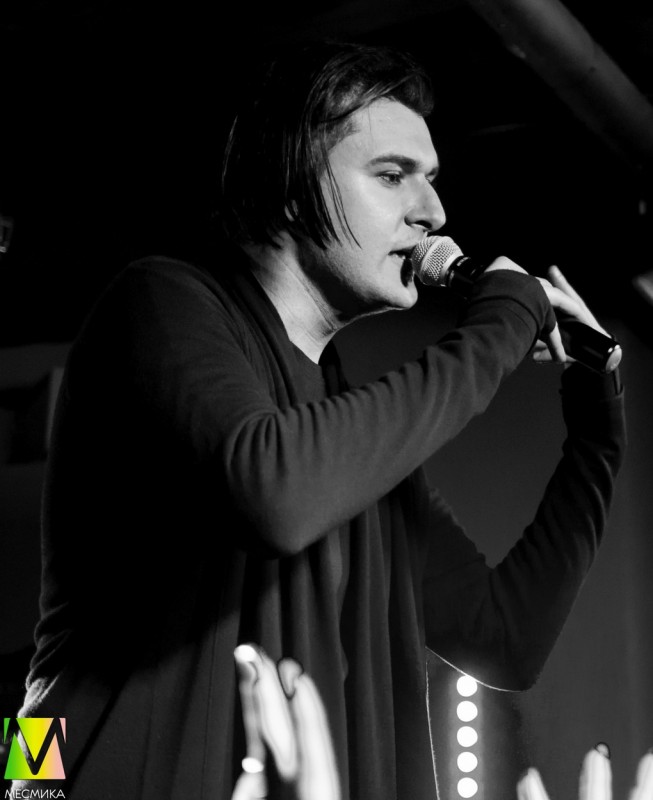 - When will the new album? All so looking forward to it....
I know. And I'm like wait! Expect somewhere in the beginning of the summer, but the exact date can not say yet and don't want to say anything, not yet ready album on his hands. As I learned after a lot of games with fire, in advance to know what to say - it is just a setup. The cash situation does not allow, the lyrics got me stumped... I with lyrics has always been more complicated than with music. There are times when out of the blue is written and much like the universe writes through me. So it was with the lyrics "Unfallen" and "Without Your Light". They are well suited to their mood message, which is contained in music. The problem is that it often comes with a delay. Since I am a native speaker of the language I see when the text is composed in a way that displays a picture, but everything is easy and understandable for perception. In those songs I just cited the example of a very good metaphors and phrases, they are well sung, and not too philosophical. For example, you can compare two albums of the band HIM: "Dark Light" and "Razorblade Romance". In the first album a lot of interesting symbolism that is sometimes confusing, and in the second everything becomes clear and faster, in my opinion, touches the soul. I would like to see in their texts more precisely. I have very little time, so I have to work in fits and starts. It's hard, but I hope that it will soon pass.
- Lyrics and music you write by yourself or your musicians help and participate?
- Lyrics and music I write myself. With Echoes in the Dark I arrangements to songs or he did, and then called the band their party to beat in person, or I just arranger part shared with someone else. A second pair of ears is never superfluous does not happen, but on the contrary, may even help. I just wrote a new song from scratch, and he arranged. I'm not a trained guitarist, bassist, and drummer, but I have ears and there are powerful plugins that allow you to play very realistic sound of live instruments. I expect the next album to cook to the end, and then call the guys in the band to play all live instruments and their sound.
- How long have you been doing music?
Five years.
In just five years? Do you have musical education?
- It so happened that no. In school I was much tougher bothered by the opinion of others about me than it is now. I was scared to do music, because all around me in years 12-13 have already played on their instruments. I was not aware that they, too, have complexes, and it seemed to me that shame in starting to make music after early childhood. Years 13, I listened to a lot of different music, ranging from musicals and ending with metalcore. It all came together in one stock – the combination of melodies, riffs, drum parts, derived from my emotions. But with all the ideas I had before is difficult to implement them without having education. As a result, all that I know, I learned in practice. I was very lucky, I was surrounded by and now surrounded by professionals. Before all the clues were there, which helped to develop the way of creativity, where the idea becomes a reality, and now I understand.
- You have no musical education?
- I studied in philosophy. He was fond of at the time epistemology. (Epistemology is the philosophical-methodological discipline that investigates knowledge as such, its composition, structure, functioning and development. - approx. ed.). When I was younger, tried to understand the meaning and the way of life and the inner state of the person. I, apparently, decided that the philosophical education will give me the answers I was looking for. As a result, I realized that the study of the theory and practice of philosophy does not provide answers, but teaches us to ask the right questions. That to me very much helped.
- What are your Hobbies? What do you do besides music in his spare time?
- I love learning about history, different cultures, religion and spirituality. I really wonder how that band Kamelot have sung we're all, all alone, but we've got something in common and to me that's "something we have in common" is very interesting.
(Here we are under the same old sun
All alone yet somehow bound and unified
Song: Nothing Eve Dies - approx. ed.)
As I always say, everything comes from fear and from love. For me it's two defining factors of humanity. I am very interested to learn what people have been through this. That's the same Church, it started from Jesus Christ. The Talmud actually says that he was the son of adultery with a Roman soldier, the Bible is written slightly differently, as in the Koran. But in any case, many agree that it was this figure who was trying to present not just faith, but also love, desire to help people. The Church was founded on this, on something so generous and warm, but they do not know him, when the great schism (the Great schism — the schism, after which finally there was a split in the Church in the Roman Catholic Church in the West, centered in Rome and the Orthodox — in the East, centered in Constantinople - approx. ed.) they have the Church turned into some political form that each other were broken off. The Orthodox believed that Catholics are not spiritually belong to Jesus, treat him just as a person. It's just a political disagreement already. I sometimes feel like the man in the sky watching humanity, like, "what do we have here?"
I believe that the more we learn about the past, the more we will be interested in the future. In General, when there is an opportunity to come out of closed position, I love to just go outside and walk.
- What holiday do you prefer: to go somewhere with friends or sit at home, watch a movie, read a book?
- In the mood. I ambivert, therefore, from the extrovert to the introvert switch in seconds. But spending time I like as friends, and in solitude. I'm not a big partier. I'm not interested in drugs, I can't say that's a lot smoke or drink. Just the company of friends is always enjoyable.
- What is the source of inspiration? Where do you get the ideas of their texts?
- You know, is an internal condition that requires a balance. Finding balance, we find harmony. It takes time, effort, concentration... But as humans, this state is unique. The most interesting that life doesn't teach it, we ourselves come to this. When there is a sense of balance, all written by itself. So, the inspiration is there, just a question in how it to release.
- What is the purpose of your work? That first and foremost you want to convey to listeners?
- I want to create music that can not only swing, but also someone to gently kiss; music that shows people that are not stupid and not naive to love, to dream, to want. I think the goal music is the absence of feelings of loneliness during her audition. It's one thing when we listen to music, and feeling not alone in our pain, and another when we seem to be on my knees before life had his head down but a friend comes, picks us up and says, "Hey, I have ice cream. Let's go," but this is roughly. This is the second interview, by the way, where I'm talking about ice cream...
- Which bands have influenced you?
- Except HIM?
- Yeah, except for HIM.
- Very much. Dimmu Borgir. I can't say that I am a person of darkness, but they have a certain power and melody in music, it really influenced me. Nightwish. Rasmus. Linkin Park is very affected Red too. Bring Me the Horizon, perhaps, Papa Roach, Kamelot very much affected. Not a band, but the musical "the phantom of the Opera" was an influence on both the image and the alter ego that exists in my music. If more light to go, the Eagles, Coldplay. Though it's not rock in the traditional sense, but still they have their own energy, I would even say that rock energy.
- What are your impressions of concerts with HIM, Evanescence?
- By the time I have with the guys was a tour with Evanescence, we are already many groups warmed up. After meeting with The 69 Eyes and our communication after I visited their solo concert in Helsinki, my relation to known groups and their participants was replaced as idols for as colleagues. Because of this, I was able to properly communicate with participants after the Evanescence concert in Moscow. Some of the participants have been very good and peaceful human interaction, and we are still in touch. Me and Troy grew up in one state and live in the same city. Jen is very generous, she is willing to spontaneously share good mood and gave a lot of useful tips. But, of course, inevitable that I the concert was under a very positive impression, because Evanescence is one of those groups that inspired me. When I got the call that I will speak with HIM, I just sat on the couch and smiled. Though, like I said, I got through this phase when fanateesh of the group due to the fact that he is in the music world, this call was very, very "special". It is a word that cannot be uniquely translated into Russian. It contains the promises of the words "touching," "especially," "priceless," "soulful" "unique" "human," and many others. I remembered what he experienced when he first heard the song. I remembered that wherever I was, I was almost always the only one who knew and loved this team and was constantly sick of people posting in this group. HIM is such a group which, in my opinion, you either do not understand at all or understand, but very deep. The music has some very specific atmosphere. So fans of HIM, unlike many others, actually on each other are somewhat similar in content, and remind the international Diaspora. I understood their music and, like many, found something that became like a mascot for many years of my life. So when I had the chance to act together, to get acquainted with the group, exchange a few words with Villa, and to hear him say very nice words from the stage in Moscow, it was really great.
- And your creativity they once appreciated?
With Villa we were able to overlap quite a while because the group was preparing to exit out of the club. We just talked about mutual friends, got a picture with the group and exchanged a few pleasant words in the end. But he said some very kind words from the stage, which I was not expecting it.
Amy had more opportunities to see and to communicate properly, not casually. She said some very nice words about my voice, about the authorship of the songs and the lyrics. In particular, it was about the song We Are Love. She said that I got a buzz from a cover of the song "Frozen", and that when listened to, understood that if Evanescence would do a cover of it, she wish he was.
But Jen had the most communication. She and a lot of nice words said and a lot of useful advice given. She talked a lot and said words of support, she even pleaded with me and Amy to share their texts. There is an expression – the man-the sun, and Jen really is. A "Frozen" I can't wait to release, given the fact that the front people, two of the groups which I began music to do it, its praised.
- You came across inadequate fans who would get it? And how do you react to fans, fans?
I am very grateful for your support and interest in the project and music. Every song, every live, every concert is like a cry to the Universe, and the feeling when someone not only hears your cry, and finds in it something of their own, finds that it is possible even to fall in love, it's unreal, priceless feeling, from which comes a lot of gratitude. I have all my viewers love. I know that the more cynical reader may mentally or even mentally eye rolled up, after reading this offer, because it's impossible to love strangers as you love, for example, a close friend, loved one or relative. But, love is different. I often compare this love with the love that teacher feels for their students. It's not that I'm trying to convey to all "I know everything about this life", because like any artist, I only speak and write, and sing about what you believe. This is in terms of what a good teacher can not connect with all students, but it nevertheless, from the heart want to see how they develop, achieve, overcome their problems and live happily ever after. He rejoices when he sees that they are all well, and it was a huge honor, if he helped them in this.
OK, thank you!
-Thank you a lot for the interview.
Interviewed By: Victoria Safarov
See photos at the link.