Markus Jüllich (Crematory): "the Problem is that you lose the value of music"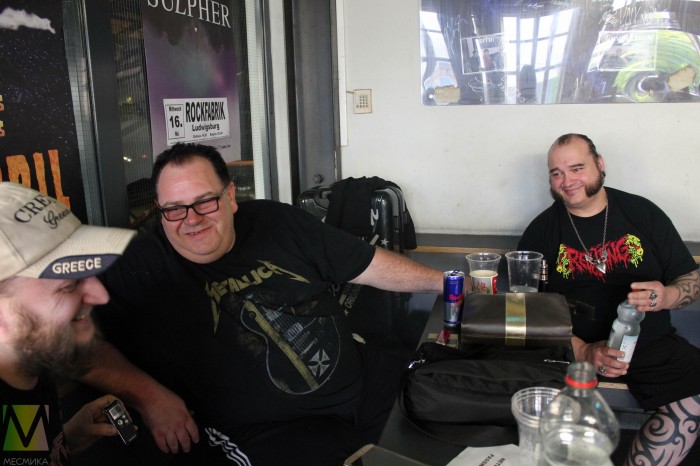 Photo source:
Denis Cologne // MESIKA
German gothic metal Crematory machine again! As part of a tour for the new album "Oblivion" at the legendary German club Rockfabrik in Ludwigsburg. Mesika talked with drummer Marcus Wlliam and vocalist Felix Stressom. The musicians talked about the new album, about his experience in Russia, and also on the recent statement of Marcus on Facebook, which sparked debate among fans of the band.
Hi guys, just want to congratulate you on your new album, it was a great success!
M. Thank you very much! Glad to hear it!
The day before yesterday began the tour in Leipzig, tell us how it went?
M. Wonderful! Very exciting, because new tour, new album, new setlist, almost new musicians. Even after 27 years get a new experience, that basically is the reason why we are still doing it, the excitement and adrenaline we still enjoy!
The new album is called "Oblivion" (eng.: oblivion - approx. ed.) Why did you name the album? Because as you said Crematory twenty-seven years on stage and has fourteen albums. You were never gone and always delight us with their music and suddenly "Forgetting"?
M. Well, that's just in order not to be forgotten! It's like the basic idea, isn't it, Felix?
F. it is True that many things have not turned out in oblivion, not to lose the overview over the important things!
M. unfortunately, it often happens that many good forgotten, because out of habit we begin to do something else. Also the lyrics and album artwork are also very suitable to the album title. It does Felix, and this time it was the same he chose the name and suggested it to us all loved this idea! This scheme always works!
"Oblivion" is pure gothic metal, without any experiments, as it was on previous albums. It was originally planned?
M. Well, as you say, the experiments... the Problem is, what we now call gothic-metal? After all, the group who used to be called gothic metal like Paradise Lost, Tiamat, Crematory, Type O, etc., they at least had the low vocals. Today, gothic-metal are called all these singer with Opera vocal, groups like Nightwish, Epica, Leaves Eyes or Within Temptation! But there is gothic metal not even smell. I think when we started out, we played melodic death metal, but then the press discovered a new genre called gothic metal, and we're very well-suited. I would call it just Crematory! We with every album more and more developed, of course sometimes tried some new things, but we quickly found our own style and of course trying slowly to develop it further. I think the new album is quite diverse, besides this time we have worked with co-producer, which also positively affected the result. The biggest experiment on the album, probably the fact that there are orchestral tracks, we never did, for example. Still this album has electro elements, such as the "Revolution" that can be heard in the songs "Ghost of the Past", "Revenge" etc. I think we have managed to combine new ideas with old reliable style of Crematory! As for me the song "Oblivion" could easily be on the album "Illusions" 95-year! In General we took a lot of "Illusions" in the new album, more keyboards for example. My basic idea in the new album was to take the best from the Crematory and mix with new orchestral ideas, I think we succeeded.
Can you name any favorite songs from the album?
M. Oh, it is very difficult what to select. I don't want to sound arrogant, but I think we released an album where there are no weak songs. Whether it's the orchestra "Salvation" or the ballad "Stay with Me", under which all girls hold and which we could turn on the radio. Well, if I had to choose, I would have said "Revenge is Mine", "Ghost of the Past", "Wrong Side" or "Cemetery Stillness". But as I said, I think we released a very strong album.
"Oblivion" climbed to thirty-sixth place in the German hit parade. Do you think it's because of your statements on Facebook or just because you made a great album?
M. and then, And then! In the new album of course all the stars came together, not argue! Here comes everything: great sound, songs, lyrics, artwork, just everything! Of course, my statement also played a role, we got a lot of reaction. I'm sure a lot of fans who have the habit of just shaking their albums, bought CD's or vinyls! They write us about it or send pictures. This shows that my statement, or even most likely appeal to the fans, was made for the most part positive. Of course there were those who didn't like it, but I don't care, it was important for me to understand the true fans and I tried to explain what I meant, since few people know how everything works, taxes, payment, rights, etc. My goal was to explain to the fans and a little to shake them.
What made you write this appeal?
M. it was just as I wrote! This morning I got an email with the report and could not believe my eyes! 1 500 000 album streams! You know how we get an album stream?
Even can't imagine.
M. We get 0.1 Cents!!! But if we sell the disc, you get 3 euros. Of course I understand that we will not sell 1 500 000 discs, I'm not crazy, but if even 1% of these people bought the discs. After all, we sell about 15,000 CDs and it's 1% of what goes into the stream! But the main problem is that if things continue in a negative trend, we will not be able to collect money for an advance for a record company to record an album. I know how much it costs, and that takes money! I don't want us recorded their albums in the basement, as is done, for example, Unleashed or Obituary, which also has no money and shitty sound! Then it's nothing more will not burn! That was in the morning and in the afternoon I got a phone call from our tour Manager and said that the presale is just awful, and offered to cancel the tour. And that was the last straw of my patience! I sat and thought it was very shitty situation! Then I decided to write to our fans! You need to tell them about the problem, has nothing to lose! If we don't sell records, so we will not be able to record albums! If people didn't buy tickets, so we will not be able to give concerts! That's what I wrote, plus a few explained how it works and what you need to buy CDs, and to get off their Asses and come to the concerts! I'm a straight man and wrote it as I thought, of course it's not all like, but nothing can be done, that's their problem. But I'm sure if it didn't work, we wouldn't sell enough copies and tickets.
But fans of metal at large still buy CDs, and records. Do you think the main problem is still online or still there is the fault of the groups themselves, there may be new genres or bands just release a bad album, and fans don't want to buy them?
M. of Course, if a band releases a shitty album, I too do not buy it! For example, I'm a big fan of Paradise Lost, but "Medusa" I absolutely did not like, terrible album, solid growl! Felix, for example, very much, and I'm not, so I didn't buy it!
F: And I bought as much in two!
M. Well, you see, you're lined means the balance! I have all their albums and my favorite "Host", but the last album I bought. But if I do like something I will buy it! Once a month I go to the music store around the corner and always buy something. Or if I know in advance that there will be some good album, I bought it in Amazon! But if a group releases a bad album, though of course tastes are all different, then of course she is guilty. But I don't think Crematory last year released a bad album. I'd say people love convenience, it is much easier sitting at home to order something online or download something with one click. No need to go anywhere and waste time. I also ordered things on the Internet, of course, it's convenient! But the main problem is that you lose the value of music because of all these free sites where you can download music. Trust me, free downloading music - a certain death for groups.
You watch more for the Gothic scene? Maybe there are some new bands that you could recommend?
M. New can't tell, but I recently discovered the Swedes Amaranthe, just a great pop metal! Few singers and all different, I'm just thrilled that I recognized them and ordered four of the album! Five Finger Death Punch is also a discovery for me, was even at their concert, I never knew about them, great team. I also really liked the last album, Equilibrium, great job. But it is of gothic-metal I don't know...
F. is Practically nothing, in the underground something else appears, but not at this level to know about them.
I think the new generation does not really want to play this music now, new team try to play more nu metal and all that...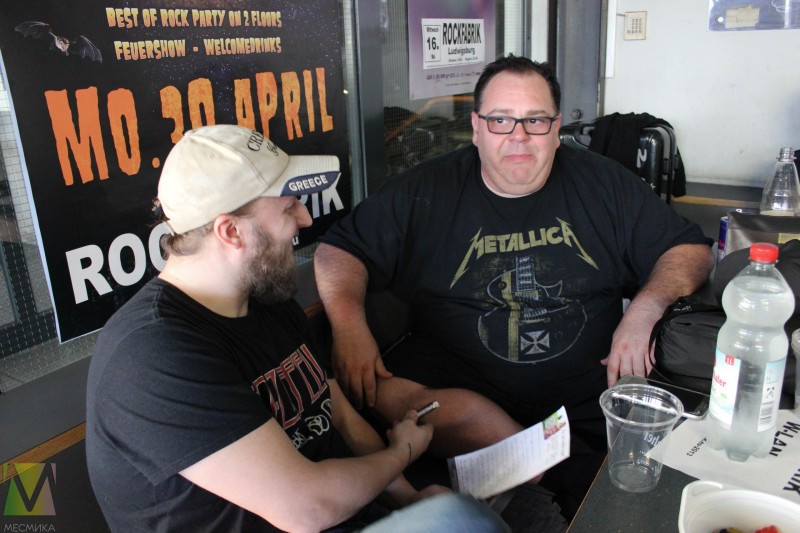 Today it has become fashionable to celebrate anniversaries, now play Tiamat "Clouds/Wildhoney" Seth, Moonspell last year played completely "Irreligious", etc. do you Plan something like that?
No, we do not need it. We, in particular, I am so creative that I don't need it. You know, I have almost half the next album ready! Yes, I must say that this year we did a good job, because I never wrote so many songs on the album like a new one. We worked with three co-producers, we had 20 songs, of which we chose for the new album top 12 and I have 10 more new songs that I have kids hasn't even showed. We have in this plan everything is fine and we don't need to while away the time playing "Illusions". We should also note that it would not be quite correct, since we now have new musicians. I don't want to create some boundaries, but for me it's three small era that we did on the first 4 albums with Lotte, then Matze and now with new musicians. So we want to do more new material and to write a new Chapter.
In its history you were on tour with such bands as My Dying Bride, Tiamat, The Gathering and many more who, tell, can we expect ever again this tour, because a lot of teams from Golden time is still active, or the festival as the Out of the Dark?
M. You'll laugh, but I have tried this to implement, but I can't find organizers who would agree, can you imagine? I told them, "Let's do a tour or festival with bands like Paradise Lost, Tiamat, Amorphis, Moonspell, The Gathering with Anneke, Lake of Tears..." It would be indescribably cool! But somehow, no it is not solved. But it's certainly not just too - each group has its own management, its agents and difficult to all come together, plus the financial side of the issue. Although in this case for me it did not play a role. But it would be an incredible event.
Since we are already talking about the tour, tell me how you choose the support acts? Why Wilde Jungs? After all, the musical side they are quite different from you?
M. I initially idea was to bring the Bonfire! Yes, all of our friends. I just think we have more adult audience and it would be cool to introduce them to new music, and Vice versa, and we get new fans. And Wilde Jungs we met a year ago, and I help them whenever possible, I ran for them a contract and advise. In General, it's to get a new and fresh fans and introduce our new music.
You have repeatedly been to Russia, what can you tell us about your experience with this country?
M. great, Great experience! But the first time was hell! We then flew on the old One and I'm afraid of flying! I think it was 2004. Russia has always had great concerts, good organization, great people, very appreciative audience. Russia is considered every 2-3 years in our main event, as a rule, it's always Moscow and St. Petersburg. And yet, when we were the first time, we from Moscow to St. Petersburg flew to the little old plane, and as I said I have a wild fear of flying, for me this was a real horror. Since we only ride on the night train! Guys can't stand him, and I fancied him (laughs)! Yeah, always cool, very cool we go to you.
You already have plans, when you again visit Russia?
M. so far we have not received proposals, but we are always open for them. I think you must still be, now we will have a tour in may, then a couple of festivals in the summer. Based on the experience in Russia, we always when it's cold! So I think again November/December or February/March. In any case, we want to come!
Do you think there is a difference between fans in countries in Eastern Europe, such as Russia and Western Europe?
I would say that earlier there was a big difference, not so now. In the 90s we played a lot, for example, in East Germany and felt that the audience catches missed. Now things have changed, in Moscow now every day someone stands for. I would say now about the same level. The only plus is that the Russian audience singing the German lyrics better than Felix (laughs)!
F. Yes, because it's easy! (all laugh)
M. but seriously, I think that in all this part of Europe, not only in Russia but also in countries like Czech Republic, Poland, Hungary, etc. the public gratitude. In Germany it's already like a routine, the audience full. There is still gratitude they show for example is always very nice after the concert to give autographs a couple of hours, people taking pictures with us and talk, come with their children and just enjoyed this closeness. We are also very pleased such things.
A few words for Russian fans.
I hope that at the end of the year we'll be able to come to Moscow and St. Petersburg! We are always happy to come, always welcome gifts from the fans, a great atmosphere and always a cool organization! It will be like always cool!
F. And we are still taught never to drink vodka from plastic cups and drink only the one which has the label! (All laugh)!
This is great advice! Thank you for your time and great concert today!