The dobrofest 2018: day three
Notice
: Undefined index: wrap_width in
/myarea/web/mesmika/public_html/templates/boxed/content/default_item.tpl.php
on line
49
>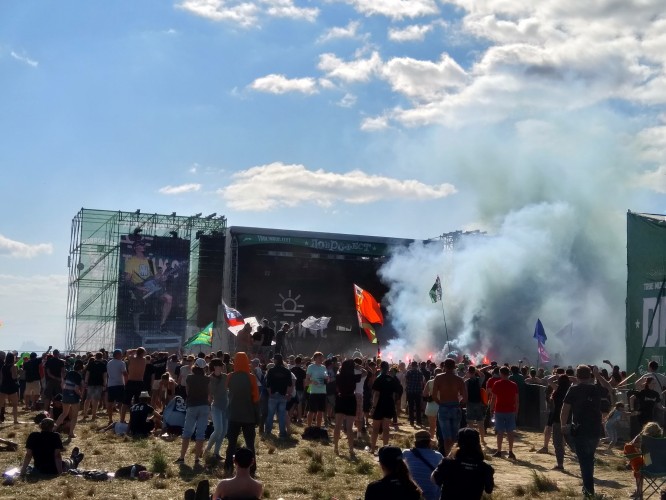 Notice
: Undefined index: wrap_width in
/myarea/web/mesmika/public_html/templates/boxed/content/default_item.tpl.php
on line
49
>
Photo source:
Ekaterina Parshina // MESMIKA
Last day of the festival began with sensible cooling. The sky is densely tightened low grey clouds and a fresh breeze made dobromirov to change short-shorts and light t-shirts to jeans and hoodies. It seemed a little more and will start fine autumn rain.
But nature has given only to cool the excited spectators, by noon, it became clear that those who do not burn in the sun on Saturday, can do Sunday.
To bed the campers were not given to nine young teams on the red stage. Some should be put to the melody of the alarm clock: there is nothing worse and scarier in the morning than you can imagine! Never mind that beginners and advanced musicians listened to only a dozen spectators. We assume that this is the so-called true a great number of fans and audiophiles! Perhaps their motto is: "Arrived at the fest - listen to all the music, and don't decompose in a tent!"
From 11:00 in the power connected the Green scene: "mamulki Band" sing a naughty song on the theme of "Figaro", the fun died down, "Volga-Volga", "Vasya Lozhkin" and "Turn on the microphone!". Latest sang about infantilism in forty years. Next on the stage came men in boring gray suits with painted eyebrows. But what they sang, remember: "Airborne you entered Artem". There is a proposal to make this song the anthem "man in a red jacket"!
Then thundered a lethal volley of ska-punk: "Record Orchestra", "Good Times" and "Distemper"! Slam, the dust fell, the motion, General merriment and singing.
After the speech Record "Orchestra" was invited by the people, literally put his hand to the festival volunteers who prepared the site, set design and collected garbage on the field. Imagine them up on stage Executive producer of Dobrofest Daniel Petrovsky. Volunteers received applause and appreciation from dobromirov.
And that's all. To the half sixth evening of the festival field nearly empty. The sellers of food courts offered their goods for half-price. The remaining Dobropole supported before collecting tents and leave in their cities. With them they carried away vivid impressions, strong emotions, a charge of spiritual good, and faith in the fact that next year will again come in this field.
Author: Igor Sinev