A Grand concert of "Our town" was held on Vasilevsky descent
Notice
: Undefined index: wrap_width in
/myarea/web/mesmika/public_html/templates/boxed/content/default_item.tpl.php
on line
49
>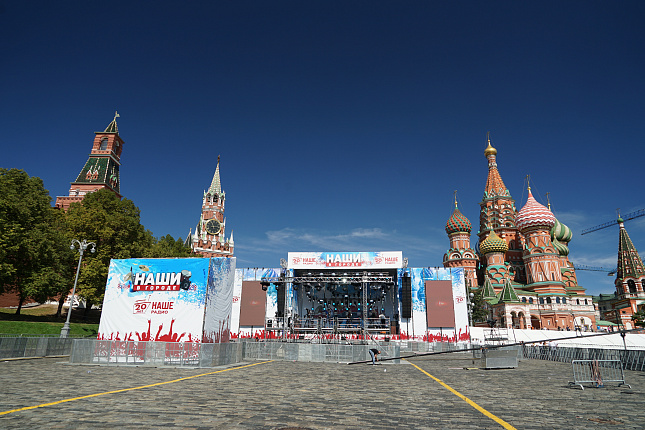 Notice
: Undefined index: wrap_width in
/myarea/web/mesmika/public_html/templates/boxed/content/default_item.tpl.php
on line
49
>
Photo source:
the press service of the festival
Radio station "NASHE Radio" celebrated its 20th anniversary with a truly Grand scale: 11 August 2018 30 thousand of Our people gathered in one of the most famous squares in Moscow – Vasilyevsky Spusk. It is a picturesque place, where the majestic Kremlin walls, beating heart of the capital, is famous for a rich history, and now we can proudly say that it has added an enchanting concert to celebrate the birthday of one of the most popular radio stations in our country.
For all of my students, who remained in the Wake of "Nashe Radio" for 20 years, radio station prepared a gift: a holiday concert "Our town". On the main holiday of the year gathered and legendary artists "Nashe Radio", on whose songs grew more than one generation, and the young of the group, symbolizing the development of the music industry.
"It was a conscious decision on their 20th anniversary to give a unique opportunity for young, but already well-known musicians to perform in such an iconic place, as Vasilevsky descent, where young musicians had never happened before. And we got the group consists of young musicians have made a unique youth audience, gave the anniversary favorite radio station that brash youth spirit, which is no longer in any radio", - said Deputy General Director of "Media Holding" Andrey Matveev.
After noon from the red square, Moskvoretskaya embankment and the Park Zaryadye began to flock to the people. The weather, as promised Roshydromet, was beautiful and Sunny, vividly reminding the audience about a recent adventure on the "INVASION" of 2018. By the way, all those who have shared with us "the adventure of the year" received a beautiful gift: invitation to the exclusive FAN area of the concert is "Our town".
At 14:00 the concert opened with a rousing performance of the group "7B", and till the evening right outside the Kremlin walls did not cease, congratulations, happy birthday, powerful sounds and voices your favorite Patriotic music: Alexander F. Sklyar and "VA-Bank", "Slot", "Kalinov most", "Narimono Theophanes", "Earring", "picnic", Olga Kormuhina and Alexei Belov, "Nogu Svelo!", "КняZz", Vadim Samoilov, "25/17". Closed festive day of his loud performance of the band "LOUNA".
Thank you to all Our for share our holiday with us, and for all these years!
Stay together and continue on the website nashe.ru, broadcast and social media radio station "NASHE Radio"!