Andrey Smirnov (U. D. O.): sometimes You can't stop playing and writing songs
Notice
: Undefined index: wrap_width in
/myarea/web/mesmika/public_html/templates/boxed/content/default_item.tpl.php
on line
49
>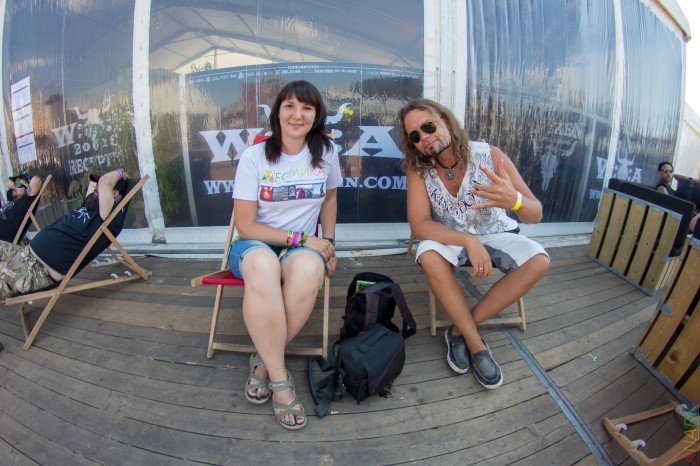 Notice
: Undefined index: wrap_width in
/myarea/web/mesmika/public_html/templates/boxed/content/default_item.tpl.php
on line
49
>
Photo source:
Alexander Egorov // MESMIKA
Band U. D. O. needs no introduction. Her music has grown a few generations, and Udo Dirkschneider has become a legend for a long time. On the Wacken Open Air festival Mesika talked with the guitarist of U. D. O. Andrei Smirnov about the new album, the upcoming autumn tour and also the revival of interest in 80s music, and why popular in the West vinyl.
Wacken Open Air 2018: our release about great metal festival in Germany is here - https://mesmika.com/en/articles/680-wacken-open-air-2018-samyi-zharkii-festival-leta.html
Congratulations with the upcoming release Steelfactory! Tell me about your feelings, how did the recording process, was it difficult, or Vice versa?
Andrew: I would say that there is nothing complicated there – for us it is a natural process. Sometimes you can't stop playing and writing songs. My friend said, "If you can not do, not do". I subscribe under these words. And for a break between albums, so many ideas and so many different thoughts... and wanted to throw and, on the contrary, was very creative and we were forced to choose from what happened. Songs could make a double album. For us it's like the fish that swim in the water.

Among fans there is an opinion that the song Rising High from the new album resembles the style of the Accept end of the 80s. How do you think, is this true, and if so, could this album be seen as a tribute to that era?

Andrew: I would not like that people took things like that we tried to copy. First and foremost, of course, on the one hand, it's nice because we have the original voice of the era. And, naturally, we subconsciously want to make music of the era, which emphasized vocals. And, therefore, it is nice when we hear such feedback, it worked, and that it reminds people exactly what they heard twenty, and some thirty years ago. In fact this music has grown a few generations, and I did not want to lead the group towards industrial metal. I wanted to make the album melodic and maximum to play old school metal with a modern twist as I see it from the perspective of their years. I was brought up, I gained influence from more modern bands, and I, of course, life wouldn't do a song a La Rammstein and try to talk to Udo: "And do not try to sing this creepy riff". It's just this combination that must be. His voice must be combined with the music, which should highlight his voice, and not Vice versa.

What you personally like best song on the new album and why?

Andrew: it is very difficult to say. I rarely listen back to something after we're done, because the process of recording and composing so long sometimes that you have so carefully listen to what you have left in your own head forever. Sometimes I prefer after the release of a few years, nothing to listen to. I then when I have it all cleared in my head, I turn on the drive or put vinyl and I have re-reborn with these feelings. I'm waiting for this moment.


The album "Steelfactory" will be released in different formats: digipack, regular glass, boxed set with various Souvenirs (stylized military mug, poster, postcard autographed by the band, a sticker) and even on vinyl assorted colors (red, yellow, silver, pattern, red, yellow, classic black). Tell me, what is diversity and is it in Europe so much love music on vinyl? In Russia, some artists release their albums on vinyl, but it's usually a very limited number and only for the most connoisseurs.

Andrew: I can say that in this respect we are fortunate: first, we have several generations of listeners. And the older generation used to listen to music on the media. For them, the phone unknownbandи unknownsongничего does not. They want to see, they want to watch, they want to feel. And I have to admit that we are lucky because we have such fans, and everything is done for fans, and I know that it is very fast rastopitsya. It is 100%. I at first was quite naive, thought: "And as something to buy later, for example." And now look – they're only for collectors, there are huge amounts of money. Then there are those who really wants to buy some exclusive set, book in advance. Don't worry, you all will receive. I myself have been doing this because it will either cost a fortune or will not find. It is in any case not advertising – I just want to warn those people who really want to buy it. Is five hundred, a thousand copies, which is very little.

Songs in Steelfactory was inspired by the last major tour, and so successful that I had to continue it at the request of fans. How do you think, could that happen again with the autumn tour in support of the new album?

Andrew: Yes, easily. I do now see a good trend: for example, look at JudestPrist. People used that JudestPristпериодически something releases, but the last album made a sour sensation because (I can honestly say) people from that era were not so much. We have Rob Halford and Udo Dirkschneider. This is the value of the same era and same genre. And who else to call so here the names? Someone already there. You see what happens? Joe Lynn Turner with heart problems, for example. That is, people naturally go. And I don't want it to be like last breath: "Let's we're gonna harvest part of the era", but the interest in this music one hundred percent wakes up, I can see that, this music is in the charts, erased the border. Before, I remember in the 90s old school, it was associated even with something bad, and now even the people understand what's wrong with that? "Old school is, on the contrary, cool, and I have this song in my childhood I listened to and I liked it, and now the guys have a new album release, let me see what's new." This is changing in the minds of listeners and this is very cool.

Our editor found in one of the public pages in VK devoted to the UDO Dirkschneider, and published in the Czech journal, which described the new album and Andrei Smirnov was named "Factor X" for the entire group that your value matches the value of wolf Hoffman Accept and you took DNA Accept as something absolutely self-evident, and on the new album "Steelfactory" you play so that all the fans will go crazy. How did you feel in this team? You do so well and quickly fit in and is your play on the new album as they say?

Andrew: first, it is nice to hear that. From compatriots, I rarely hear it because it's probably our mentality, when you consider that the person with you are of one nationality or a native of some place, it will be something like "Oh, Andrei! I know it is him ten years ago were drinking at the club." Of course, I hope that our press (and thank you for it) will pay attention to such things too. I have six years in the group, and, if I understand, this is a great period of life. If we look at a child at the age of six, he was already in the school, he already has some skills. Maybe my appearance in the group progressed that way. At first people watched to me. In fact, as I arrived, we did a wonderful album in 2013. But then my appearance was something like that – well, there, well played, well, okay. Kind of out of focus, then there were already two guitarists, maybe because of this, the emphasis has shifted, and now, finally the time has come when people have nowhere to go, there you are, with all my heart, that song, my solo, my melody give to you. And, I think, because people drew attention to it. Because everyone who wanted, asked Udo everything they wanted, his voice extremely does not change, Yes, it gets better. Udo is Udo. Accordingly, it was my finest hour, when people paid attention to it. I, in fact, to treat it calmly, just enjoying to be part of a heavy metal band, enjoy the tour every time. For me, it's sometimes hard, because for a long time can't see family, we do a lot of play, and every third day in the year I'm on stage - and this without taking into account transfers and flights. That is, I would say that this is a way of life that not everyone else may like. But thanks to our colleagues from different countries. I note various notes and posts. I don't like reading an entire review. But something it comes to me, I see some things and something for myself to note, because sometimes I'm helpful some vision on the part of man, and you think he's actually right, I have to work on that.

In late October, U. D. O. will begin a major tour of Russia. Is there already a tentative schedule and what cities you'd most like to visit?

Andrew: I was lucky enough to travel all over the whole vast with diverse groups. For me the most painful concert – Moscow.
Do not like Moscow?
Andrew: No, I love Moscow, but just when you're playing in the city where was born, and I know that will come the parents, brothers-sisters, friends, nephews and all who wish, it adds to stress levels because you are responsible not only for show but also for these people, so for me this town in the graph it is a nightmare that you need to survive. And about everything else I enjoy and have fun, talk to people. I probably would like to venture into those areas where we did not play, because playing for the first time for people – an indescribable pleasure. It's like a blank slate. They are no than you do not compare, this is the first and the most correct emotion. When you come to the city, which was already, you subconsciously expect something interesting from you because they know you, and when you're in the new angles come, people go nuts. I played in Yakutia, on Sakhalin, on the Kamchatka Peninsula in General, where we only were not. And it is very nice.
And there is a city which you could select the most beautiful or all warmer had?
Andrew: Oh, it's hard to say. Be the most unexpected place, the existence of which I didn't know rather to the geography of the group U. D. O. is not the case, because I have traveled a lot with Sergei Skachkova, when I played the classic material of the group "Earthlings". So there we were in these places. In some quarries where extract the gold and diamonds, I didn't even know that we have places like this exist. When we flew back, I thought, we'll land in the diamond region, that there is a Hollywood number two. Of course, there was not such, but when we were taken on a guided tour and you see these giant career, and then go to the factory and show you a little, huh, who found hundreds of people unearthing giant cranes that land and put together this piece. Very interesting to see life. We're probably lucky, because seeing different ways of life, different cultures helps a lot to understand the world as a whole. Rather, it makes you more open to many things. Difficult to give a specific example, but after I saw so many things, I never want to associate themselves with the policy, for example, because I understand that is the thing that separates people. In the end, the people who come to our concerts, I want to listen to music, and they want to get positive emotions. And everything else is such a tinsel. In life people want to have fun and appreciate moments with your loved ones and family members, relatives, friends – that's the main point, and here we have the mission to bring joy to people. Whether it's headaches or something else, we have to play, we have to smile – this is the part you need to understand, as a musician, make and give the people what they want.

Is it possible to find the pictures that you would suit? And have you changed since 2013, the perception of pictures for you?

Andrew: Oh yeah! Well, firstly, very pleased that in post-Soviet countries appeared a lot of sensible photographers. And I would like to highlight your portal, because since the tour I had a lot of pictures I reposted from you, and it was absolutely wonderful pictures. We have talented photographers are just added. For myself I know – my first guitar was a "cheap logs", and I have managed something carving and even record, I imagine, through what are photographers, because this is a big price spread between cheap camera, which also need to be able to remove. I can only be happy for my fellow photographers. Really want to mention – after the tour Russia-Ukraine we have a lot of photos of high-quality and cool. Thank you for that.

In parallel with the UDO you still have a few projects in which you participate, your own project. Is it hard to combine? And do projects influence each other?

Andrew: actually it's a combination, because when such employment is very difficult to engage in combination. I can't plan even a single concert, because there's no room in the schedule. And so it is likely side work, without which I just can't. Not to say that I am not creative in the same group. I became a musician because I love to create, and I in any free minute have something to write. I have many different pieces and ideas. The fact that the song can be composed in five minutes, but to implement it, must go through many stages – recording, mixing, arrangement, mastering, create skins, video. This is a really long process and sometimes it takes a few years before until people see the final version. Create for me a natural process that I can't live without it. I'm just not interested without it to make music.
Not only to create, but, probably, also to see out of people?
Andrew: Well, I would say in this regard is very difficult, because I'm a member of a group with a great name, and my work compared to this in the eyes of the listener is on a par. This is a big barrier, and not always something that comes to the listener. They know I'm doing something, but it somehow. I understand why it happens – different weight categories.
Interviewed By Ekaterina Parshina
Read about Wacken Open Air 2018 here.