Gary (Echo Machine) rock-n-roll can be revived, right now he's just sleeping and distracted
Notice
: Undefined index: wrap_width in
/myarea/web/mesmika/public_html/templates/boxed/content/default_item.tpl.php
on line
49
>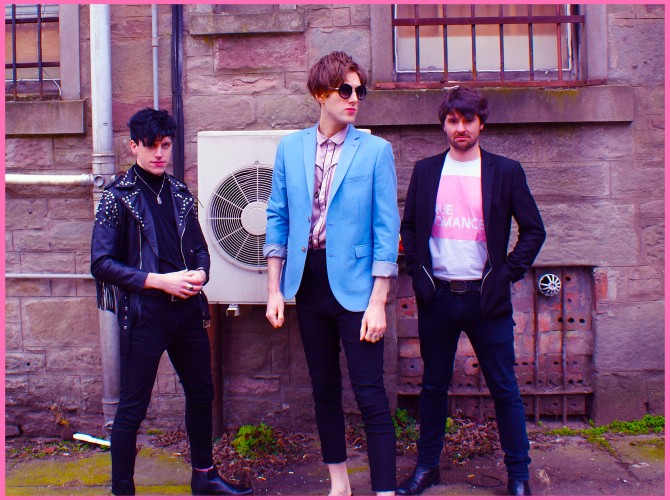 Notice
: Undefined index: wrap_width in
/myarea/web/mesmika/public_html/templates/boxed/content/default_item.tpl.php
on line
49
>
Photo source:
Rivenman Bangkok
Echo Machine - group of the Scottish city of Dundee. It was formed in the beginning of 2018 and has already given several concerts, and record my first video. Mesika asked the young group, what is the "new wave" do they know Russian singers and who their audience is
You position yourself as a pop / new wave band. What do you mean "new wave"? Schemyslitsa between "new" and "old"?
Gary: the Name "new wave" was given by the groups in the 70-ies and 80-ies that have moved away from straightforward Blues rock and began to incorporate other sounds with electronic, dance and disco music. Typically, these groups also tried to push to expand the appearance and style. Ever since we started playing EchoMachine, we tried to force myself to use new technologies and introduce new influences into our sound, I think it's good for musicians, otherwise everything will become boring and outdated.
All three of you played in different bands. You continue to play in other projects or you have fully dedicated yourself to EchoMachine?
Gary: We stopped playing all other projects, the EchoMachine is our life. We like the Pokemon that took it to the next level, we are now the new monsters.
You like pop group of the 80-ies as well as more contemporary performances. Do you know any Russian pop group? Do you have any favorites among them?
Gary: I actually don't know Russian pop-groups, sorry. But I would be interested to hear some of your suggestions for this reason. We are trying to expand our musical geography, and paid great attention to such things as Italian disco, French chanson and German synth-pop. Perhaps our next passion will be Russian pop.
You said that rock-n-roll turned into a zombie consumer. Is there a way to revive the rock-n-roll?
Gary: Yes, rock-n-roll can definitely be revived, right now he's just sleeping and distracted. There is a wonderful music created by great groups, but they live in the shadows. It is almost impossible not to fall in the consumer world as a modern group, since Internet access has become very difficult for the band to earn enough money to go on compromises. But the group still needs to stay clean in their ultimate intentions, they do not need to subject themselves to censorship or to write music with ads. Songs and ideas still needs to appear natural.
What is the revolt for Echo Machine?
Gary: I don't think I know that now is a rebellion. 50 years of this uprising was Elvis Presley's shaking hips, for 70 years to fight punk, and 90-ies shrugged and stopped to rebel. But now we live in a world where everything is instantly available with screen phone in your pocket. For 12 years, most people witnessed all kinds of sex and violence. The only thing I know is that we don't revolt to recreate the past.
Who was the Director and author of your first video?
Gary: Our good friend Troy Lynch from the Studio DundeesMagicBoxсрежиссировал our first video. We wanted to create something that really entered our ideas into the world, something big and bold that people would remember, but also that we do a lot of takes, because we are still very poor, haha.
What do you feel before your first concert in Dundee? (Or how did you feel before your first concert in Dundee?). What do you expect?
Gary: I was very nervous before our first concert. I have never been nervous before shows, but this time it was so unexpected. It seemed a real risk. And I think it's been over a year since we played last time, so we didn't practice. Fortunately, the concert was successful, it was great to get back on stage! Nothing happened, and everyone had fun. It was such a huge emotional release. There was a lot of glitter, paints and dances.
What kind of audience can be your?
Gary: I think our music is for everyone. We want to be as free and open as possible, we want our shows and music felt. We don't want someone to feel small just because he is shy or because of their sexuality or their origin. We want to be a welcome celebration of diversity and fun. I hope that our music is still loud enough for fans of rock music, but quite interesting for fans of pop music and for people who want to dance. If the world is on the brink of an ecological or nuclear Apocalypse, we want to go stylish through the coolest party of all time.
What is your favorite book?
Gary: it's impossible For me to answer. I guess it depends on my mood. Some days I am sure that it is the "First man" albert Camus, another time it's "Age of reason" by Jean-Paul Sartre, and then I remember "the Brothers Karamazov" by Dostoevsky. I'm obsessed with authors and absorb all their work at once. Right now I'm in love with science fiction writer Ursula K. Leguin
Some of the words your potential Russian fans
Gary: Come on a journey with us! Crazy, unpredictable journey. We don't really know what we're doing now, but know that it won't be boring! When we come to Russia, we are going to die down the biggest party of the century, hope you can make it!
Gary Echo Machine