Oomph!: cool to know that all around you is evolving and you are part of this development
Notice
: Undefined index: wrap_width in
/myarea/web/mesmika/public_html/templates/boxed/content/default_item.tpl.php
on line
49
>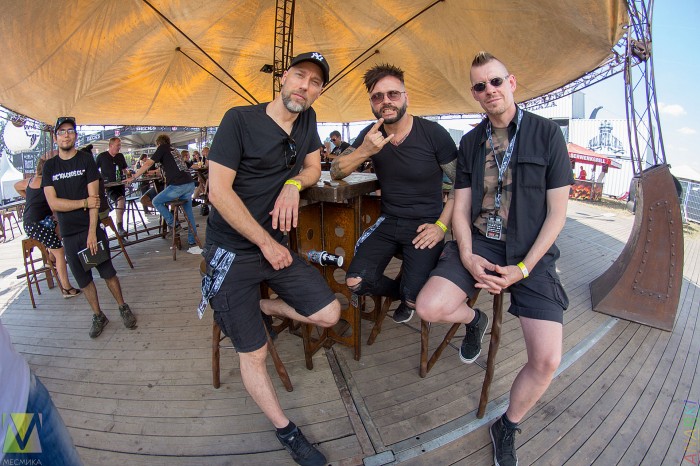 Notice
: Undefined index: wrap_width in
/myarea/web/mesmika/public_html/templates/boxed/content/default_item.tpl.php
on line
49
>
Photo source:
Ekaterina Parshina // MESMIKA
The Group Oomph! - a legend for many German groups and it is always a welcome guest at many festivals. This year, Oomph! made for the fifth time at Wacken Open Air, and Mesika learned something about the upcoming show with the Symphony orchestra, about the most unusual venues where they had to speak, and with whom they would like to work in the future.
In September you will play two concerts with the Symphony orchestra in Moscow. This is your first experience playing with a classical Symphony orchestra?
Dero: No, this will be the second time or even third, because we played in Braunschweig with the orchestra about 8 years ago. The second six years ago and last year at Gothic Meets Klassik in Leipzig in Germany, that is, it is the fourth time we will play with the orchestra. But with the Russian orchestra this will be the first time. We are looking forward to it, it's been a great experiment to play with the Russian classical orchestra.
Flux: But the first time will be a full show. Because before that we played at festivals, a maximum of seven songs. Now would be fifteen, it will complete the set. Or rather two full set Oomph! in Moscow and St. Petersburg.
In January 2019 you release a new album. Will any songs from it played in the upcoming two shows with the orchestra in Russia?
Dero: No, unfortunately. All because we were faced with the fact that when people don't know anything about the new song, their reaction is not so violent and the audience just wait until the song ends. They are not annealed under it as under the others, are familiar with. We will pripsen new songs for the next full show, when we will again play in Russia. Of course we also look forward to and of course we'll play it next time, which will surely be.
Have you ever received an invitation to speak at the Russian open-airs?
Dero: No! But if we were invited, we'd arrived! How many Russian good festivals?
I think three or four.
Dero: Yeah, sure, why not? I would love to see it. Let's talk about it and we will do that.
You said once that you prefer to perform in clubs, open-airs. Something has changed in your opinion?
Dero: I don't remember that we said something like that. And then, and then we like. It is on different levels and it is impossible to compare these things. In club, everything is more intimate and you can feel the energy near the stage. At festivals you feel the whole range of emotions from the crowd. I like to play both in clubs and at festivals, I don't remember one of us said something like that, perhaps we misunderstood.
Groups that sing in German, is very popular in South America and Eastern Europe. Why do you think?
Dero: Oh, I don't know. To be honest, I was talking about this phenomenon with many Russian fans. And they said that we have a connection in the last forty years with German groups such as the Scorpions, Modern Talking, Scooter and more with different. So between the Russian audience and German music very close relationship that for us is very great. Many Russian fans said that they tried to learn German at school as second foreign language, they are really interested in the German culture, music, and it only benefit us because they don't just love music, they study it, know the words, know all about it. They translate the lyrics, understand the meaning of songs, and you feel that they are immersed in Oomph!
In 1993 you had a show in new York. Do you remember him?
Dero: Yeah, that was cool! The concert was in...
Flux:: In the music Seminary.
Dero: Yes, musical Seminary in the city, and it was great. It was our first time there, we were in big rock Church called The Limelight (The Limelight is the name of a chain of Nightclubs in America. At the moment The Limelight in new York, which was located in a former Church, no longer exists – approx. ed.). Unfortunately, this place no longer exists but it was a great Gothic Church with painted arches, various statues, great building, perfect for music.
Flux: the next day we had another show.
Dero: the next day we had another show already on the beach. It was also cool. Yes, we remember this show very well: great experience, great audience, great people. We have there is still a large fan base in America, who hopes that we will return with a new album in America and Canada.
Flux: the New album will be released also in America and Canada. Two years ago we played in Mexico. At a concert attended by thousands of people, so this is a great argument to return to America.
You have thirty years of doing music. As German industrial German scene has changed during this time?
Dero: Oh, very much! It is wonderful to see that everywhere there is a revolution! In society, people, music, art. And cool to know that all around you is evolving and you are part of this development. Also cool to realize that we are perceived as the founding fathers of the Neue Deutsche Härte (an offshoot of industrial metal – approx. ed.), and we are pleased to hear and read in various interviews that bands like Rammstein, Unheilig, Eisbrecher, Megaherz say that without the Oomph! they would be in other groups. We are like pioneers. But we just do what we do, we remain. Too much media, fans, and other groups can think about your music. I think that we have done much and people see that. This would not have happened without the Oomph! Many know that we still have to do something, and give surprises to our audience. Well let's see, what will be the reaction to our new album. I think it will be as always the other.

You had many collaborations with many artists. Who else would you like to work with?
Dero: as for my personal preference, I would like to work with björk. Perhaps guys have a different opinion.
Flux: Can you recommend any Russian artists with whom we could work?
Dero: Aria!
Flux: I saw a guy with long white hair on TV. I think it's a former hairdresser, and now he's a pop singer. Do you know him? He has a very strange pop music.
Dero: I think it would be fun to do something with Putin. Why not? We would be pioneers! You have a strong connection with Germany. He speaks perfect German, so it would be a great chellenzh. You just imagine – heavy riffs and Putin in German. It would be incredible! We are open to such collaboration.
What is the most unusual site did you play?
Dero: let's think... did I mention the old Gothic Church in Manhattan. The Limelight was a very classy place. What else...
Flux: Every time we play in the mountains (the last time it was in Switzerland in the Alps), the scene of a spectacular panorama of the mountains! Also we played in Turku in Finland, and we have seen Saint-Petersburg on the other side of the sea! And we played on a huge cruise ship, which was about five hundred meters long, also in the Czech Republic on Masters of Rock festival, behind the scenes went train! And the whole area smelled of plum brandy (the drink – Prim - ed.)! and while you went with bacteira on stage, you're already becoming drunk. We also played in Germany on the ship who went down the Rhine river, in Los Angeles at the motor festival, where it was fifty thousand bikers.
Dero: You know the Brandenburg gate in Berlin? So, we played in front of them, and a million people looked at our performance.
Flux: the Next level – the Kremlin on the red square!
You for the fifth time in Wacken. What are the three associations with this festival.
Dero: Wackeeeen! Let's all work together.
All togethere: Wackeeeen! (At the festival Wackenпринято to show each other a biker goat and shout in a hoarse voice Wateen!!! – approx. ed.)

Flux: actually associations very much. The first time we played Wacken, in my opinion, in 1996. He was absolutely in other place.
Dero: It was very small, as this tent (the interview was held in the press area, which was located the tent for the press, which held a press conference and the press-were able to rest and charge your gadgets).
Flux: Yes, and there were only a few people.
Dero: the Second time was in 2005. It was also great. Actually, all this is very strange – Wacken usually not without bad weather. Every time we've played here: in 1996, 2005, 2011, 2015 and now the weather is great! Every time we play here, the weather is excellent! If you wish to always have good weather, they should call us always! Everything is done at five great open people, the music is great, fairly heavy, which is also great. Felt kindness all around.
What's the biggest difference between the Russian audience from all over the world?
Dero: Oh, generally cool to see that audiences are different all over the world: different cultural foundations, different emotions. I like the Russian fans that they fully follow their energy with all their enthusiasm, they are very emotional. They dance like last time! The German fans are great, but they behave differently. It's hard to compare. Perhaps the Germans, as if to say...
Flux: I'll explain. The German audience has longer to shake. You have to have them long before they show their reaction. As for the Russian spectators, they do not need to shake, rather they give birth to us with his enthusiasm! Этоособенновыделяетрусскуюаудиторию.
A few words to your Russian fans who are waiting for your return to Russia
Dero: We are also looking forward to our arrival in Russia to play with a Symphony orchestra. We also look forward to our upcoming tour, which will be linked to the new album. And it will happen next year. And we have visited many cities of Russia, in which we were never informed. We want to move further East.
Oomph! invited to show with the Symphony orchestra in Moscow and St. Petersburg (even slightly used Russian language :) )

Read about Wacken Open Air 2018 here.