RED GOD: Music becomes obsolete when it ceases to develop
Notice
: Undefined index: wrap_width in
/myarea/web/mesmika/public_html/templates/boxed/content/default_item.tpl.php
on line
49
>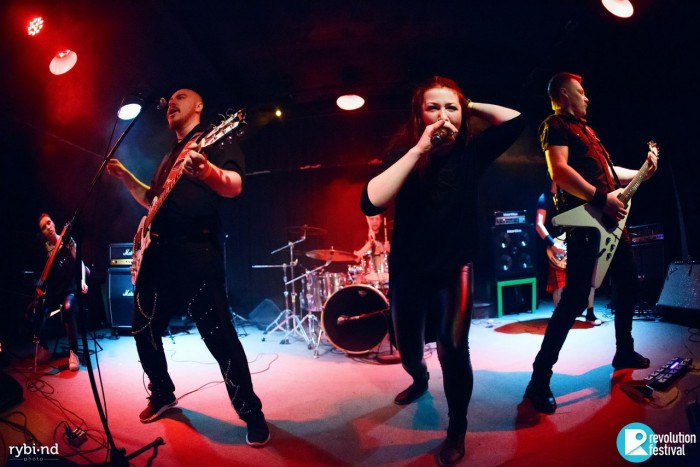 Notice
: Undefined index: wrap_width in
/myarea/web/mesmika/public_html/templates/boxed/content/default_item.tpl.php
on line
49
>
Photo source:
the PR service of the RED GOD
Red God just two years, but during its short history the band has already taken part in many festivals of different level and scale throughout Russia. Messika presents you the interview with the many faces of the Red God on the definition of the genre, the musical revelation during anaesthesia and is there a difference in audiences seven and seven thousand people.
Oleg Brewer - vocals, guitar, bald head and reddishness.
Alex Vasendin guitar, the guru of gadgets, structured approach to any process.
Constantine Thorin - bass, the conscience of the group.
Anatoly Smirnov - drums, cheerful disposition and the novelty of his views.
Lina meleshkevich - fury, vocal succubus)
Olga Pakhomova - magic cello
How would you describe the genre in which you play? Don't you think its outdated compared to the young currents of metal?
Lina: How to describe... Yes, whatever you want! We are in the team still really can not decide - the entire Wikipedia break all familiar musicians tired of the questions "What are we playing? What is it called?" Agreed that it's more like alternative metal. Anyway...I don't understand - why do we need this division? Well, except for the shelves and drives are placed. And about obsolete... at all. Music becomes obsolete when it ceases to develop. We, for example, last summer EP presented. What? Still in the arrangement of something podmutil and touch... I will Not calm down in any way)
Oleh: Long time we almost argued about how to properly and most accurately reflect the genre boundaries of our music. Because we think in her twisted features of many areas. Eventually settled on the term "alternative metal". And if so, then we do not need to compare yourself with some other currents. We have our own way and we are encouraged to go on it.
Konstantin: Yes, we with Oleg have long argued on this subject. Outdated I wouldn't call, because this genre involves mixing and searches.
Olga: Genres and styles are many, the main thing - to be convincing in your case, to devote yourself to music and to persevere to your goal!
Anatoly: endless drive, which I find great fun. This genre never gets old, and we will do everything for it!!!
How many years have you been playing? You are a professional or a group of enthusiasts?
Olgaa: Red God Oleg Brewer invited me in 2017, before that played Oleg in the team Re:Cursive.
Lina: let's Play together? In the current lineup? Little more than two months) Under the auspices of the red God we... a year and a half? And we professionals or enthusiasts... I don't know...
Oleg: every one of us more than one year of musical activity, all had played in different bands. Personally, I have more than 10 years "in the business" and this is the fourth in a row my band. To be creative try to be professionally, without losing enthusiasm.
Constantine: Oleg the "grandfather" in this regard. Torment each other or 2006, or 2008. Gave birth to and buried a few projects have gone from the classic "Russian rock" until this alternative metal. The Red God about 2 years. About professionals and enthusiasts... From my point of view a professional is someone who is well versed in the business and receives a payment. For me music has long been a part of life.
What is the basis of your lyrics/music? What themes are mentioned?
Constantine: It's to red :)
Oleh: the Music we write together in every thing has particles of the ideas everyone, I try to find a balance between them. And the lyrics I write. Now it is mostly occurs after writing the instrumental part — I'm listening to ready a minus, in my mind born some associations, inspired by sound pictures. And I try to compose lyrics. The subject depends.
One is the author of the music/lyrics or is it a joint work?
Constantine: Text red, and the music and arrangement are common
Lina: Yes, what would we alone did, guys?) We - as a broom! While along – no one will break)
Is there any idol, to which equal? Whose music is the standard? Where do you draw your inspiration?
Oleg: As such an idol is not and should not be! Each of us likes different music. And, of course, from the writings of the "fathers" of different genres that we unconsciously draw. However, it is not imitation.
Constantine: I grew out of "idols". In the car to a greater extent listening to hard rock stuff...
You have the first EP "Act!". Tell me, how was his record?
Oleg: In several stages, with sweat and blood. At the end of 2016, on the eve of the new year my life took a very dramatic event that made me reflect on the fact that we must live now, to act, not to waste time. This formed the basis of the text of the title track of the disc was the main motivation recording. "Birth" was difficult. From inventing the cover design to the last seconds of mixing and mastering. However, it was a very vivid period in my life from an emotional point of view, not allowing them to relax and slow down. Ahead of the question about "the event", I will say this is not for the press.
Lina: it so Happened that in the process of preparing material to record had to give the doctors. So. I am going from anesthesia. Painful, though in a window jump. And suddenly, through this state understand that music sounds. After some time I realize that already a lot of time in my head plays bass solo from "Act," which goes into chorus, then main RIF... and so on. Unconscious I managed to find the phone to our group gazebo niesluchowski fingers, with lots of typos, confused words to write to the guys about how it sounds cool! And if in the final we would get even one-tenth as good as now in my head, I'll be extremely happy! Here, the record already kept, but not yet hotmaturemovies, and we hear the preliminary results of our efforts... we listened to the first couple of songs, the turn comes to "go Ahead." I almost all drove... the first verse-chorus second verse-chorus...going into the solo... And I'm in tears! IT!!!! THAT'S IT, WHAT'S IN THE HEAD!!!! In General, guys, I'm happy!
And when will the new material?
Constantine: It is already there. A lot of ideas. Left "checkout"))
Oleg: At the moment we are in the process of building new tracks. It is the construction, because if we do something, we try to approach this meticulously, and so "forever". Without the pipeline. I think that in the coming months at our concerts you can hear a few new carts.
How do you feel about piracy? You pay to have your record bought or downloaded for free online? Can I download your music in Apple's Music or other resources?
Alex: We live in Russia, so it is okay!
Constantine: In our country never will be worthy to sell records. On the main muses. site we are free posted debut EP "Move on!"
Oleg: the EP is available on all online resources like the AppStore, Google music, google music etc. for free. So piracy we are not yet threatened. And I would like us to make their records paid... hmm.. don't see the point. Our challenge now is to find their audience, and not petty Commerce. Moreover, a worldwide trend is such that musicians are your main income you have from performances, not record.
Olga: all free resources - a good opportunity to distribute their music
What equipment is used, which forms the band's sound (some amplifiers, instruments, favorite lotions)?
Constantine: this is an interesting question the answer may give Leh Vasendin. Sometimes he has to hang around for that truck of his "toys")) I'm satisfied with the tuner. Sometimes connect an old reverb/delay from Behringer.
Alex: electric Guitar Gibson Flying V guitar preamp Marshall Jmp-1+processor Tcelectronic G-Major+spyeraser GFI Cabzeus.The connection to the line.
Lina: I Have a SHURE BETA 58A. Purchased 10 years ago. Three hours for the whole Store bawled.
Olga: Electrobiological Yamaha
Oleg: the Tools may change. Amplifiers and gadgets, too. But, it is important that the head was the sense of how it should sound. On this basis, in live concerts and is a common setup sound. We are not yet in that status, to carry the van with their equipment everywhere and be your constant sound. All the time!
What platform did you prefer playing and why? (not)
Olga: Club Opera
Constantine: Kostomuksha. Nord Session Fest. For the second year in a row we are greeted very warmly.
Anatoly: there are Many good sites, but most of all I liked the site in Kostomuksha, Yes. There's a very cool reception and a cool atmosphere. Sometimes it is not enough for many sites.
Oleg: For the years of music lessons personally, I came to the conclusion that to be much Kaipova in the periphery than in St. Petersburg. The people there are not so tempted, their ears and not look shuttered, they are more open to spiritual dialogue during the concert. And in everything, speaking in Russian, snickering. Easier to stay home and watch a concert of your favorite band on YouTube. Overall, not the best times for young bands.
It was not nightmarish dreams: you came to give a concert, and in the hall, seven people? How would you react? Would have left the scene, or played the program, as intended? If it happened to you?
Lina: it Was with other teams. Seven people or seven thousand is still laid out in full! So much so that in the dressing room sprawled on the chair like a rag.
Constantine: you have to Play always on full platoon. But I must confess, once was such a dream come true. We played in a big club, Peter "Waiting Room" and there was about 7 people))) it Was hard... it is always hard to tune, if there is no return.
Oleg: it is necessary to Act to the fullest, in any case. No matter - thousands in front of you or the unit! Kindly do the best for those who have. It is necessary to respect the audience, because this is all about her and done.
Would you like to record a concept album or do you think that their time has passed? Maybe the theater of action on the background music? Musicals? Or then the classic vision groups, you do not want to go?
Lina: of Course, a concept album would be like. And even now in my head slowly from the level of the subconscious mind flows a funny idea of the rock musical. But nothing is to not speak. Because if you do, then you definitely know about it. And if you remain at the level of dumok, then that's it.
Olga: But in General... great Fatinia doing a show in our performances
For you music? It's a hobby or you are bringing something more to the masses? Should there be rock "underground" or he must again become popular? What do you think, is this possible?
Oleg: It is a way of life and thinking. A blessing and a curse. Quagmire, from which it is impossible to crawl out. However, the quagmire in a rush. The word "should" I wouldn't use in this context. However, we all know that the history and tastes are cyclical. So we hope that on our street will be a holiday, and a real rock-n-roll still boils in the hearts of the mass audience!
Lina: for me music is the air. True. Tried to quit, but failed. Well, it is, this music, when I got it, took and foot kicked the door, which I so carefully closed. But what am I? Said, "Well, stubborn. Went"
Olga: the Music is our profession and all our life!
Alex: Yes, it is a way of life. Chronic disease)
Lee separated the rock from the lifestyle that classic rock musician 70-90? In other words, is it possible to be normal and playing rock or is it incompatible concepts?
Alex: I think there are popular rock and underground. Each in its own interest.
Lina: Rock is not all this tinsel about sex, drugs and all that. Rock - this is a pain in the ass, which does not sit in place and take all the same. This is an infection that causes you to reshape the world for themselves. Sometimes against all logic, public opinion, life experience... And then it does not matter whether you have long hair or a neat haircut, black leather jacket or a blazer, dress shoes or sneakers.
Oleg: Each person is different. And the beauty of a true rock — ability with a guitar and the personality to show. Superman without a suit — also an ordinary man. But, he does not cease to be Superman)
Constantine: don't have to be schizophrenic to play rock) but the screws should be slightly chekannya)
With whom would you like to collaborate? To record a song/the whole album or go on tour?
Lina: I would like to pulseinterval with Shade and her team. It is divine!!! What she does with her voice! Magic! And her musicians.... Oh... And if you rock to say... Jorn Lande. I could learn from him. The album "Out to every nation" (2004) and "The Duke" (2006). Still discover something new.
Oleg: In the near future we have scheduled a joint entry with one of the famous musician. What? Wait for the release, friends!
You want to go international or you have enough fame within the next.
Olga: of Course I do!
Oleg: it's a Poor soldier that never wants to become a General! There is nothing more to add.
Constantine: Here will achieve coverage across the country, then decide)
Alex: It would be cool to play abroad, but only after the nationwide tour)
And now a little about future plans... share!
Lina: As they say, for the future don't drink) So I can't tell.
Oleg: Recordings, concerts, the release of the new album, writing new songs and the conquest of the world!
Olga: In the plans of the various festivals, for example.
Constantine: Play, rehearse, write, play, rehearse, record)
Alex: to Act and not to dream!)
Where you can buy merch with attributes of the group?
Lin: in our group In VK. The easiest way to do it. Want a t-shirt, button, poster, disc please!) we do not mind, we have)
Oleg: And, of course, on our performances! Go to concerts, friends. It is also a real drive!
Do you do other types of art besides a group (writing, painting, theater, etc.)?
Olga: you Work in the theater Studio "Blue bird"; also I am a lecturer in the school of arts in cello, piano, and participant in various projects.
Constantine: And I cut metal decorative items
Oleg: I Personally worked a long time at the puppet theater. Also engaged in journalism, writing reports, critical articles, and am direct radio. Here's a "Bogema". Joke!)
Lina: Drama club, club photo, harbrook - I sing hunting) behind me the Department of directing theatrical performances and festivals, so a degree and about having fun) in Addition, more than five years of doing pole dance. Even at the world championship in Italy has managed to go... now train more than I train. Which is a pity. It's fun! So, I recommend! Guys, here, all to yourself to practice tout - Romper room) Well, and individual singing lessons to give. But now, for the first time loudly said this)
On the stage you Red God, but in life?
Alex: And in the life of an ordinary man: a head, two arms, two legs and torso)
Oleg: I'm A Brewer. It's more than just a name. But, this is better, others will say
Lena: In my life is a party! With us nearby can't catch a break! It would seem adults! But there is no) Crazy! What we have to take)
Constantine: Yes! Slackers, parasites and just very charming people)
Anatoly: And I tomato)))