Eugene Abdulkhanov (Jinjer): if your fans where ever you are they support you
Notice
: Undefined index: wrap_width in
/myarea/web/mesmika/public_html/templates/boxed/content/default_item.tpl.php
on line
49
>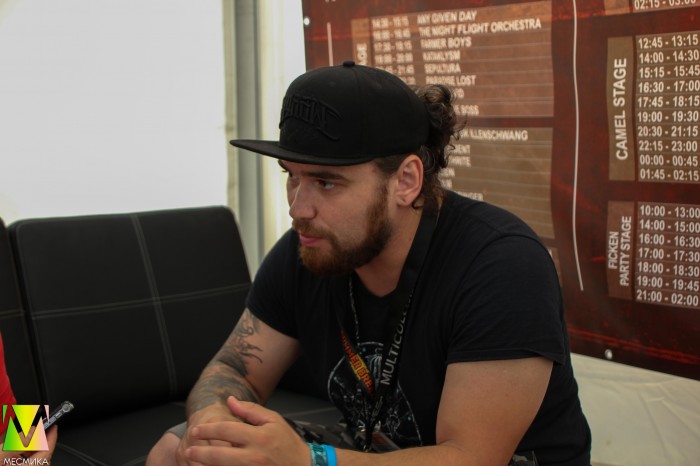 Notice
: Undefined index: wrap_width in
/myarea/web/mesmika/public_html/templates/boxed/content/default_item.tpl.php
on line
49
>
Photo source:
Julia Cologne // MESMIKA
Jinjer have long been welcome guests at all festivals in the world. This is the third year Quartet travels around the world almost without a pause and every concert is an army of fans becomes more and more! Mesika spoke with bassist Evgeny Abdykanova about the tour and the holiday favorite bands and musicians and plans for the future!
- Jinjer first time at Summer Breeze. How do you like the organization? What do you expect from today's show?
- Today we can say that the headliners of the little scene. I looked at the schedule, we were lucky that along with us not playing heavy group. So it will be hot.
- You have recently returned from America, where the first morowali with Cradle Of Filth, and then themselves. How was the tour?
- Yes, it was a small headliner tour. Great meet, here in the fall will again go with Devildriver. The first time we were in the spring, it was, as they say, above all expectations. The second time was in the summer and also super. Soldaty full of clubs and I think the third time will be even better.
- Moreover, Devildriver still local.
Yeah Devildriver local and Cradle Of Filth was good too, Cradle Of Filth - the legendary group. In America's popular combination of incongruous between groups. Where are we with our style and where Cradle Of Filth, but it was still great. The clubs are very large and Soldatov was a lot. With Devildriver we play in smaller clubs, but the idea is cool to make a true hardcore tour so that people in front of you stood and as hot every night and the atmosphere was appropriate.
- That's good to hear, as many European groups do not always work in America.
- America is a kind of market, as Russia. When I first came to the States in the spring, coming out of the airport, got on the bus, the food and guess what it reminds me. Lived there for a week and realized that to me it resembles Russia.
- What?
- It is a large country, vary greatly between regions, people are different, the roads are bad. In Russia, even better roads. The mentality and General atmosphere are very similar, this upside-down Russian.
- What is the difference between audiences in America, Europe and Eastern Europe?
The difference is, of course, the mentality is affected. If we talk about Europe, then in Eastern Europe, especially in countries such as Poland and the Czech Republic, very hardcore audience. Calmer in Germany, in France, the audience crazy again, in Spain a little calmer. But in General, if it's your fans that no matter where you were they always fully support you, go to concerts, buy merch. But you respectively pay them in full in response to the scene. I mean, I understood that if we are talking about the fans, the difference as such is almost there, only slightly changes the atmosphere of the concerts, depending on their activity. In Italy people are quite passive, in France, mad and crazy, but that does not mean that the Italian concerts worse. Here poteryatsya less, but play more. This way they are more for aesthetes to listen to music. And in France it happens and is not possible to play because the club is full and they are almost on the stage do not jump, constantly crowdsurfing happens and you have to Dodge, so that you do not come. And in America, too, from region to region in different ways. New York, the South coast and the West coast, everywhere on his own. For example we played in San Diego and there was a very crazy concert. Crowdsurfing did not end. And in Los Angeles it was very passively, they just stood and listened to the music.
- Are there any countries where you like to play? You once said that Romania was.
- It was a long time ago, we had just started to play. And it so happened that the first active fan-base appeared in Romania and it was fun to travel to Romania. But now everything has leveled off and all is well. But Hungary stands out, because there is always only one concert is played in Budapest and all. And so all come to Budapest. We played a big concert in the fall, where there were 1200 people. Played in the summer and was slightly less 800 people. Always SoldOut.
- And for the organization? For example , it was Therion tour, first to England and then Germany and Switzerland. And according to Christopher in England was in chaos, the organization is terrible.
- I've heard it many times. Here we played with Wintersun and Arch Enemy. We didn't go with them to Britain. The last concerts they complained that they don't want to go to the UK and everything is so bad. And we don't know yet because we just returned from Britain, where there was a fall tour. And we loved it. This tour was to America and it turns out it was the first English speaking country to 100%. We played a gig in London and was SoldOut. People from the first to the last song sang all the lyrics with us choir. And it pretty much took over the living. Yes, sing along, and in Germany, but do not sing all songs in a row. We loved it and the organization is just another, very similar to the American. If you are in Europe come and provide maximum comfort, in Britain and America a little colder, there is no bother to create the conditions. Provide the dressing room and drinks, but none will prepare you food like in France where you can hire a chef. Once we got the promoter in Germany, whose wife is our and we welded here's a VAT of dumplings. It was nice, but in America this is not, but can give the money himself to buy, that's also okay and easier.
- Are there any bands that would like to go on tour or just perform?
- Yes, of course, is that the idols who are really affected us. If Arch Enemy in our group nobody was listening except me. I listened to them even when it was of Arch Enemy with Johan Liiva in the mid-90s, when they first came out. When he came to Angela Gossow, I was not very, I've outgrown this music, I watched them, watched some videos, but the albums were not listening. But it was nice to play with them, I pay tribute to Michael Amott. They had a lot of projects, anyway was Spiritual Veddah. For example with DevilDriver we're not just going to play DEZ Fafara still our Manager in America. And with Des all different, because Tanya likes of Coal Chamber, but I like the first album, Devil Driver very much, I listen back to it regularly. It was a little different, it was a pleasure working with a man and play with him. But there are bands that influenced us 100%. Of the existing, who have not passed or have not broken up, it's Opeth, Gojira, Lamb of God. That's the way, Willie Adler all American tour lost t-shirt Jinjer. So maybe we will play with Lamb of God. Have a Kills witch Engage, I'm not a big fan, but Tanya and Roma are big fans. There are The Faceless and they have constant problems with the squad. There is just a group of friends for example Twelve Foot Ninja, the Australians, they are wonderful guys, we're personally familiar with, and I would be happy with them paturel.
- Well, who you like bass impact?
- This group is no more. Is Ryan Martini and disintegrated Mudvayne. I would love to play with them, but this group is unlikely to gather.
- That is not Steve Harris like many.
I love Steve Harris he is an amazing bassist, but Steve Harris is the 80s is so far back. People are now playing level, Steve Harris very much. If in the 80s he was considered a virtuoso today. I love Iron Maiden and it would be cool to play with Iron Maiden, but it's not as close to us now as that of Gojira. Still got Alex Webster from Cannibal Corpse, it would be fun to play with Cannibal Corpse.
- They were at Summer Breeze on Thursday.
I just can't seem to get, I constantly get on your favorite bands. We played at a festival with Gojira, they played the next day, when we have another city, another concert. Played at a festival with Opeth, we have sound check they revolt.
- And today someone take a look?
- Today one, and tomorrow we'll see Sepultura. We play at Motocultor in France. And Origin view.
- How do you spend your time when you have breaks between concerts?
- I sleep, someone is drinking, someone smokes.
- And the sea, the mountains?
- Yes, the sea, the mountains. Here we are in Graz was, and I walked around the city with our merch guy, he first went to Europe. Normally the time spent, went to a music store and I again found my strings. And in Paris, he takes me out. And in places where there was nothing to watch, just sleep. In Munich for example, after the American tour we were very tired, I just slept the day. In places where there was not, if you have time and the weather is good, you can walk.
- You write music while on tour, or just focusing on the concerts?
- Now I write, because we need the EP to do in the fall. We have been part of the material is, and part invented on the go.
- Does not inspire tour?
- No. Tour this tour, and the production on the album is another. Encouraged by the fact that for a long time did not write anything.
- And Napalm on writing as a impact?
- No, they have no influence, we have freedom of creative thought. They have a different scheme, they know that the group HYIP. We have already made 2 full-length albums and they are on the level. Where we are now, not moved it will be our creative urge. The label trusts us.
- How important is lyrics Jinjer?
- Is very important. And everything native speakers say and not only that the lyrics are very deep. I also write lyrics, some of the lyrics to King of Everything. I wrote Under The Dome, Sit Stay Roll Over and the ending of Pisces. The approach to the texts we are unique, we don't like to show the message on the surface, we leave a deep meaning and I want people listening to and reading the lyrics, trying to get to the bottom of themselves.
- The texts still personal?
- Not all. Under The Dome and Sit Stay Roll Over, written by me, it is a social texts. Tanya wrote the social Words Of Wisdom. And social almost the entire album, Cloud Factory, this is the song Cloud Factory, and When Two Empires Collide, and No Hoard Of Value. Before sotsialschiny was very much, especially while we lived at home, the whole environment is affected. And now still quite a lot of texts, but personal, Tanin, affecting private life and inner world.
- The new album will be next year?
- Full-length album, we will write in the spring, then we will have four shows and all, they still have not announced.
- You already know about, will sound like the album?
- No. We never know how it will sound like an album until you sit down to write it. It will be the most progressive, complex, technically maybe not so quick, but in terms of musicality it will be a step in the direction of progressive and moving away from metal, its melodic.
- What inspires you to write music?
- Other music or simply events. Feel sad, went something wrote. Or happily feel wrote happily.
- After the American tour with Devil Driver you will be playing with Amorphis. You are constantly with quite a different style groups, how is it?
- Not very different. And I think Amorphis will be closer than Arch Enemy. That girl on vocals is not a criterion. And will still Soilwork, which is close enough to Jinjer, especially the first album, groove. With Cradle Of Filth was Yes, and another brand. Wintersun and Tribulation, such as was others. So that was a problem I have not yet felt, for America it is quite normal when all the different groups play together. For example Arch Enemy was with Trivium, Fit For An Autopsy and While She Sleeps, can not be combined, but people play and I don't bother about it.
- Thank you very much and a great show for you today!
- Thank you!
Interviewed By: Denis Cologne