German industrial metal music of the Moscow Symphony orchestra
Notice
: Undefined index: wrap_width in
/myarea/web/mesmika/public_html/templates/boxed/content/default_item.tpl.php
on line
49
>
Notice
: Undefined index: wrap_width in
/myarea/web/mesmika/public_html/templates/boxed/content/default_item.tpl.php
on line
49
>
Photo source:
Nicholas Birula // MESMIKA
The severity of industrial metal and stunning vocals, the depth of the sound Symphony orchestra and the energy of this rock, Gothic, and tuxedos, stagediving and evening dresses, raging rock fans in the Palace. How many contrasts in one evening September 16, gathered in Saint-Petersburg, DK Lensoveta, at a concert of the German band Oomph! speaking with the Moscow Symphony orchestra Globalis.
Unexpected situation in the hall of the Palace of culture might surprise fans of the concerts of rock groups. However, the youngsters want to dance and Express emotions in motion, and fenced, a special fan zone. The tickets to her, by the way, was sold out even before the event. Reviews in the end is left ambiguous, as the area was recessed down in connection with the feature of the site and not all saw a full-fledged artists. But emotions sipped over the edge!
The musicians appeared around eight fifteen thunderous applause. Traditionally, first the orchestra, then the conductor, then on the stage appeared Oomph! The heroes of industrial metal, founders of dance metal, a little goth and very friendly and energetic musicians.
It was not long introductions and warm-up, Oomph! immediately hit hot full drive. Started with Gekreuzigt continued Sandmann, Auf Kurs in acoustics. All were filled with fourteen songs, the latter made the main hit of Oomph! Augen Auf! But this was not enough. After entering the "Encore" they played not only the standard two songs at parting, but also repeated three of the main setlist.
Vocalist Dero GOI could not respond to the expression of passionate love from the North fans. In the end, he could not resist and jumped at the hands of the crowd, in vain, that the concert was seemingly serious and almost classical. The spirit of rock-n-roll will not torment in itself, nor should the audience came for. When you come German metallers, few would expect them to be obedient behavior and calm musicians. Only energy, only shocking, only hardcore.
When it was over and the audience went out into the hall DK Lensoveta to share experiences, the majority did not hide delight. Of course, there were also dissatisfied with the sound quality, but compared to most club sites St. Petersburg, Lensoveta definitely in the lead.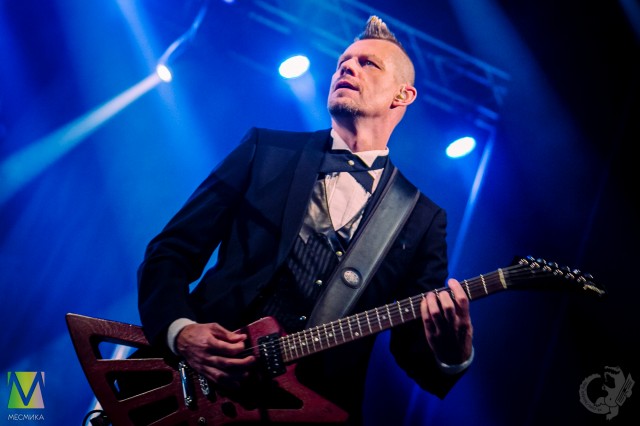 Oomph! It remains to wish to come to Russia not less often than before, to bring different programs and musical experiments, because, as experience has shown, the Russian audience love them in different forms.
Author Juliana Benesova