Skindred: See concerts with my own eyes, so forget the phone
Notice
: Undefined index: wrap_width in
/myarea/web/mesmika/public_html/templates/boxed/content/default_item.tpl.php
on line
49
>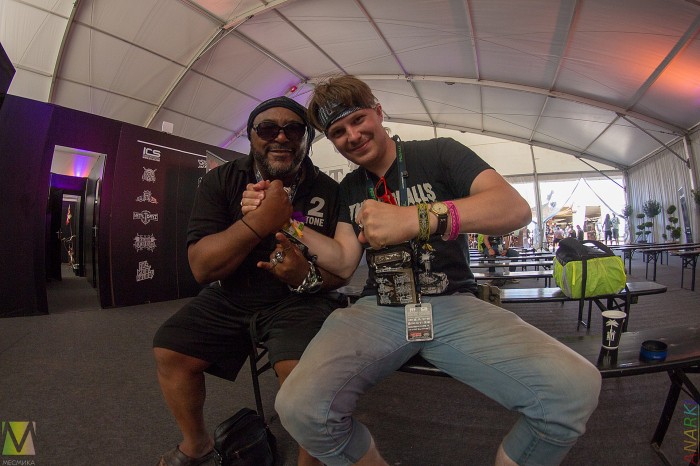 Notice
: Undefined index: wrap_width in
/myarea/web/mesmika/public_html/templates/boxed/content/default_item.tpl.php
on line
49
>
Photo source:
Ekaterina Parshina // MESMIKA
Skindred - quite unusual for the rock and metal scene. These guys have 20 years interfere with completely different styles and genres and so far they like it. On the Wacken Open Air festival Mesika talked to Benji about what mean 20 years for the group on the response to the album Bigg Things and that this rebellious music.
Group Skindred was founded in 1998, so she is already 20 years old. What do you think?
We are still enjoying it and having fun.
What difficulties have you met during these years?
The hardest thing was to stay still friends. In the last twenty years in the group of the same people, and I think this is a great achievement that we are all still together. I think we deserve some reward for the fact that we are the longest members of the group in the world. Yes, it's Skindred.
What do twenty years mean for the group and for Skindred?
I think that to stay twenty years in the business - it's very cool. Not so many bands with such a term.
Guys, I think you have played anywhere. What is the place of performance is the most memorable and why?
I liked to play at the Milk in Moscow. This is a cool place. You're too young to remember Milk. In Moscow, we played in other classroom areas.
Let's talk about your new album. You released in April, Big Tings. And enough time has passed that people could appreciate your work. Tell me what feedback you get from fans?
You know, now everyone thinks they're a journalist. Fake journalist. He can listen to the album, open the Internet and write what he thinks. Sometimes it's not cool. I would have killed them. But sometimes I write, which is cool. I think if the whole world would be the media, everyone would be a journalist, you can't please everyone. And I don't pay attention to their reaction. I am guided by my own mind. I'm a big dude, so I don't listen to anyone. I don't listen to the interview, I don't care what you say or what she thinks. I don't listen to the interview and never listen to journalists.
But the reaction was such as you expected?
No, the response was better than we expected because there were people who said it sucks. They said they didn't like and it's rubbish that we were happy.
Who was the author of the cover?
It was our drummer. He said that everyone loves cats, girls love cats, and if we put a cat on the cover, it would be cool. And we drew a cat with glasses and everyone liked it.
In one interview you said that you have many enemies, and says your mother that no one will love you more than she does. And you hate anyone?
Hate anyone? No. I don't need someone to hate, I don't want someone to hate. Life is short, why would I want to spend every precious moment to hate if I can spend it on love? I focus on love, not on hatred. Does that make sense?
I think so, I think that's right.
I believe in it.
Many artists can not stand, when at their concerts the audience is used in a large number of mobile phones instead of enjoy the concert in real time. How do you feel about this?
I support them. See concerts with my own eyes, so figure phones. I mean, enjoy the moment! If you use the phone, then you're focusing on how to protect it. You paid money for a concert, so have fun without your phone, because you'll never be able to write to the phone the energy that poured into the club during performances. Enjoy what's left of your memory. That's what God gave you. Put your fucking phone in your pocket, and even better, leave it at home, enjoy the night! The phones need to stay home during the concert. That's my philosophy.
What Wacken mean to you?
Wacken is an awesome dish. Cool dish consisting of groups that I like, and Germany is a great place for performances, people are passionate about rock-n-roll. I think Wacken independent rock festival.
The rock and metal festival?
Rock is metal. There are only two types of concert music: rebellious and not rebellious. All of us here belong to the first type, which I really like. Bob Marley, AC/DC, Elvis Presley, LedZeppelin, Queen is definitely all rebellious music. Music that causes people to say "no." Begin to deal with the stupid dictators and win. There is no difference – punk, reggae, metal, rock, WCT-step. All say the same thing, all gathering people together and forced to fight. This is what rock n roll means to me. No matter where the author is from London or St. Petersburg. For Example, PussyRiot. If people say that Yes, this is great music. I like rebellious music.
A few words to your Russian fans.
I would like to say, stop still to make music fucking 50's, throw out the records and tell your promoters to invite Skindred. I love Russia, let them be blessed with all its inhabitants.
Interviewed By: Alexander Egorov
Read about Wacken Open Air 2018 here.